Exhibit Gray x GlassHouse Day Party | Essence Festival Weekend *Sunday
Description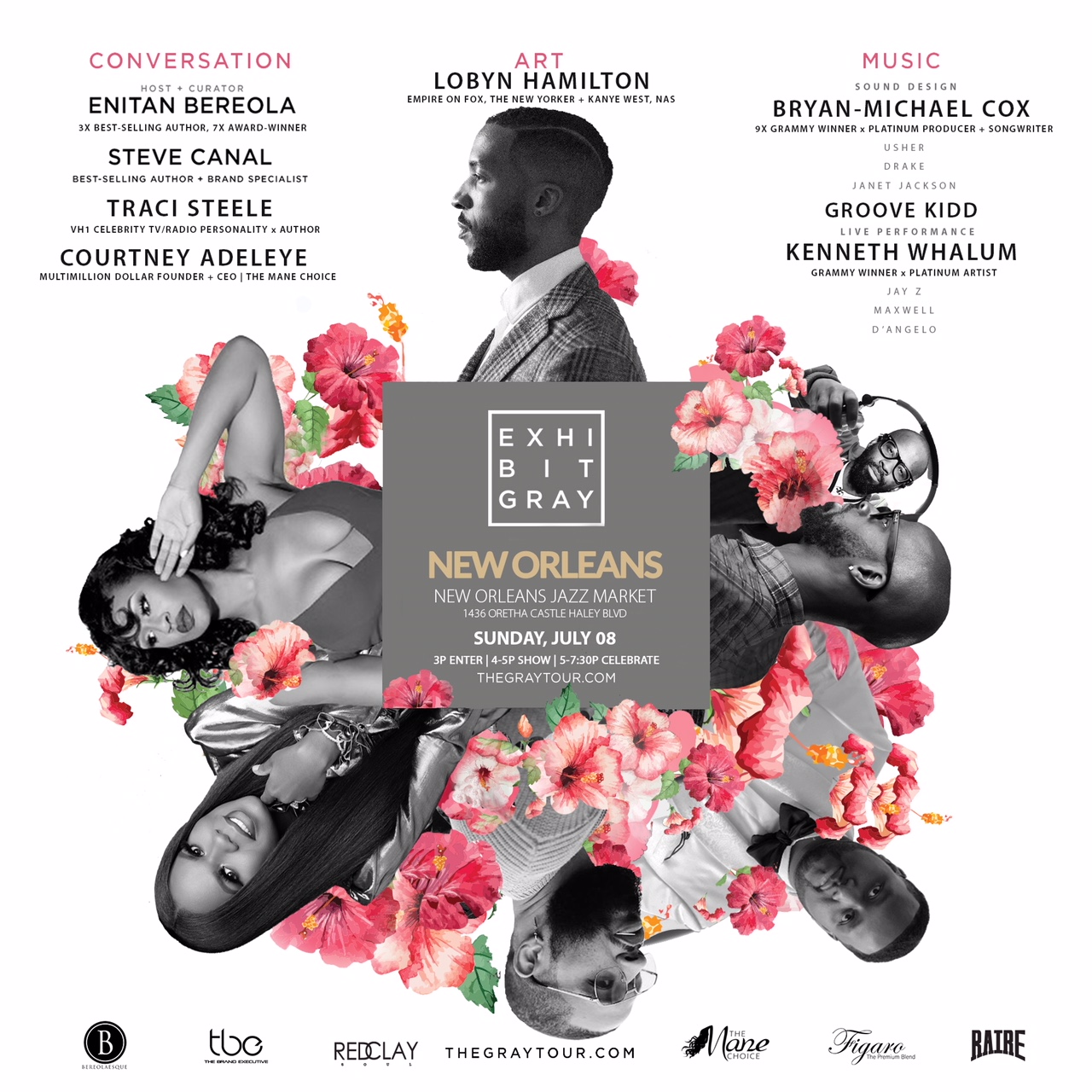 CONVERSATION x ART x SOUNDS x CULTURE x CELEBRATION
EVENT: Exhibit Gray x Glass House Day Party
VENUE: New Orleans Jazz Market
DATE: Sunday, July 8, 2018
TIME: 3pm Enter | 4-5pm Showtime | 5- 7:30pm DayParty

Exhibit Gray is a traveling conversation, art exhibition and live musical journey. We provide a platform for presentation and proper discussion of society's "gray" area topics for an uncomfortable conversation in a comfortable place. Led by international best-selling authors Enitan Bereola II and Steve Canal, multimillion dollar founder of The Mane Choice - Courtney Adeleye, celebrity TV personality Traci Steele, founder of The Lip Bar - Melissa Butler, world-renown Platinum artist Kenneth Whalum, and global sound design from Grammy award-winning producer/DJ Bryan-Michael Cox, we host one of the most progressive social and creative events in the country. We invite you to join us in moving culture forward as we conclude Essence Festival Weekend.
#exhibitgray
Glass House the New Orleans Day Party created by young professionals for young professionals at the multi-level, multi-room New Orleans Jazz Market.

Early arrival is suggested.
Featuring
Gifting Suite from The Mane Choice
Figaro Premium Cigars & Signature Cocktails

Audible Art Exhibit Performance by: Kenneth Whalum

Visual Art Selections from Lobyn Hamilton's Seeing Sounds Series

Uncomfortable Conversation from Enitan Bereola II, Steve Canal, Courtney Adeleye, Kenneth Whalum, Traci Steele, Melissa Butler & Bryan-Michael Cox

REQUIREMENTS:
• 21+ Admitted.
• Adorn Accordingly.
•Ticket sales are final and nonrefundable.