About this Event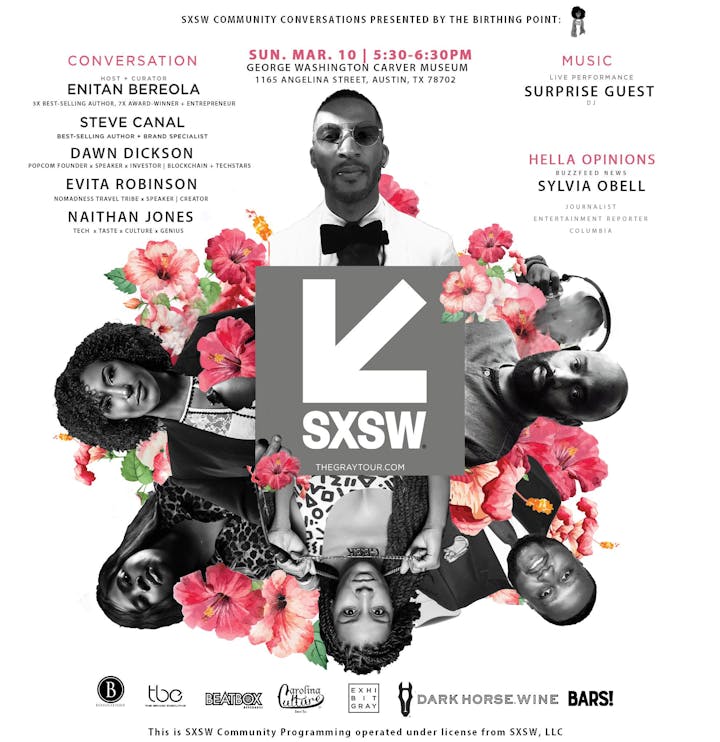 The co-founders of the Exhibit Gray movement curate a conversation with entrepreneurs who have leveraged emerging technologies to build their cultural brands in travel, tech and entertainment.
During this special panel discussion you will gain access to some of the brightest most diverse minds in various industries to crack the code on how to leverage technology to build your brand.
Panelists
•Sylvia Obell, Buzzfeed
•Dawn Dickson, Popcom Founder
•Evita Robinson, NomadnessTravel Tribe
•Enitan Bereola, 3x Best-selling Author
•Steve Canal, Brand Architect
•Naithan Jones, Global Dot Connector
@ExhibitGray is a traveling conversation, art exhibit and live musical journey. We merge a party with a purpose to provide a platform for proper discussion of society's "gray areas" told through the lens of art, music and conversations. Led by International 3x best-selling authors Enitan Bereola II (Bereolaesque, Gentlewoman, The Gray), Steve Canal (The Mind of a Winner). We host one of the most-progressive social and creative events throughout the country.
Join us in moving culture forward
Experience begins promptly at 5:30 PM - On-Time Arrival Required.
*After Party Immediately Following 7:00-10:00PM!
#ExhibitGray #SXSW #TheCarverSXSW