Description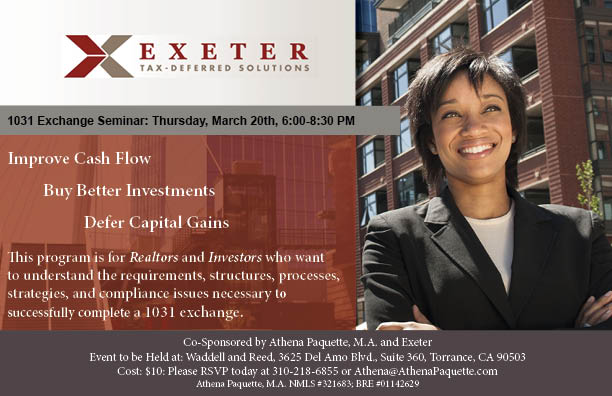 Improve Cash Flow
Buy Better Investments
Defer Capital Gains
This program is for Realtors and Investors who want to understand the requirements, structures, processes, strategies, and compliance issues necessary to successfully complete a 1031 exchange.
What's a 1031 exchange?
Simply, a 1031 allows investors to defer their capital gains taxes on the exchange of like-kind properties.
Understanding the ins and outs of a 1031 exchange will help you to improve cash flow, buy better investments, and even protect your heirs from over-taxation.
Wine and Cheese Reception Starts at 6:00 PM
Cost: $10
When: Thursday, March 20th 6:00-8:30 PM
Event held at: Waddell and Reed, 3625 Del Amo Blvd., Ste.360
Torrance, CA 90503
Bonus: Register Today and Recieve a Free Appraisal on Your Next Refinace. A Value Up To $750!
Organizer of Exeter 1031 Exchange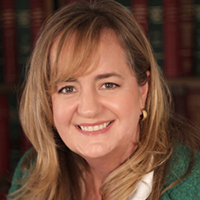 Athena Paquette, M.A. made her first million by the time she was 30 years old. An experienced real estate investor, real estate investment coach, mortgage broker and financial advocate, she has helped many of her clients make millions in real estate.  Her passion is on giving the average person the tools he or she needs to get out of the rat race and live a financially free life.
Founder of Cash Flow Academy and Women in Investing, president of The League of Women Voters Torrance Area, former President of a the American Association of University Women,  Athena actively supports other organizations that help to improve the lives of women and girls in her community.
You can find out more about Athena at MyCashFlowAcademy.com