Description
Nonprofit leaders who are serious about their nonprofit's sustainability take planning for a smooth and thoughtful leadership transition seriously - as well as making sure their nonprofit is prepared for an unexpected departure. For executives and boards that don't plan ahead, it can be a rocky, even perilous time. This session helps board members and organizational leaders get ahead of the curve by providing you with strategies and useful tips for a planned or unexpected transition and how to prepare for one as a regular part of organizational planning.
You'll learn about the five classic types of executive transition and their inherent challenges, the difference between acting and interim executives, the specific board policies and staff procedures you want to have in place, as well as helpful response strategies and key activities to have in place. This session also covers pragmatic ways to grow leadership from within without making promises you can't keep, and how to lead today as if you were leaving tomorrow.
Trainer: Amanda Madorno, Founder of Roam Consulting LLC, is a leadership coach leadership coach, consultant, planning facilitator, teacher, and certified EQ practitioner. She believes emotional intelligence is the cornerstone of leadership excellence. Her passion is working with leaders who are deeply committed to growth and looking to create defining moments in their lives. A seasoned interim CEOwith 17 assignments under her belt, Amanda has a deep and broad understanding of executive succession, transitions, and search.
She understands, from the inside out, what it takes to prepare nonprofits for leadership transition and to recruit a qualified executive. She currently teaches an EQ Primer and how-to strategic planning course at Antioch University. She also teachers Strategic Leadership and Communication at the Leadership Institute for the US Chamber of Commerce Foundation.
She has guest lectured for the University of Washington's Evan School of Public Affairs and Professional and Continuing Education Program, Seattle University's MBA Program for Non-Profit Leadership and numerous associations and technical assistance providers including 501 Commons, Washington NonProfits, the Community Foundation of North Central Washington, the Community Foundation of Snohomish County, Washington Realtor's Association, Northwest Regional Primary Care Association, UWKC and others.
If you have any questions, please contact Kendra B. Demuth at kendra@501commons.org
Click here for parking and transit information.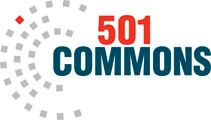 **Photo credit: Cerius Executives