Actions and Detail Panel
Executive Presence Primer: 3 Leadership Failures to avoid
Wed, February 22, 2017, 6:30 PM – 9:00 PM PST
Description
Dear Advanced and Aspiring Professional,
You've reached a nice level of status and recognition. Your technical and task skills are strong. Now you're looking at larger opportunities. But moving up is no longer automatic.
Why? It's simply a fact that in the high-tech, high-growth environment, many professionals make great progress with expertise. BUT, to advance higher you need leadership and communication skills, in short, Executive Presence. Further, you may have blockers, habits that worked years ago but no longer fit you.
Here's what we miss. When we're task focused, fighting fires, multi-tasking, fighting technology, we lose site of these essential needs. Now is the time to put them at the center of our identity as leaders:
1. Hold and share a clear pragmatic mission.
Mistake: thinking if you state a goal or priority one time then every one will internalize and "know what to do". No they won't! Every mission starts to fade immediately as tactics, details, and distractions arise. The mission needs repeating and reinforcing. Learn verbal techniques to keep the mission alive and vital in the minds of your team.
2. Explain "what is happening" vs what needs to happen.
Mistake: Being subtle, vague, and artful about progress, difficulties, and conflicts is enough. Nope. All problems need to be addressed at an emotional and direct level. Artfulness comes before and after the unvarnished truth. You doubt this? Look at how politics works! Practice simplifying "what is" on light-weight topics; You'll find it's habit forming and you'll be a better leader.
3. Take care of the team
Mistake: Everybody is just happy to be with you. Seriously, on a strong team, everybody is pulling in the same direction AND everybody gets some specific notice of how their efforts are appreciated and how they helped the overall mission. Ask yourself, how often do you shutdown, tune-out, or otherwise leave people hanging? Learn to never do that again.
Executive Presence covers these mistakes and much more. If you're not getting the needed response and results from your team, if you're wondering how to make a bigger impact, if your peers have a knack you wish you had then....
Join us, get new perspective and start building your executive mojo!
If you're still skeptical please read on...
[Special Note to Entreprenuers and Founders: Executive Presence is how innovation happens. The ability to command a room. to persuade with vision, to capture loyalty are crucial for startups and small businesses too. VCs are looking for EP even in your pitch. So come along and get ahead of the game]
Probably the people around you have leadership skills. Maybe stronger than you have. And they speak with surprising effectiveness. How? Relax, it's not magic, it's method. But please don't think that just more time and experience will get you moving. Executive skills don't work that way.
Sometimes called "The It Factor"
According to Forbes, executive presence is "the ability to project gravitas – confidence, poise under pressure and decisiveness" as well as "communication – including speaking skills, assertiveness and the ability to read an audience or situation – and appearance." And the Forbes survey of 268 senior executives reported that executive presence accounts for 26% of what it takes to get promoted.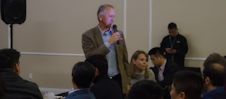 EP MATTERS. And there is a way forward, but first please avoid dead-ends.
Reading and studying – what worked for expertise - won't build Executive Presence at all. Similarly, trying to imitate the boss will be problematic. That's because leadership is a performance skill. It requires engaging your unique presence: Thinking on your feet, managing expectations, navigating conflict and presenting winning scenarios with authority. These are live skills that no amount of personal study will address.
Our training is actually a leadership studio. An approach that gets you engaged and starting to embody leadership approaches from day one. If you Google EP you'll see repeated obvious advice: dress well, be bold, find charisma… But these are signposts, not fundamentals. This event will present the fundamentals you may find surprising and fundamentals win.
Come to this mini-briefing and learn what it really takes. You'll get a highly valuable introduction to the essence of EP. You'll walkout understanding executive presence at the level of emotion, meaning, and motivation. We'll address and place in context: speaking skills, relationship management, executive thinking, and leadership maneuvers.
What's included?
A global model of EP and all it's factors plus and minus. The leadership team mission primer, "Leadership 101." And, the essential core of executive presence, the "Leadership Intervention Template" - essential steps and criteria to nail a leadership moment every time. This and more explained, demonstrated and acted out.
Most important: You'll get insight into your current degree of EP (Yes. Everybody's got some) and a strategy to move forward. Importantly, you'll benefit from a ground up description and explanation that goes beyond the list of obvious advice you'll find on line.
A current high-level Job posting in financial services says: "Our ideal candidate has…
Executive presence

with the ability to succinctly, confidently and articulately defend and challenge positions in verbal and written communications"
Are you ready to answer this offer?

My name is Roy Terry and I've been teaching advanced communication to technical and business experts since 1995 here in Silicon Valley and San Francisco. Like me, you have probably seen a lot of me-too trainings that really don't cut it. Recently I sat through a 70-minute session claimed to address executive presence. The content? A page full of tips about posture, breathe and diction. Not even close!
To do it right, I synthesized this performance-oriented course for executive presence based on all my previous trainings and workshops. It includes insights in to the listener mind, language skills for rapport, transitions, and promoting a mission. My one-on-one coaching inside the valley's largest companies has verfied these components. There is also useful wisdom from professional speakers on getting attention, maintaining power and presence and handling distractions or challenges. Finally, there is attention as needed to your core confidence. We'll wash out your limiters and promote your strengths so that you can take control of the room with assurance. Seriously, I know there's no other training like this because no one has combined the skills and insights in this way before. Please help yourself to advance your goals by getting on board now.
Want to get grounded with executive presence? Want to get on a solid leadership path? This event is for you. Please come curious and be ready to share a bit of your experience in with leadership and authority.
Click now to gain the early bird price!
Your Presenter
Roy Terry is a communication and leadership expert who has coached and trained numerous founders and technical leaders in Silicon Valley and San Francisco. He is principal consultant at Executive Presence Now, and his complementary practice, ThePrimalPitch.com, serves both local and overseas companies. . Several client companies have subsequently been funded for a combined amount of over 2 million dollars. Mr. Terry was featured in February of 2014 as a pitch coaching expert on the French Business network BFMTV. Clients include Talentoday, Video Stitch, and Market Carrot. He is a tech veteran with over 30 years' experience in Silicon Valley as software developer, project lead, and consultant. Mr. Terry has been training and coaching communication in the Silicon Valley since 1995 and past clients include Hewlett Packard and Oracle Corporation for professional communication skills. Mr. Terry is experienced as a public speaker, NLP practitioner, and also incorporates relevant knowledge and practice from stage acting, standup, and improv.
As Silicon Valley's Pitch Doctor, has conducted many workshops and helped 100s of founders with pitching and storytelling. Clients include winners of K-TECH west, Launch Festival 2014, and The French New Enterprise Laureates. Mr. Terry is the preferred pitch coach for KOTRA, KISED, The French Tech Hub, Techcode, ZNation Lab, Innowest, and the Cardinal Pitch Club.