Executive Poise, Presence and Influence

Thursday, November 15, 2018 at 8:30 AM

-

Friday, November 16, 2018 at 5:00 PM (EST)
Event Details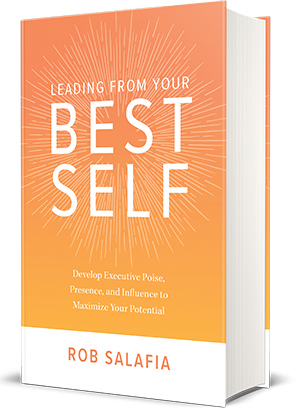 EXECUTIVE POISE, PRESENCE AND INFLUENCE 
Can you show up and be fully present? 

Can you connect authentically with others? 

Can you open up others to your ideas?
Leaders who exude Executive Poise and Presence understand how to present themselves and their ideas in a straightforward and genuine manner. They seek to understand and encourage a spirit of unity in those they lead. They know how to open others up to their ideas and exert influence. They are able to bring business strategy to life and galvanize others to action.
Executive Poise, Presence and Influence is an experiential and hands-on program designed to increase a leader's self-awareness and build critical presence and communication skills necessary for leading in an increasingly complex business environment.
In this workshop you will develop and apply tangible skills that will help you create an environment that people want to work in and contribute to.
You will get first-hand practice with techniques that will help you:
Project a higher level of credibility and confidence 

Understand how to tailor messages to your audience

Bring your personal leadership brand to life 

Use personal stories and metaphors to make your messages stick

Increase impact of venture pitches
Who Should Attend: Mid - Senior Executives looking to enhance their presence and impact. 
Leaders in transition to more senior roles

Leaders who need to communicate and lead change

Entrepreneurs who need to lead new organizations

Senior Sales Executives who need to build relational influence 
What Makes the Difference?
Experiential learning techniques drawn from the fields of Theatre, Performance, Martial, and Meditative arts.
Individualized feedback and coaching allowing you to increase self-awareness and develop transformational shifts in your daily behaviors.
Highly Relevant Design that meets the needs of business leaders.
Group Size: Maximum 10 participants 
Timing: 
Day One: 8:30 - 5:00 pm  

Day Two: 8:30 - 5:00 pm  
Program includes pre-readings and a self administered 360.
Program plus coaching
"Training alone improves leadership skills by 22%, when combined with Executive Coaching, improvement jumps to a whopping 76%! " - Fortune Magazine
We offer a special coaching package for $3,795 that includes five 60-minute pre and post proram video coaching sessions. 
"What people are saying..."
"It's difficult to put in words what Rob is capable of doing with a room full of professionals. I recently attended his Executive Presence seminar and it was one of the best professional experiences of my life. I walked out of the two day session with a fresh perspective on not only my skills as a professional but a greater sense of my self and my capabilities. I left the session grounded and ready to take on any new challenges. I highly recommend engaging with Rob as a coach and at a minimum attending one of his seminars. "
- Gabe Lopes - Quick Base 
"As my coach, Rob motivated me to work hard and guided me to develop the skills necessary to deliver an engaging and relevant presentation to 500 credit risk officers. His dedication to my development and his ability to challenge at just the right time enabled me to bring my story to life."
- Darryl Fess, President, Brookline Bank, Boston, MA 
"Rob's approach is hands-on. He manages to create a safe environment where I felt comfortable experiencing new approaches. A great learning experience that I can only recommend. 
- Georges Wolff, CEO, NN Group 
"Rob's sessions are extremely powerful in building the right mindset, creating trust, and developing leaders to be more effective and inspiring leaders." 
- Alex Klein, Head of Leadership, Talent and Organizational Development, NN Group 
"I recently attended Rob's Executive Presence workshop. It was such an amazing experience - I got so much more out of it than I had even expected. It was certainly time well spent! The workshop was so much more than gaining tools and techniques for my professional development but also initiated a much needed moment of self-reflection. For the first time in many years, I started to really reflect on what was important to me and what I needed to work on to become the person I want to be. I am still absorbing the lessons I learned and it has helped me begin the process of being more present and open - at work and in life."
- Susan Hsing, Director or Research and Innovation 
Impact Statements from prior participants
"By using the tools introduced in the session I was able to help my client quickly understand the situation and provide immediate advice."
"I used the tools provided to spearhead my conversations with clients."
"The storytelling work is extremely, extremely powerful. By forming and sharing a simple story or metaphor I am able to easily connect with people at different levels in the client organization."
"The metaphor and story work helped me to explain my experience and unique point of view quickly and effectively with my clients."
"By sharing my story, my client was better able to relate to me. The story demonstrated the impact of the project immediately."
"With the use of metaphor and story I was able to quickly explain who we are as a team, what we do and the impact we create."
"I was able to position my client in her conversation with a senior leader quickly by using a metaphor that captured his mindset."
"Breathe-Connect-Land allows me to feel more connected with my audience. It allows me to tune in."
"I shared the vocal presence work with my client team. The appreciated it and are having fun with it. I have seen our relationship become stronger as a result. We are more efficient, they understand me better and our communication is more clear and direct."
Breathe-Land-Connect allows me to set the tone of a difficult conversation. It gives me the confidence to respond rather than react. The conversations are much more productive."
Storytelling has given me the ability to hold my ground and be more assertive. I seemed to have unlocked a capability around this skill."
"By using the clear communication tool I felt more confident going into a difficult conversation."
"Our team now has code words we can use to get focused and energized."
When & Where

CIC Boston
50 Milk St

Boston, MA 02109


Thursday, November 15, 2018 at 8:30 AM

-

Friday, November 16, 2018 at 5:00 PM (EST)
Add to my calendar
Organizer
Rob is the Founder and President of Protagonist Consulting Group. 
Executive Coach and Lecturer - MIT Sloan School of Management 
www.protagonistconsulting.com