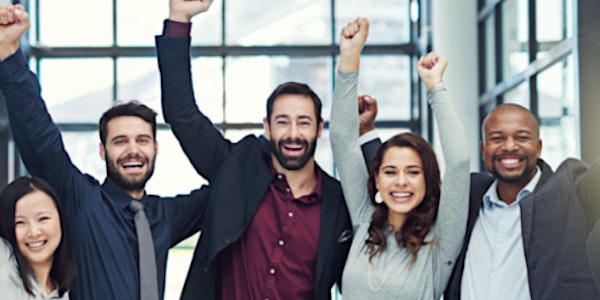 Executive Mental Fitness Program (International Cohort)
Mental fitness should be a priority for any leader and their people! Why? To unlock performance, potential and being better together!
About this event
Learning Zone & Connection UNLOCKS with Mental Fitness
Mental fitness should be a priority for any leader and their people! Why? Because in our world today, our brains suffer from content overload, always being on, the need to be agile, and that race to be at the top. That means that we are wired to keep searching for happiness, fulfilment and peacefulness. The next promotion, the next job, the next performance goal to be smashed.
We are often so busy stretching we are PUSHING ourselves and our people toward the next milestone. Using our talents and setting goals is perfectly ok. However, the PUSH eventually depletes our stores of energy and ability to lean into stress, listen to our people, and align with our executive team.
So what is the answer? To find FLOW! To step into a peaceful wise place and bring to life the goals and success we are accountable for while being able to bring people with us on the journey! So how else would I describe flow? When we are peaceful, we are clear, and we can understand. We don't get overwhelmed with each other and circumstances. In flow, we are agile, we can use our talents and skills and focus on how we are better and being better together.
Executive Mental Fitness Program (International Cohort)
At the end of August, we are piloting an executive-only PQ Program. We want to invite executive leaders to apply to be part of this cohort. As Executive leaders, your challenges will be similar, and your practice of mental fitness will pilot how you can support a Highly Effective HIVE (High performing organisation). If you are curious, why not do your saboteur assessment here and learn what could be holding you back from a peaceful, wise, highly effective leader.
This session will be held evenings in ANZ time and Mornings in the UK, EUROPE and Africa.
7 Week program & App and Virtual cohort based
1 Hour a week to watch a lecture with Shirzad on your App
1 Hour a week in your coaching cohort (Of executives)
15 Min of Brain reps a day for mental fitness!
Apply for your Grant: (Worth $990.00)
This program will be through application only. We offer a "grant" to leaders attending the first Executive Cohort. Please email us your application to apply for the Grant and your place in the program. There are limited seats. As part of your application, please can you let us know why you believe mental fitness is something executive leaders need to work on and why you would like to be part of this cohort.
Apply for your GRANT here: christina@ignitepurpose.com.au
Executive PROGRAM kicks off: 23rd of August at @7PM Sydney time (Sessions are virtual and App based)
Check out this program:
https://www.positiveintelligence.com/program/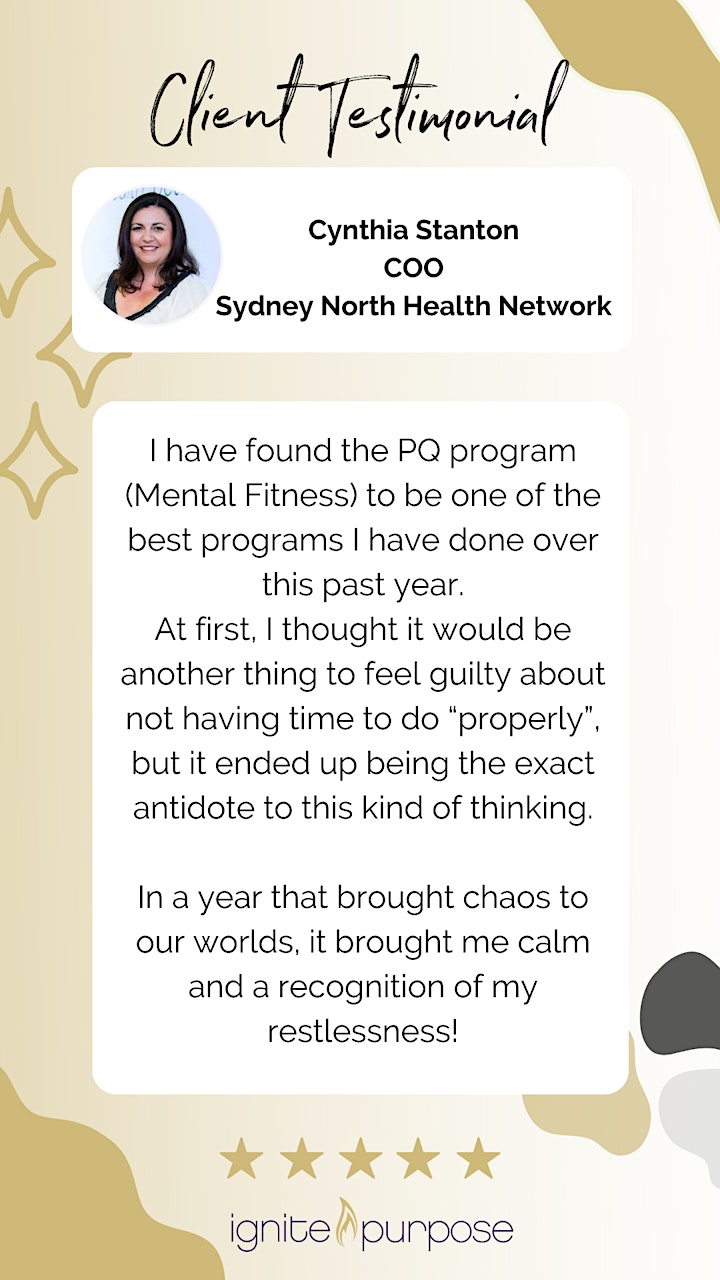 The Mental Fitness Program or (PQ) has been created by Shirzad Chamine.
Imagine what would happen to our world if we raised mentally fit kids. If our kids learned that they couldn't trust every voice in their own head, if they learned to discredit their own Saboteurs, if they developed Self-Command, and if they were able to activate their own positive Sage powers. What would happen to their ability to withstand bullying, flawed teaching, and even abusive parenting? What kind of politicians would those kids grow up to elect? What kind of global community would they create?
Our vision is to create a world where mental fitness becomes as widespread and commonly practiced as physical fitness is today amongst all kids, educators, parents, politicians, and leaders. That's when humanity will fulfill its true positive potential.
Explore the Program
Imagine yourself able to remain calm, clear headed, stress-free, and positive even in the midst of handling work and life's greatest challenges. What becomes possible for you, in achievement, in peace of mind and wellness, and in your relationships?
https://www.positiveintelligence.com/program/