Description
Executive Luncheon: Increase Demand
Friday, February 8th | 11:00AM | $25
*Ticket includes 3-course Lunch and SAP Sponsored Happy Hour
Featured Speaker: BRIAN VANDER ARK (Author & Lead Singer of multi-platinum rock band The Verve Pipe)
Following its first two amazing events, the anti-seminar themed Executive Luncheon is back with the next chapter in the series entitled: "Increase Demand"!
---
As a growing business you need to not only manage daily operations, but also increase demand for your products and services. Through technology, and equipping your people with the right tools, you can help your business stay ahead of the competition.
On February 8th, join host, David Strausser, a guest panel of experts, and special keynote speaker Brian Vander Ark, Author and Lead Singer of The Verve Pipe, at the City Club in downtown Los Angeles. Find out how you can drive demand for your business through this interactive discussion and forum.

Immediately following the main event, please join us for the SAP sponsored Happy Hour, where Brian Vander Ark will be performing his hit single "The Freshmen"!
---
EVENT DETAILS:
Date: Feb 8, 2019
Time: 11:00 AM - 3:00 PM
Location: City Club LA

Schedule:
11:00 - 11:30 AM: Check-in
11:30 - 02:15 PM: Anti-Seminar & Anti-Luncheon (Food is served, menu below)
02:15 - 3:00 PM: SAP Sponsored Happy Hour
---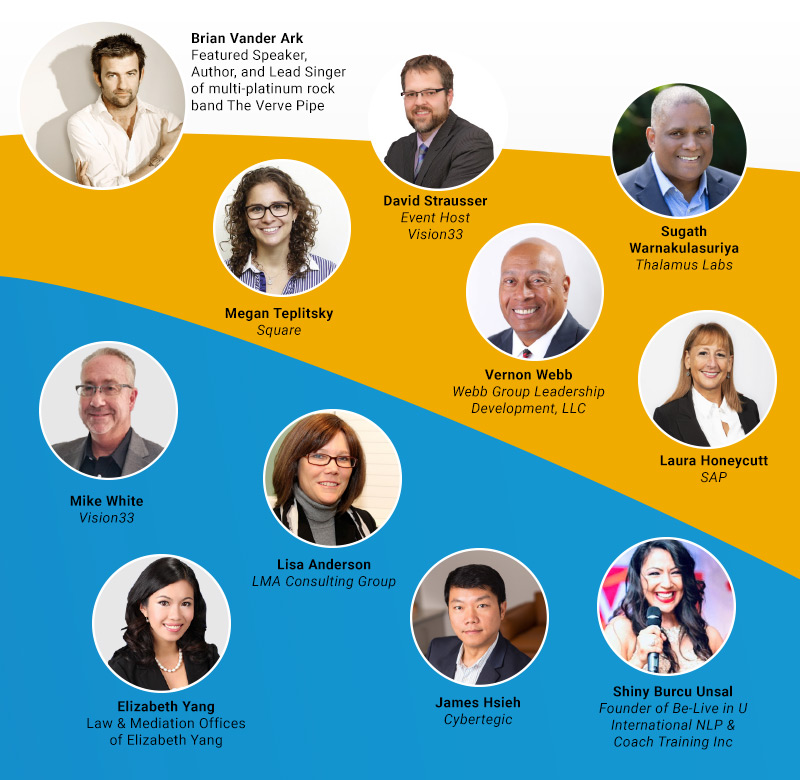 Host:

David Strausser - Vision33

---
Special Keynote Speaker:

Brian Vander Ark - Speaker, Author, and Lead Singer of "The Verve Pipe"

---
Standout Experts:

Vernon Web - Webb Group Leadership
Sugath Warankulasuriya - Thalamus Labs
Megan Teplitsky - Square

Laura Honeycutt - SAP
---
And this signature event would not be back without the incredible discussion panels the event is known for!

Panelists:

Mike White - Vision33
James Hsieh - Cybertegic
Shiny Burcu Unsal - Be-Live in U International NLP & Coach Training Inc.
Lisa Anderson - LMA Consulting Group
Elizabeth Yang - Yang Law Offices

ANTI-LUNCHEON MENU (Try getting this at a regular seminar...)

1st Course:
Chocolate Crunch Hazlenut Torte
2nd Course:
Apple-Garlic Brined Pork Osso Bucco, Maple-Rum Glaze, Walnut Crema, Pearline Baby Vegetables, Fingerling Potato, Cinnamon Butter and Apple Crisp
3rd Course:
Fried Cheese Curds, Smoked Bacon-Shallot Jam, Savory Crostini, Pancetta Lardons, Baby Iceberg Wedge and Cranberry-Cashew Dust
Seriously - the menu alone and the fact that you will hear a special rendition of the former #1 Billboard Alternative hit "The Freshmen" played live by Brian Vander Ark of The Verve Pipe is alone worth the $25!!


---

AND A BIG, BIG THANK YOU TO THE COMPANIES FOR MAKING IT POSSIBLE!
CITY CLUB LA
SAP
VISION33
SQUARE
CYBERTEGIC