Description
**Become a WCS Member for 30% off this and all events. Click here for more information.**
What is Leadership and what leadership challenges do women face? In the workplace, women report continued wage gaps, varying negotiation opportunities and lower likelihood of access to senior-level mentors and networks. Women comprise close to 50% of the workforce, while at the global C-suite level women make up about 14%. What barriers do women face as they move up the ranks and how can they successfully navigate professional hurdles with authenticity, ease and ample compensation?
Please join us for a workshop aimed at addressing topics and challenges that senior level female leaders face in the cleantech and sustainability field. The workshop, designed for mid-to-senior level professional women led by Joanna Bloor, a renowned speaker and executive promoter of human capital whose work has helped clients break through professional barriers to achieve professional success.
The workshop is limited to 30 participants. This is our first workshop of a series of 2:
Workshop 1: Oct 11

Workshop 2: Nov 29
What do you do? The ultimate question. Joanna recognizes that every decision regarding people's opportunities, personal and professional, are made in a room that they are not in. This begs the questions – are you part of the consideration set? And if you are, what is being said about you in that room that you're not in? Can you impact what you are known for? Joanna knows this is totally possible. Not only possible, but critical in the modern workplace. If we understand our unique value proposition, then everyone wins.
"We are so much more than just our title."
This rhetoric is not just a philosophy for Joanna. She's on a mission to get people to talk about themselves in a new way. One of the unique and compelling components of Joanna's presentation is her ability to perform "speed coaching" during her presentations. She draws in an audience member and in a matter of minutes, has crafted a bold and compelling personal value proposition unique to that person. It's amazing for the participant and educational to watch.
Ask yourself these two questions:
What does your company do and why is it important?

What do you do and why is it important?
Which of these questions was easier to answer? Shouldn't you be able to articulate both? We believe you should.
Key Concepts:
Every decision made about you and your career moves is made in a room you are not in. Develop a strategy and plan around those conversations.

Your story is not told by you; it's told by other people. Understand the impact and how to manage the story of you.
Participants Walk Away with:
Impactful, real-world and relevant examples of each concept in practice.

Working example of Human Value Proposition Statement

Impact Statement Worksheet
Our Speaker: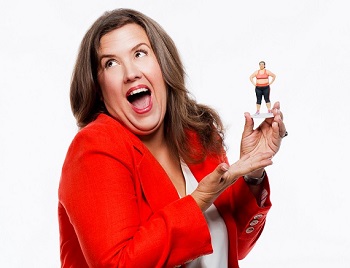 Introduction expert and LADYBADASS founder, Joanna Bloor's on a mission to get people to talk about themselves in a new way. She asks if you have a great answer to the question "What do you do?"
A self-described "startup junkie" Joanna started her career by scaling the revenue strategies of brands such as Ticketmaster, Cars.com, OpenTable, and Pandora. A conversation in line at TED 2016 led to a realization that what we are known for has far-reaching impact as an individual and a leader.
Companies such as GE, EY, 21st Century Fox, and Salesforce have brought Joanna in to work employees from recent grads to the executive teams. A TED speaker and "TED experience" coach. Learn more at www.joannabloor.com
Refunds are available until 48 hours in advance of the event.