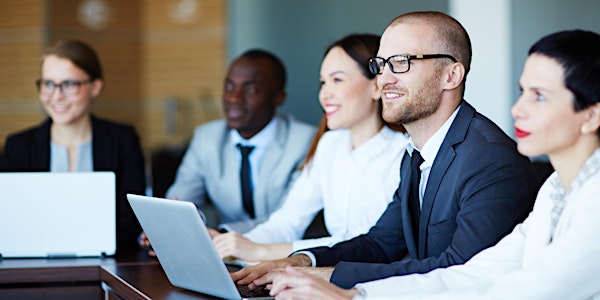 Executive Leadership Development (8 Sessions)
Refund policy
Contact the organizer to request a refund.
Eventbrite's fee is nonrefundable.
This program is for executives who have the most impact on strategic challenges such as navigating crisis, reinvention, and reorganization.
About this event
PROGRAM
The Executive Leadership Development is a collaboration between Dominican University of California's Institute for Leadership Studies and Strategies Consulting. The program includes instruction by subject matter from experts who are affiliated with Dominican and who also have strong, respected experience in the commercial sector. Successful completion of this program is recognized by the award of a Certificate from Dominican University of California.
Each of the eight 90-minute session of the program will include both instructions on the principles involved in the specific topic, as well as exercises designed to strengthen the learning through application. Between certain selected sessions, participants will have the option to be paired to meet 1:1 in a recorded Zoom session to practice a particular competency. These recorded sessions would be reviewed, and individualized commentary would be provided to each participant.
Session 1: Mastering the Art of Strategic Thinking
October 5, 2022, 9:00 a.m. - 10:30 a.m.
Session Description: Learn techniques to create a strategic vision that distinguishes strategic from tactical plans and actions, and is inclusive of team members' perspectives.
Learning Outcome(s): Apply critical strategic thinking skills and questions to create/evaluate strategies
Evaluate self capabilities as a Strategic Leader
Assess one's Function Strategy alignment with the overall Organization's Strategy
Apply process for making strategic choices
Session 2: Emotional Intelligence for Executives
October 12, 2022, 9:00 a.m. - 10:30 a.m.
Session Description:
Emotional Intelligence (Emotional Quotient) affects how we manage our own emotions, navigate social situations, make decisions and demonstrate effective leadership.
Learning Outcome(s):
Recognize the contribution EQ makes to inclusive leadership
Understand the Four Key Competencies of EQ: (a) self-awareness: becoming more aware of your emotional reactions; (b) self-management: turning your automatic reactions into useful responses; (c) social awareness: attuning yourself to others' thoughts and emotions; (d) relationship management: using your awareness of self and others to better manage your interactions and conflicts
Explore practical examples of good and poor EQ
Select specific behavioral strategies to improve your current level of EQ
Session 3: Creating High-Impact Team Performance
October 19, 2022, 9:00 a.m. - 10:30 a.m.
Session Description:
This session explores what elevates teams from mediocrity to high-impact performance. It focuses on team purpose, definitive role expectations & alignment, the balance between autonomy & accountability, and effective communications.
Learning Outcome(s):
Distinguish between team emphasis on interactional support vs. flawless individual execution of responsibility
Simultaneously apply core principles of delegation, autonomy & accountability
Practice application of S.M.A.R.T. communication techniques in making actionable requests & deliverable commitments
Session 4: Coaching for Results and Increased Capabilities
October 26, 2022, 9:00 a.m. - 10:30 a.m.
Session Description:
Effective executives use coaching techniques to guide performance improvements in the components where change can be effected.
Learning Outcome(s):
Understand the key principles, mindset, qualities, and skills of an effective coaching approach in producing consistently high performance and continuous skills growth
Demonstrate competency with the "mechanics of performance" and the three ways to improve it
Apply, through practice, fundamental coaching tools and techniques such as active listening and the GROW model
Session 5: Organizing Workloads, Aligning Responsibilities, Delegating Effectively
November 2, 2022, 9:00 a.m. - 10:30 a.m.
Session Description:
Develop skills and utilize techniques to demonstrably elevate productivity, including prioritization, planning & delegation.
Learning Outcome(s):
Explore the principles of productivity leading to organizational effectiveness
Examine techniques for establishing a priority system
Setting action planning goals for establishing workload to achieve measurable outcomes
Understand the principles and steps of effective delegation
Session 6: Managing Change in Times of VUCA (Volatility, Uncertainty, Complexity, Ambiguity)
November 9, 2022, 9:00 a.m. - 10:30 a.m.
Session Description:
Thriving organizations evaluate current business methods and models that need to change. Leaders utilize change protocols to identify strategies to reduce the impacts of volatility, uncertainty, complexity, and ambiguity in the workplace, and develop systems to communicate change decisions.
Learning Outcome(s):
Examine the stages of leading change and how to lead in a VUCA world
Consider the change processes and be able to think critically about challenges and opportunities to change
Understand and be able to use a process for decision-making, especially how to revise and/or adapt strategic planning to reflect VUCA's impact
Consider how VUCA, strategy, leadership, and positive change are integrated
Session 7: Creating a Personal Competency Leadership Development Plan
November 16, 2022, 9:00 a.m. - 10:30 a.m.
Session Description:
Create an individualized Leadership Development Plan to effect demonstrable improvement over the succeeding six months. Participants will prepare to share their plan with one's manager, mentor, or a key trusted co-worker, and request their advice and support.
Learning Outcome(s):
Recap progress achieved in previous sessions and choose areas for further leadership development
Identify and include organizational and team strategic goals
Choose priorities for personal leadership development
Align personal and organizational goals
Session 8: Synthesizing Core Concepts and Future Direction
December 7, 2022, 9:00 a.m. - 10:30 a.m.
Session Description:
Pursue continuous improvement for participants and the program. Review of key lessons learned. Finalize refinements in personal development plans. Identify opportunities for program enhancement.
Learning Outcome(s):
Synthesize core concepts from previous sessions
Identify continuous improvement opportunities for participants and the Executive Leadership Program
For more information, please contact the Institute for Leadership Studies at ils@dominican.edu.
Minimum Number of Participants. The organizer may cancel the program due to the non-attainment of the minimum number of participants. Participants would be notified of the cancellation within 3 days before the start date of the program and refunded promptly.