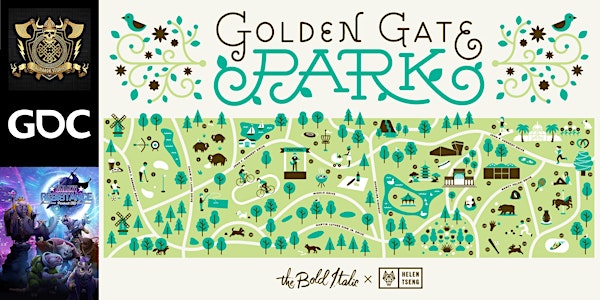 Executive Frisbee Golf - Pre-GDC Event / Happy Hour
Executive Frisbee Golf in the Park (Sun before GDC)
When and where
Location
Golden Gate Park Disc Golf Course 99 Marx Meadow Dr San Francisco, CA 94121
About this event
Some people might pop into town from overseas to shake off their jet lag, and wake up Sun morning at 5 am and ask!? What do I want to do today :) How about trying something new, like Frisbee Golf in Golden Gate Park? Don't have a disc, no worries - one disc will be provided.
A custom Mako3 or Roc3 is included in the ticket price (There's a limited amount of discount codes making the event either FREE of charge or 75% off)
All net proceeds will be donated to the SFDGC (San Francisco Disc Golf Club. A bunch of enthusiastic volunteers that both built and maintains the course). If they are not accepting donations, IGDA.
If you need an invite code, feel free to reach out to contact@ragnarokstudios.com. But if you have never met me or we have no mutual connections in LinkedIn, I might give you a 75% discount code.

FAQ / Questions:
What kind of disc will I get?
-We have ordered 120 custom discs from Innova Discs in LA. Those consists of 4 different designs. 2 Hot Stamp designs (Mako3) and 2 full-color designs (Roc3). These two disc types are both perfect for a one-disc challenge and a good starting disc. Specs are listed here:
Innova Mako3 Champion: https://www.innovadiscs.com/disc/mako3/
Innova Roc3: https://www.innovadiscs.com/disc/roc3/
After the disc golf, what will we do?
-The plan is to have 21st Amendment beers and potentially Japanese BBQ in the park. Update: We contacted the state and it is allowed to drink beer and wine in the park (no hard liquors though). So beer and wine is intended to be provided :)
Can I attend without playing?
-It'd be great if people at least playing front 9 or back 9 (which takes about 45 min, and you'll not a huge physical commitment). You can still attend, but it'll probably be hard for you to convince me to give you one of the awesome discs
Do you need sponsors?
-While we would appreciate having co-sponsors of the event, we have little visibility to offer because of the limited time before the event. Nor do we have a lot of free time before GDC to discuss it :)
So what does the discs look like?
-See below. While we don't have the final look and variance in weights and colors ready, the images below is what we submitted for print. I'll probably bring a D32 die, and you'll simply roll for a Disc: