Executive Forum featuring Phil Lapp
Description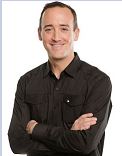 Lessons Learned on the Food Chain - Phil Lapp, Director of Marketing and Menu at Isaac's Deli
Phil Lapp has been in the food business for many years with success as Corporate Sales Director at Auntie Anne's, as a successful entrepreneur who Co-Founded with his wife, a meat substitute company called neat foods. Phil was CEO, as well, and he and his wife went on to successfully sell neat foods to a large national food company.
Currently, Phil is the Director of Marketing and Menu at Isaac's Restaurant. In our interview style Executive Forum, he will tell us about his "Lessons Learned" throughout his career in the food industry and how these lessons have shaped his life and impacted his career.
Join us for an exciting, interactive session that will give you insight and wisdom from a successful marketer and entrepreneur. One of Lancaster's own success stories!
Event Details:
What: The Executive Forum sponsored by Ross Buehler Falk - Strategic Business Advisors and CPA Firm

Where: The Training Room at the Horst Group
When: Thursday, December 8, 2017
Time: 8:30 am - 10:30 am
Faciliator: Kae Wagner, President of North Star Marketing
Sponsor: Ross Buehler Falk - Strategic Business Advisors and CPAs
For more about Phil's entrepreneurial neat foods story, click here:
http://www.newhope.com/managing-your-business/entrepreneur-profile-phil-lapp-co-founder-neat-foods
Phil's Background:
Director of Marketing and Menu at Isaac's Restaurants
Former Co-Founder & CEO at neat foods
Former Corporate Sales Director at Auntie Anne's
Studied Business Management at Eastern University
Went to Lampeter-Strasburg High School