Description
"There's class warfare, all right," Mr. Buffett said, "but it's my class, the rich class, that's making war, and we're winning." – Nytimes
Bear witness to the economic blueprint used around the world to make the rich wealthier and the poor more dependent on the top 5%. Every person in the world that is working on personal economic growth and development needs this primer. Regardless, if you decide to play in politics, climb corporate ladders, super-size a small business, consume to be cool and comfortable, or work to be worthy; you should witness the power of the Jonyprofit Socioeconomic Blueprint. You will never think the same again!
Before you make another decision in business or register for any other training or workshop session, you absolutely must attend this presentation given by John "Jonyprofit" Whaley. He will give you the big picture down to the details. This short but powerful session is definitely information overload at its best.

Many of you have heard Jonyprofit speak on lighter issues such as social media, financing your business or creating business plans. The material presented this time represents what the rest of the so-called "experts" either cannot or will not tell you about how to really play the game of personal economics. This is the missing piece of information that many faithful, hardworking and smart individuals truly do not comprehend about business even at the MBA level.
This is your once in a lifetime opportunity to break free of the pack. There is no hype about getting rich, fancy cars, big houses, or incredible trips. You will not hear traditional outdated stories about one-off success super companies or people that started with nothing and now have billions. Instead, you will explicitly learn how the people around you can make or break you, more importantly you will discover exactly who, why, what, when and where these people need to be in your life.
More at www.jonyprofit.com
It's the ultimate business workshop— hard-hitting information overload that will ring your jaw and your register.
Do you ever feel like the real business secrets are hidden from most business professionals? That the secrets that change individual players into victorious entrepreneurs are kept locked up in safes in the backrooms of regulators and lobbyists?
If you do, you are right. The real path to wealth and power is hidden away in a place unseen by the average business professional.
But now, somebody has gotten a hold of them…
And he wants to share them with you.
Jonyprofit's methods make you rich.
John "Jonyprofit" Whaley had 25 years to develop an understanding of real business ownership. 25 years inside the belly of the economic genome.

25 years before he cracked the code.

Jonyprofit guides you to success with secrets so good it will feel like insider trading— but it's 100% legal. Learn every loophole, corner, secret passage and open door of the world economy. Find out where the money is so you can move it in your direction. Build a blockbuster business based on the actual economic genome.
And bank on your newfound knowledge.
Jonyprofit teaches and preaches true business power.

Learn about:
The Most Powerful Players in the World Economy- How you can begin transformation into a real-world owner. Now.


Power Resources- Find out the world's most powerful currency and means of production and how to gain shares in it.


High-Octane Sales Concepts- Business booms so powerful they ripple the whole market.


Entrepreneurial Mastery- Gain complete control over your business domain. Learn what separates winning entrepreneurs from the rest


High-Powered Business Weapons- The most powerful, pivotal, crucial business tools ever used.


Lean, Clean Business- The most direct path to power at any time.


Real Corporate Knowledge- See the true line between government entities and the private market and how you can exploit it to your advantage.


Worldwide Business Clashes- Map the fault lines between different warring factions of the US economy and learn to position your business to succeed.


Money Rotation- Uncover fountains of wealth you never knew existed.



Routes to Power- The connection of the world economy and the structure of the economic genome.
Find the need. Feed the greed. And let Jonyprofit show you how to become a business powerhouse.
Sign up to dissect the economic genome, and Control Your Destiny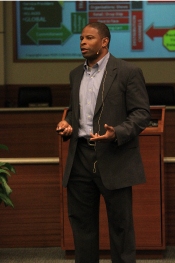 For more than 25 years, Jonyprofit has been an advocate for the advancement of entrepreneurship. An accomplished entrepreneur and business developer, John has continuously developed innovative methods for teaching people how to stay prosperous through self-employment.
His commitment has nurtured relationships with powerhouse business support organizations such as the Goldman Sach's 10,000 Small Business Initiative, Houston Community
College Center for Entrepreneurship, Texas Business Alliance Youth Entrepreneurship Academy, (HACH) Housing Authority of the City of Houston Economic Development, Multi-Cultural Alliance, SCORE (Service Corps of Retired Executives), as well as the City of Houston's Mayor's Office of Business Opportunity, where he works to positively impact the state of aspiring disadvantage and underutilized small business owners.
Hear what previous attendees had to say about
John "Jonyprofit" Whaley's training session on
Businesses Development with Online Tools
"You need to understand the game before you select a position or buy equipment, business is a contact sport with a lot of veteran rookies" ~ jonyprofit
Experience
Business Planning, Public Speaking, Radio and Television Personality, Video Production, Business Consulting, Business Process Analyst, Business Start-ups, Marketing and Advertising, Education Trainer and Web / IT /Graphic Design.
Training Class Information
Date: Thursday, September 19th 2013
Time: 9am to noon
Dress Code: Comfortable
Environment: Classroom Training
Mood: Interactive - It's about you!
Refreshments and Free Parking
2010 - 2013 Speaking Engagments:
SCORE - SBA Small Business Awards Luncheon - Presenter
SCORE - Palm Center/Houston Small Business Development Corporation - Presenter
SCORE - Sunnyside Community Center w/ Capital One - Presenter
SCORE - Port of Houston w/Small Business Development Center UH - Presenter
PERT Center Inc. - Houston Community College - Lecture, Classroom & Presenter
PERT Center Inc. - Government Procurement Conference Lecture Series - Presenter
PERT Center Inc. - Texas Association of Business Brokers /Institute of Certified Business Counselors - Banquet Keynote Speaker
PERT Center, Inc. Houston West Chamber of Commerce Breakfast Keynote Speaker
PERT Center, Inc. - Houston Area Glass Association - Dinner Keynote Speaker
PERT Center, Inc. - Goldman Sach's 10,000 Small Businesses Initiative - Social Media Marketing Trainer
PERT Center, Inc. - Big Boom Business Plan Institute: PVAM - Topic: Tools for Raising Money Online
PERT Center, Inc. - Small Business Growth Summit - MC / Panel Moderator
PERT Center, Inc. - Kingdom Builders and Score- Social Media for Entrepreneurs
PERT Center, Inc. - Kingdom Builders and Score- "Straight Talk" Panel Moderator