(Private Members Only) InsurTech NY program to discuss trends and strategies to work with Digital MGAs
About this event
Note: Presentations and networking will be 100% virtual. This event is for corporate innovation members only. Details about corporate innovation Membership below. Join the waitlist to request an invitation.
InsurTech NY Event Details
The best learning often occurs between industry peers. InsurTech NY hosts three private executive briefings per year for insurance carriers and brokers to discuss topics that matter to them and learn from their peers.
Digital MGAs have been a hot topic since the early days of InsurTech. Some of the most mature Digital MGAs have made the transition to becoming full-stack carriers like Lemonade, Hippo, and States Title. Other InsurTechs plan to maintain their status as an MGA indefinitely.
Partnerships between MGAs and incumbents represent a still untapped opportunity. MGAs need access to fronting paper, capacity, reinsurance, and TPA services. Carriers can benefit from the MGA's access to new markets, new technologies, and distribution capabilities.
Learn more about the trends that are shaping the marketplaces for MGAs and how to position yourself to work with the best Digital MGAs.
Agenda Overview
1:00 PM EST - Welcome & Introductions
1:05 PM EST - Analyst Presentation: State of Digital MGAs
2:05 PM EST - Panel: Forming Perfect Partnerships - perspectives from a Carrier, Mature MGA, and New MGA
2:35 PM EST - Break/Networking
2:40 PM EST - Member Roundtable Discussion
3:25 PM EST - Break/Networking
3:30 PM EST - Startup Showcases
4:30 PM EST - End
Featured Speakers
Our program will feature an industry analyst to cover the trends and a line of startup founders to showcase their capabilities. This section will be continuously updated with new speakers.
Featured Analyst Firm: EY
EY - Senior Manager - Jeff Wenger
EY - Managing Director - Kurt Schulenburg
EY - Managing Director - Taffy Jo Myers
Zurich Insurance Company - Head of New Programs, North America - Denise Olson
Distinguished Programs - CIO Erica Stoller
Loadsure - CEO - Johnny McCord
Iosis Consulting - Principal - David Bradford
Insurance Evolution Partners - Managing Director - Bryan Falchuk
Particle Health - VP of Marketing - Marlena Sarunac
Deadhappy – Co-Founder – Phil Zeidler
Jenny Life – CEO – Chirag Pancholi
Cover Genius – COO – Darcy Shapiro
Agilius – CRO – Adam Cherubini
Branch - Director of Agency Development - Steve Reffitt
Fleetr/Jooycar – CEO – Rachel Corn
Energetic Insurance - CEO - James Bowen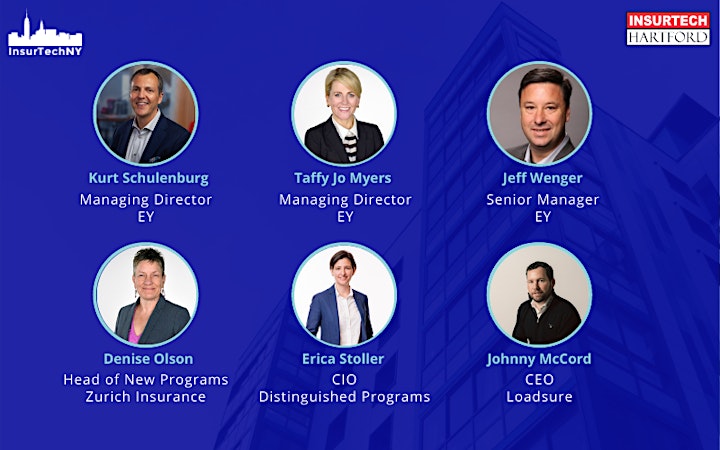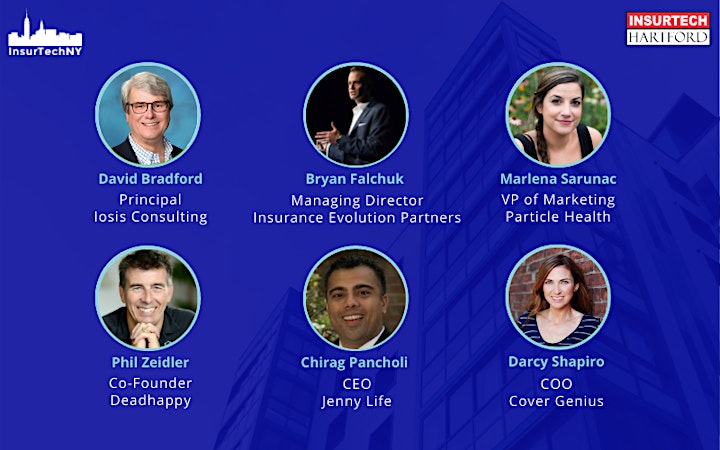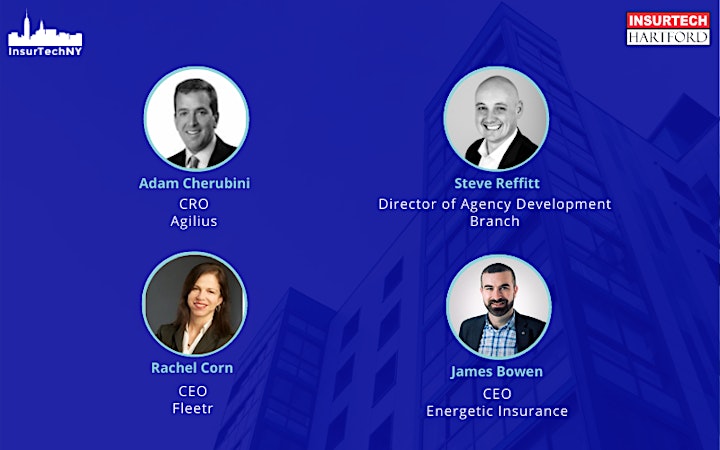 Startup Presentations
Jennylife, DeadHappy, Agilius, Branch, Cover Genius, Fleetr, Energetic Insurance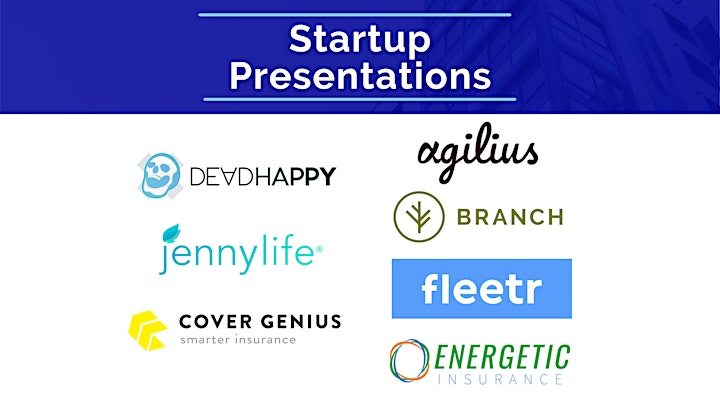 Who Should Attend
Innovation Leaders: Head of Innovation, VPs, Directors of Innovation
Distribution: CRO, Managing Directors, and VPs
Corporate IT: CIOs, VPs, and Directors of IT and Technology
Underwriting: CUOs, VPs, Directors, and Managers of Underwriting
Corporate Venture: Managing Director, Partners, and Principals
Corporate Innovation Membership
Being a trailblazer in corporate innovation is a difficult path. Successful projects require coordination between startups and internal stakeholders, often completing work that has never been done before.
InsurTech NY is here to help. Gain support, knowledge, and experience from a network of your peers. Leverage the strength of the largest InsurTech community in North America. Access programs each month to support your innovation goals - global competition, executive briefings, educational programs, and an accelerator.
Space for additioanl carrier and broker members is available. To learn more, please email contact@insurtechny.com.
InsurTechNY's mission is to bring together carriers, brokers, startups, and investors to help accelerate the digital transformation of the Insurance Industry in the greater New York region. We do this by facilitating new relationships and sharing insights from influencers within the industry through hosting 8 educational and networking events a year. Please visit our website, www.InsurTechNY.com for more details.
Follow us on social media.
Linkedin: https://www.linkedin.com/company/insurtechny
Twitter: https://twitter.com/InsurTechNY
Meetup: https://www.meetup.com/insurtechNewYork/
Youtube: https://www.youtube.com/channel/UC5VDD9uyFajGZsa-5u_2_ZQ
Privacy note: InsurTech NY collects your email and phone number at registration. We use your information to share news and updates about this event and future events. We also reserve the option to share your information with our event sponsors. If you wish to opt-out, please email contact@insurtechny.com.