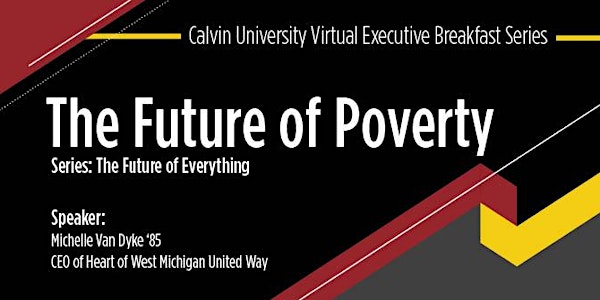 Executive Breakfast Series - The Future of Poverty - Virtual Event
Join us for our next lecture in our Future of Everything Series. The Future of Poverty: Families Balancing on the Brink
About this event
Join us February 9th, 2021 to hear Michelle Van Dyke, CEO of Heart of West Michigan United Way share results of a recent study that found 37% of Kent County households could not afford basic needs such as housing, child care, food, transportation, health care, and technology. Two thirds of those families were employed--they are part of what is often referred to as the working poor.
These families are living on the edge--working hard and earning too much to be considered poor but not earning enough to avoid skipping meals, worrying about paying bills or being one unexpected car repair or doctor visit from a financial disaster.
Get a more accurate picture of our West Michigan community and learn what United Way and other organizations are doing to address the situation and how you can help.
Please visit: calvin.edu/go/executivebreakfastseries to catch up on past topics.
Sponsored by the Calvin Center for Innovation in Business and the Calvin Alumni Association.
https://calvin.edu/centers-institutes/calvin-center-innovation-business/
https://calvin.edu/offices-services/alumni-association/