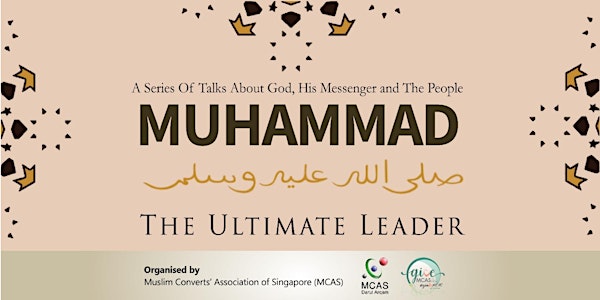 Exclusive Talk: Muhammad (PBUH): The Ultimate Lead
Speaker: Dr. Daud Batchelor
When and where
Location
MCAS Auditorium 32 Onan Road Singapore, 424484 Singapore
About this event
This talk is inspired by Dr Batchelor's book titled, "Muhammad (PBUH) The Ultimate Leader: From Western Business Perspectives." It will focus on Prophet Muhammad's qualities appraised by modern business leadership attributes and framework, to better understand his quintessential philosophies which led to the successful spread of Islam universally.
✓ Free for all. Come as you are.
(Limited seats available)
✓ Prayer spaces are available
✓ Sign language interpreter available
✓ Book by Dr. Daud Batchelor titled "Muhammad The Ultimate Leader: From Western Business Perspective" will be available for purchase onsite.
Profile of Speaker:
Dr Daud Batchelor is an Adjunct Fellow with a multidisciplinary background in Science, Engineering Science and Islamic Sciences at the International Institute of Advanced Islamic Studies (IAIS) Malaysia.
He is also a designated "Champion" for Better Futures Australia, part of global action by the Climate Action Network Australia, and the Co-Founder of the Islamic College of Brisbane.
Amongst his remarkable works, Dr. Daud authoured of "Muhammad (PBUH) The Ultimate Leader", he co-edited the Springer book, "Islamic Perspectives on Science and Technology" and he is a Columnist for the Australasian Muslim Times.