Description
The Exchange 2019 is the Chicagoland Chamber of Commerce's annual member-showcase. It draws 600 attendees and over 100 showcasing businesses, from all industries, of all sizes. The Exchange is an exchange of ideas, of business cards, and ultimately of business. It's for Chicago region businesses to show one another what they're doing, how and why they're doing it, and the value it provides to clients. This is a business development event with a casual vibe and a dash of thought leadership.

Agenda:
3:30 PM Check-in & Registration
4:00 PM - 5:00 PM Keynote Panel: Maximizing a Multigenerational Workforce
5:00 PM - 7:30 PM Tradeshow & Networking, Breakout Sessions


---

2019 Panel Discussion: Maximizing a Multigenerational Workforce
Panel Speakers include:

Ryan Chiaverini, Co-Host, Windy City Live, ABC7 Chicago (Moderator)
Dr. Sonat Birnecker Hart, Owner & President, KOVAL Distillery
Dr. Gwendolyn Brown, Associate Faculty, University of Phoenix
Rich Diaz, President, Advanced Resources
Ron Zinnerman, Head of Global Talent Acquisition, Aon
Baby Boomers (1948-1963), Generation X (1964-1978) and Millennials (1979-1997) comprise the bulk of the workforce. But the Veterans generation (1939-1947) remains able and eager, and the leading-edges of Generation Z (1998+) have resumes in hand. A five-generation workforce – and a labor market requiring every part of it – has 18 and 80-year-olds working, training and competing alongside each another.
The styles and preferences of each generation are different; from how they learn, to the hours they like to work, to their personal definitions of success. It's a lot. And employers must manage all of it, maximizing the strengths of their talent and making the workplace a welcoming place where everyone can thrive.
So… how does that work? The Exchange 2019 panel discussion, Maximizing a Multigenerational Workforce, will tell us. From what works to what's failed, experts from a wide-range of backgrounds and industries will tell our business audience about best practices to know, pitfalls to avoid, and emerging trends to prepare for.
New this year! We're hosting Breakout Sessions on trending business topics that apply to every organization including:
Breakout Session 1 - Social Selling 101: How to Convert LinkedIn Connections to New Business (Dean Delisle, President & CEO, Forward Progress, Creator of Social Jack) - It's proven that sales reps who use social media as part of their sales techniques outsell 78% of their peers! In this dynamic workshop you will learn how to optimize your social media profile, attract new prospects, leverage your connections and increase your targeted referrals - all through social media!
Breakout Session 2 - Creating a Multigenerational Talent Strategy (Karrie Chitwood, Director, Consulting Services, Advanced Resources) - This session focuses on developing talent as a collective whoe. Create strategies for solving business challenges and achieving objectives by drawing on the unique perspectives and strengths inherent in a multigenerational workforce.
Breakout Session 3 - Managing Up and Down the Generations (Jessica Thunberg, Senior VP Business Strategies, Jasculca Terman Strategic Communications; Rebecca Fyffe, Director of Research, Landmark Pest Management; Diane Webster, Partner, Litigation, Hinshaw & Culbertson; Andrew Dodge, VP Enterprise Business Development, Quantum Corporation) - This panel focuses on managing teams of millennials and Gen Z direct reports, while also building relationships with C-suite leaders. Panelists will share personal strategies that have and have not worked, and larger trends to be mindful of working with all generations.


---
Exhibitor & Sponsorship opportunities:
Exhibitor tables and sponsorship opportunities are exclusive to Chamber members only. Prospective members interested in exhibiting or sponsoring, please contact Michelle Peska at (312) 494-6716 or email mlepeska@chicagolandchamber.org. (Individual tickets are available to the general public.)

Click here for a full list of sponsorship opportunities.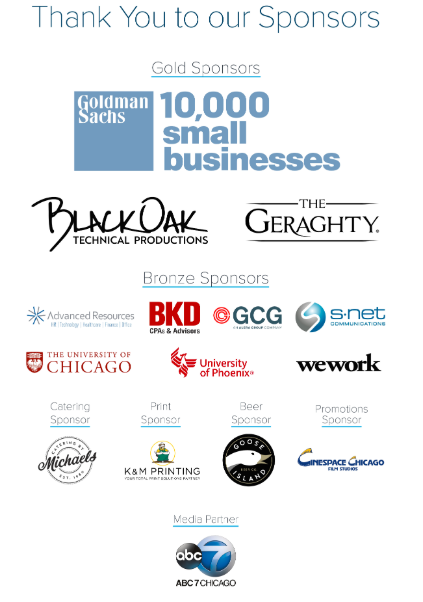 List of exhibitors as of 3.29.19. Please check back as this list will be updated frequently leading up to the event date.