Exceptional Connections - Vancouver, WA May Networking Luncheon
About this Event

We have a full schedule planned so please plan to arrive at 11am to network and enjoy the Buffet Luncheon. Please serve your meal before the buffet closes, and our event begins promptly at 11:25am.
Stay tuned for information about our EC - Vancouver, WA May Spotlight speaker Amanda Goff
We are excited Chuck Oxford is our March Spotlight Speaker
 Chuck Oxford is a former corporate executive with several aerospace companies with responsibilities ranging from Project Management to Regional and International Business and Marketing. As a small business owner for 13 years in Bellevue, he was awarded "Small Business of the Year" in 2011 by the Bellevue Chamber of Commerce. This is the first, and only automotive company to achieve this recognition in the history of the Award.
He also has extensive experience in creating successful business cultures, systems and functional teams that achieve exceptional service oriented work environments which accelerate business growth and profitability above industry norms. Chuck is dedicated to making a difference by mentoring small business owners to change their view of themselves and their companies, their future potential and recognize the possibilities beyond their current thinking.  In essence, his passion is to support business owners to tap into their genius!
Chuck has served on the EC - Woodinville Contribution team since 2013, he's a Mentor Connector and has earned 30.5 clock hours  through our Educational Series SkillShops as a Wise Connector.
In Chuck's 20 minute talk, he will share:
"DISC Generation 2.0: expanding your influence."
Learn behavioral styles and create a common language to foster understanding.  Get to know yourself better and develop effective communication skills.
This powerful modality will change the way you look at the world, individuals and clients.
In Chuck's engaging talk you will:
* Uncover your strengths and empower yourself to grow professionally & personally.
* Learn strategies on how to improve your most important relationships.
* Gain insights into building a stronger communication style that lowers conflict in your life.
Print out Chuck's DISC Generation 2 worksheet to follow his talk:
 https://drive.google.com/openid=0B04DV_DeiGdkY0hDRk1ZWkRXN1drb0xRellUZUxzQTVoR1pz 
To learn more go to: CEO@CharlesEOxford.com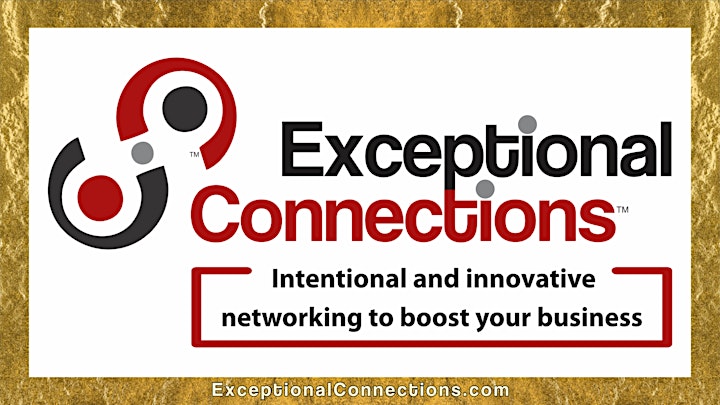 Why Attend Exceptional Connections™ Networking?
* Join us in making exceptional connections, building relationships that lead to new friendships, endless referrals, and powerful advocates!
* Meet, Mingle and Connect with like-minded Entrepreneurs in a Fun & Festive Environment
* 45-second Exceptional Connection Spotlights given to 20 - 45 local businesses
* Our monthly luncheons are typically sold out
* Free Open Membership to all Networking Luncheons
* As an added bonus you will experience "Networking with a Twist"
* Support our Non-profit
* Win Door Prizes!
* Free parking
Cost
The Earlier You Register, The More You Save!
$45 – "Early Bird" rate until Friday, March 6th at 11:30pm
$55 – "It's Not Too Late" rate available until Wednesday, March 11th at 9:00pm
$65 - "Pay at the Door" on-line rate if event is not Sold Out!
DISCLAIMER: Our Events are typically Sold Out. Please know that only pre-paid registrations are guaranteed a seat at our events. Register early to reserve your seat, and arrive by 11 am to enjoy the Buffet Luncheon that closes at 11:30 am
Networking fee includes a wonderful Buffet Luncheon.
A delicious buffet luncheon provided by the amazing Bleu Door Bakery includes healthy salads, sandwiches and/or soup including gluten free.
Our dynamic events sell out each month and attract 20-45 Exceptional Connectors!
Rukshana Hafez Triem - possesses a huge hunger to serve, and to bring deep connections to our community and transformation to our world. She is especially inspired to offer women the opportunity to crave the full life that they are meant to live. Rukshana's purpose is to share her gifts with women around the world. She is passionate about helping them discover what is possible, and opening doors they never knew existed that lead to abundance and freedom. Rukshana's life's purpose is to live fully, spend time with her family and friends and to inspire people to live a fully balanced life. From this perspective, others can share this same joy to impact others in our community. Rukshana believes she is on this planet to impact young women she comes in contact with. To impact communities and inspire people to find life balance and peace within. Ruksahan's dream is to create a platform for women to be creative and to build their own life balance of body, mind and soul. Rukshana believes we have the freedom to create and design our lives. To draw to you the person that you desire to be, and to create a business that you love. It's just incredible how much power we really have, we just forget. If I can do it, anybody can do it.
What Do You Need To Bring?
Bring business cards, your 45-second commercial, your smile and lets powerfully step into the third quarter of the year meeting some new friends, making exceptional connections, while also expanding our personal and business relationships in 2020.
Questions?
Email ECN Vancouver Chapter Connector Leader Rukshana Hafez Triem Rukshana@ExceptionalConnections.com
or Exceptional Connections™ Founder Cyndi ONeill-Dady Cyndi@ExceptionalConnections.com
Exceptional Connections provides a relationship based approach to networking that encourages and nurtures relationships. We teach the ease and power of building your business one relationship at a time. One of our guiding principles is 'The Law of Contribution' which states that "the level of your success and happiness is in direct proportion to the number of people that you serve selflessly". At ECN, we define success as sowing, not reaping, and we model and teach this philosophy. Robert Louis Stevenson reinforces this belief, " I consider the success of my day based on the seeds I sow, not the harvest I reap". With this powerful mindset, businesses naturally flourish as powerful advocates are created, and transformed into an army of raving fans…
In addition to attracting exceptional people and businesses each month; we teach networking skills using our 6 Steps to Exceptional Connecting Puzzle Wheel, highlight a different nominated member with an Exceptional Insight presentation, each attendee is offered the visibility of a 45-second Spotlight commercial (we offer a unique opportunity to be seen and heard by everyone in the room), we host a 20-minute Spotlight speaker and showcase the services and products of our Spotlight vendors…