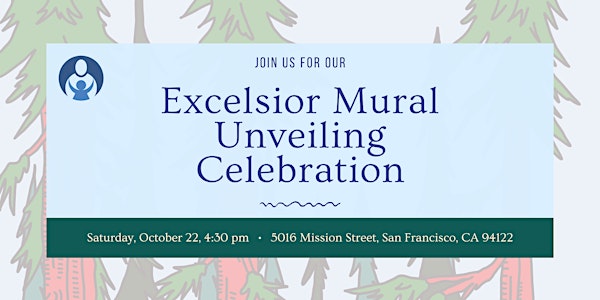 Excelsior Mural Unveiling Celebration
You selected the design, now let's celebrate the completed mural!
When and where
Location
Family Connections Centers • Excelsior 5016 Mission Street San Francisco, CA 94112
About this event
Family Connections Centers worked with local artist, Neil Ballard, to add a large mural for our Excelsior play yard!
Join us for the first look at the new mural, view artwork from our programs, paint and color with your family, and hear more from Neil about his design.
All ages are encouraged to attend. Beverages and snacks will be provided.
Questions? Contact communications@fccenters.org.
•
¡Family Connections trabajó con el artista, Neil Ballard, para agregar un gran mural para nuestro patio de juegos de Excelsior! Únase a nosotros para ver por primera vez el nuevo mural, vea las obras de arte de nuestros programas, pinte y coloree con su familia, y conozca a Neil. Todas las edades son bienvenidas. Se proporcionarán bebidas y aperitivos.
•
請加入我們,你將可以優先看我們的新壁畫和課堂上的藝術作品,還可以與家人一起製作藝術作品,並與藝術家 Neil Ballard 見面。歡迎 所有人參加,將提供飲料和小吃。
•
Trung tâm Kết nối Gia đình đang làm việc với nghệ sĩ địa phương, Neil Ballard, để thêm một bức tranh tường lớn cho sân chơi Excelsior của chúng tôi! Hãy tham gia với chúng tôi để có cái nhìn đầu tiên về bức tranh tường mới, xem tác phẩm nghệ thuật từ các chương trình của chúng tôi, vẽ và tô màu với gia đình của bạn và gặp Neil.Mọi lứa tuổi đều được chào đón. Đồ uống và đồ ăn nhẹ sẽ được cung cấp.