Description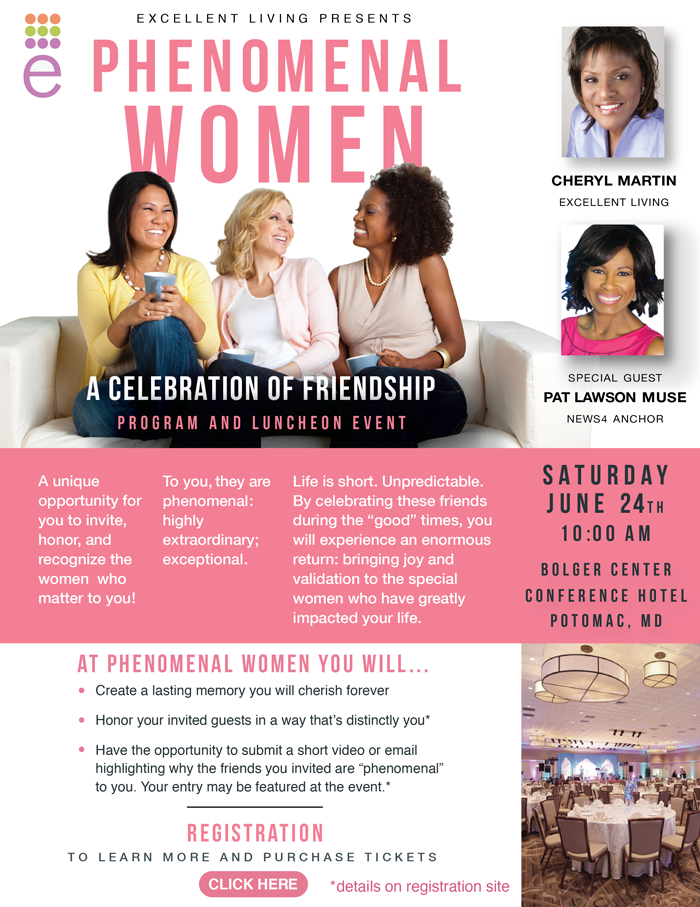 Excellent Living is celebrating ten years of encouraging and empowering women through our weekly radio broadcast, outreach programs, and resources. Our vision is to help you celebrate the phenomenal women in your life.
The program and luncheon event is designed for you to recognize the extraordinary women in your life (mother, sister, daughter, girlfriend, mentor, colleague, relative, sorority sister, childhood friend). You want them to know how much you appreciate them for what they have deposited in your life. It will be an unforgettable memory of love and gratitude.
You will serve as the table host of your invited phenomenal women. During the program, there will be a designated time for you to esteem your invited guests right at your table. Some suggested ways to do so: gifts or gift bags, a keepsake letter outlining why she is "phenomenal" to you; create a video to screen at your table, give a plaque or gift certificate, a memento photo album, share your accolades verbally. You can do as "little" or as "much" as you desire. You get to customize your friends' celebration to make it special.
While the event will start at 10 am, you can arrive as early as 9 to take photos of your invited guests on the beautiful grounds of The Bolger Center to have as keepsakes and upload on social media platforms before the program begins at 10.
Invest in these relationships today! Register now. A great Mother's Day gift…a ticket to Phenomenal Women!
No tickets will be sold at the door.
VIDEO & EMAIL SUBMISSIONS: After you have registered, you can submit a short video (maximum 3 minutes) to Excellent Living and/or an email (250 words or less) about what makes _______a phenomenal woman or phenomenal women. You may receive a prize and your entry may be featured during the program and luncheon. All submissions must be received by Saturday, June 3rd, Midnight (EST). Email submissions to info@excellentliving.org.
The program and luncheon will also include: Special music, prizes, and more.
NOTE: No outside food or beverage is allowed at the event.
Please help us spread the word by posting this event on your Facebook and Twitter pages and personally encouraging your friends to come. It's too good to keep it to yourself!
We look forward to seeing you on Saturday morning, June 24th.
FAQs:
Q. Do I have to invite a guest in order to attend this event?
A. No. We'd love to have you come to help celebrate Excellent Living's anniversary. You will be seated with other phenomenal women and hopefully, you will make new friends!
Q. How many women can I invite?
A. You can buy tickets for you and one friend or host up to a table of 10. It would be difficult for you to honor women seated at a second table. You can encourage other friends to reserve a table to celebrate the phenomenal women in their lives. You can invite your church or social group to sponsor a table or tables.
Q. Are there any refunds on purchased tickets?
A. The tickets are non-refundable, but you can transfer your ticket to someone else. You will need to email info@excellentliving.org when you make the transfer, providing your name and the name of the new ticket owner.

Q. Can children attend this event?
A. Phenomenal Women is designed for adults.
Q. Is parking included?
A. There is plenty of complimentary parking on the Bolger grounds. Upon arrival, you will be directed to the parking lot closest to our venue
Q. Which hotels are nearby?
A. We recommend you book a room(s) at The Bolger Center. Excellent Living has a discounted rate for guests. We provide that information once you have registered for the event.
Q. This is a different format than past Excellent Living events. What do you hope to accomplish?
A. Excellent Living is committed to empowering and encouraging women. Friendships among women can be a powerful tool that God uses to achieve His purposes in our lives. It is our hope that women will be affirmed, strengthened, overwhelmed with love, and inspired in such an incredible way that they will never forget. It's common for us to "memorialize" our friends when it's too late for them to hear our heartfelt thoughts about them. Now is the time to make the investment!