Description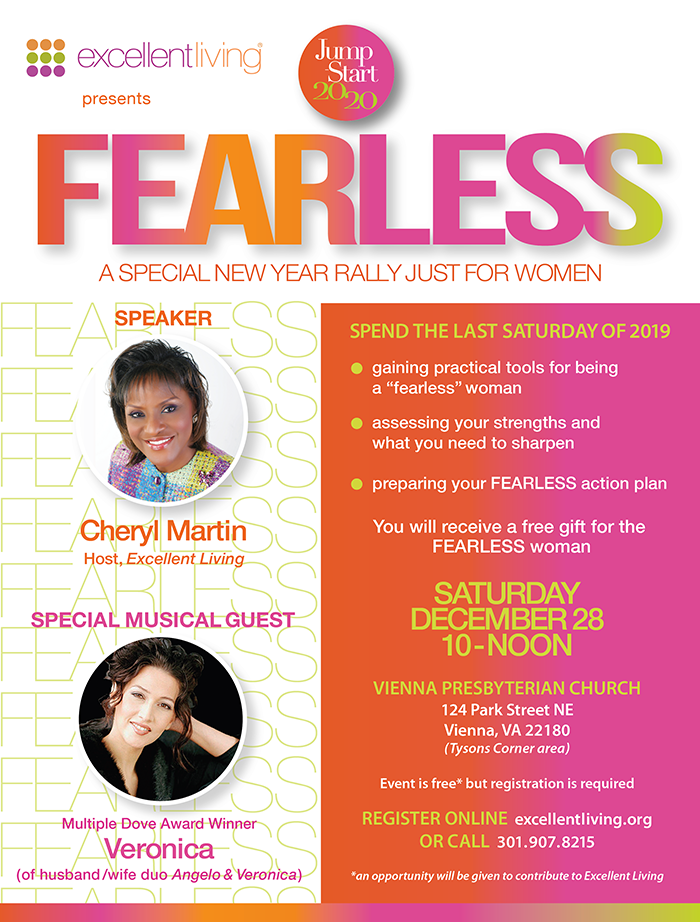 Ladies...have you ever been derailed by fear? Procrastination? You know that God placed a dream in your heart, but you haven't acted on it, or you started, then stopped. This reality is frustrating to you. Cheryl Martin, host of Excellent Living, has experienced these dynamics. She's excited to share what she's learned to empower you to be FEARLESS! Time is precious and waits for no one. 2020 is the Year to be proactive and move confidently in the direction that God is leading you.
At Jump-Start 2020 FEARLESS, in addition to hearing from Cheryl (author, speaker, former network News Anchor), you'll enjoy great music by multiple Dove Award winner, Veronica, of the husband/wife duo Angelo & Veronica. You'll spend time getting started on your personalized FEARLESS action plan. You'll receive a free resource that will help you become FEARLESS. Plus, you'll be in great company with other women who want to be FEARLESS in 2020.
The next step? Just register for this free event and encourage others to come by posting it on your Facebook, Instagram, and Twitter pages and giving personal invitations to friends and co-workers. It's too good to keep to yourself!
We look forward to seeing you on December 28! This is the best way to spend the last Saturday morning of 2019…by preparing to be FEARLESS in 2020.