Excellence in Journalism North Texas Legends Awards 2017
Description
Ticket sales are closed as of Friday, June 2. A limited number of tickets will be available at the door for $30.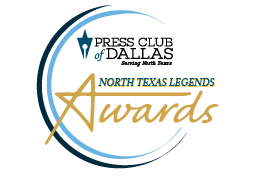 Dallas Press Club to Honor 2017 Legends in Journalism, June 3 at Sixth Floor Museum
Judges Select N. Texas Journalists Known for Excellence, Integrity, Talent
Thirteen legendary North Texas journalists will receive the industry's prestigious lifetime excellence in journalism award recognition, dubbed "North Texas Legends," by the Press Club of Dallas. The 7th annual "Legends" reception and awards ceremony will be held at the historic Sixth Floor Museum at Dealey Plaza, 411 Elm Street, from 6 to 8 p.m. Saturday, June 3rd. Admission includes food by Cafe Momentum, beer, wine and soft drinks. Capacity is limited to 225.

"The 13 honorees nominated by the Press Club membership are the cream of the crop," said Scott Goldstein, president of the Press Club of Dallas. "We honor each of these 'legends' for their amazing accomplishments and relish the stories of these award-winning journalists."

The judges are comprised of "Legends" award winners, and veteran Press Club members. Each winner is required to have worked in the Dallas/Ft. Worth region in the news media market for at least ten years, and currently reside in Texas. For the first time this year, an award will be given posthumously.

The 2017 honorees are:
Harold Taft (posthumous) – He was North Texas' first television meteorologist during his long and distinguished career at KXAS-TV.
Dale Hansen – Dean of D-FW sports anchors and now in his fourth decade at WFAA-TV.
Byron Harris – Former investigative reporter at WFAA-TV whose work has earned him multiple national Peabody and DuPont awards.
John Jenkins – Recently retired as news operations manager at KXAS-TV, he also was one of the market's first African-American photographers at both KDFW-TV and WFAA-TV.
Yolette Garcia – Former award-winning producer at KERA-TV and now assistant dean for External Affairs and Outreach at SMU's Annette Caldwell Simmons School of Education and Human Development.
Norm Hitzges – Still going strong on weekday mornings at "The Ticket," he's the pathfinder for latter day sports talk radio stations.
Tom Joyner – The original "fly jock" has been a nationally known, influential radio personality since the 1970s and has long been a pipeline to the African-American community.
Janet St. James – She was the gold standard for medical reporting at WFAA-TV before becoming assistant vice president for strategic communications for Medical City Healthcare.
Bill Mack – His "Midnight Cowboy Trucking Show" and other late-nighters were must-listens for truck drivers around the country. Also an accomplished songwriter, he penned LeAnn Rimes' first hit, "Blue."
John Lumpkin – The Associated Press bureau chief in Dallas for nearly 20 years, he also was instrumental in both launching and sustaining the Schieffer School of Journalism at TCU.

Mike Blackman – Formerly executive editor of the Fort Worth Star-Telegram, he's also taught journalism at the college level and is an award-winning author of short stories.
Bill DeOre – The former longtime Dallas Morning News editorial and sports cartoonist has received numerous national and state awards for his work and is also an accomplished book illustrator.

Jeffrey Weiss – 30-year Dallas Morning News veteran and recent retiree.
The event emcee is Cory Smith, news anchor for NBC 5 and Press Club Board Member. Ed Bark and Hugh Aynesworth, both Press Club of Dallas Board members, are co-chairs of the June 3rd event. Judges included: Bark, Smith, Frank Librio and Hugh Aynesworth.
Sponsorship packages are available for $250, which includes three tickets to the event, your logo or name in the official program and two memberships to the Press Club of Dallas.
Net proceeds from the event will benefit the mission of the Press Club of Dallas, providing scholarships for students to Texas colleges and universities and supporting the operations of the Press Club. 

Past winners include:
2016 winners: Norma Adams-Wade, Fil Alvarado, Sandra Brown, Steve Blow, David Finfrock, Randy Galloway, Jeff Guinn, JoAnn Holt, Sylvia Komatsu, John McCaa, Bob Phillips, Mike Rhyner and David Webb

2015 winners: Helen Bryant Anders, B.J. Austin, Sam Blair, Becky Munoz-Diaz, Mollie Finch-Belt, Dan Jenkins, David McHam, Bob Mong, Robert Moore, George Riba, Bob Ray Sanders, Brad Sham and Clarice Tinsley

2014 winners: John Anders, Gloria Campos, Iola Johnson, Judy Jordan, John Miller, Scott Murray, Darwin Payne, Walter Robertson, Tracy Rowlett, Cissy Stewart and Bob Welch

2013 winners: Carolyn Barta, Eddie Barker, Kent Biffle, Clarence Bruyere, Alex Burton, Al Carrell, Vivian Castleberry, Ron Chapman, Mike Cochran, Bob Compton, Lee Cullum and Jimmy Darnell

2012 winners: Troy Dungan, Bill Evans, Jim Ewell, Dottie Griffith, John Gudiohnsen, Jim Henderson, Lana Henderson, Bert Holmes, Helen Holmes, Bob Huffaker, Suzie Humphries, Will Jarrett, Shelly Katz, Joe Laird and Ralph Langer

2011 winners: Jimmy Lovell, Frank Luksa, Phil Magers, Bill Mercer, Bob Miller, Burl Osborne, Rena Pederson, Bob Porter, Bob St. John, Blackie Sherrod, Bert Shipp, Carlton Stowers, Dick Wheeler, Wes Wise, Bobbie Wygant, Tony Zoppi, Hugh Aynesworth and Karen Hughes