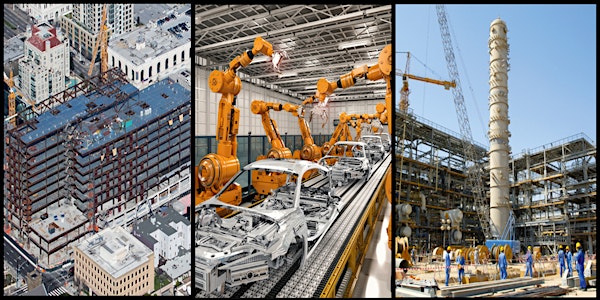 Excellence In Capital Projects - A 4 Part Series
By Project Value Engineers
Refund Policy
Refunds up to 7 days before event
Description
Excellence In Capital Projects (a 4 part series)
- Growing the Value of Your Projects -
7am to 8:30am PST, 4pm to 5:30pm UTC +2
Thursdays Oct 11, Oct 25, Nov 15, Nov 29



---


Do you want higher value generated in your capital expenditures? Is finishing projects on schedule and under budget important to your business? Is the growing complexity of capital projects and financial constraints making it difficult to maintain your capital assets?
Join experts from multiple industries with complex capital projects at the core of their experience and business models. What do capital projects in the manufacturing, basic materials, and healthcare industries have in common? Where are they different? How can we learn from one another?
This webinar series will address capital projects covering feasibility studies, design, contracting, procurement, construction, commissioning and post occupancy along with ongoing capex projects.
Part 1 – Thursday, Oct 11th
"Setting up for success – From business idea to project framework"
Stage-gate approach

Framing and alignment

Project charter

Project's requirements
Part 2 – Thursday, Oct 25th
"Management during Design – Ensuring business value is achieved"
Value assurance

NPV maximization

Value improvement practices

Target Value Design
Part 3 – Thursday, Nov 15th
"Management during Construction and Commissioning – Ensuring successful completion"
Contracting strategies, incl. IPD

Schedule and cost management

Safety and risk management

Lean construction
Part 4 – Thursday, Nov 29th
"Achieving project success – The effective project team"
Team effectiveness and owner's mindset

Synthesis and communication skills

Incentive systems

Project team structure and roles
Registration for each part includes a recording of the webinar and a pdf version of the slides. You can also register for the entire series at a significant discount.
About the organizer
Excellence in Capital Projects is a collaboration between Lean IPD, Owner Team Consultation, and Growing Operations Advisors.   
Vision: a world where capital projects are delivered reliably on a consistent basis and all parties involved make a fair margin.
Mission: To share information and best practices related to the delivery of capex projects from mega projects to routine annual maintenance with industry practitioners who can apply these concepts directly on capex projects.
Lean IPD - Based in Northern California, Lean IPD is dedicated to sharing information related to Lean Construction and Integrated Project Delivery, primary through its website leanipd.com.
Owner Team Consultation - OTC is a team of experienced consultants with complementary competencies specialising in the development of industrial scale mega projects, primarily in Africa.  OTC works by confirming a business ovjectives can be achieved, understanding and balancing owners needs, identifying risk areas and opportunities and proposing mitigation plans.

Growing Operations Advisors - Growing is a small innovative consulting house based in Germany specialized in sustainable and substantial productivity improvement for small and medium enterprises in the industry and service business. Growing optimizes the current operations, creates leadership capabilities, improves capital expenditures and introduces automation and digital operations.