| | |
| --- | --- |
| Exam Retake | Wedding & Event Design Chicago | |
Event Details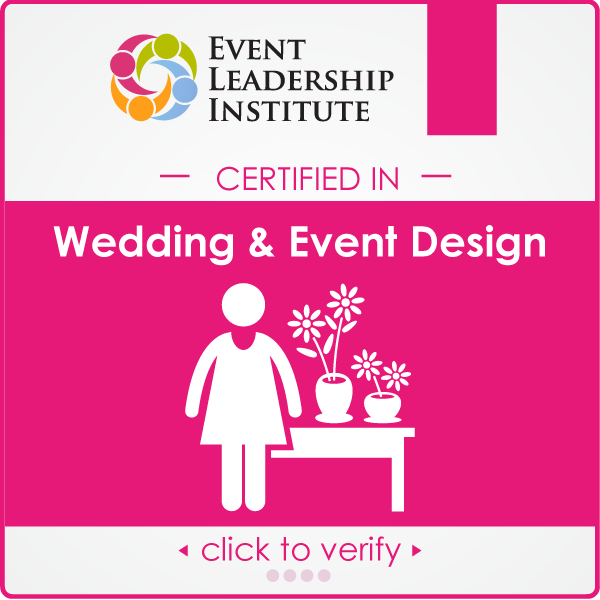 Earn Your Credential
Students who complete the Wedding & Event Design course and pass a final exam with an 85% or higher will earn a Digital Credential through the Event Leadership Institute.  
Digital credentials, also known as open badges, are the newest way for professionals to share their achievements and skills in the marketplace. You can share your credential on your email signature, LinkedIn profile, Facebook page, website, blog or other platform.  Anyone who views it may click on it and be brought to a customized, individual verification page, which confirms who the credential was issued to, when it was issued, what was involved in earning it, and what it qualifies the earner to do.  Click to see what E.L.I.'s Digital Credential Verification Page looks like. 
Exam Fee
The retake exam fee is $75 and must be processed prior to scheudling your exam. Once paid, you will receive a confimation receipt for your files and instructions on how to schedule your exam time with our online Proctors. 

Scheduling Your Exam + Testing Guidelines
You will receive a confirmation email upon payment with instructions regarding how to schedule your exam. Similar to the first test, it will be necessary to schedule a minimum of 72 hours in advance of your time slot. Our Proctors work 24/7 and can schedule your time regardless of time zone.

When taking your exam, you will be asked to produce a ID with picture to confirm you are the correct test-taker. No outside resources (notes, books, access to internet, etc.) will be allowed for refernce when taking the exam. Our Procotor will open the exam site and monitor during the testing proces. Once complete, you will see your score and the Proctor will close out of the testing window.
Issue of Credentials
This will take place the week after the testing period. You will receive an email from the Event Leadership Institute and instructions from our credential partner, Credly to create your FREE account. You badge will be housed on their site but accessible to share via social networks and to download for use in email signature or webiste. Additional details regarding digital credentials and sharing may be found by clicking here.
Organizer
Event Leadership Institute
ABOUT US
 Launched in June, 2011, the Event Leadership Institute provides the highest quality educational programs, and features top thought leaders and industry influencers sharing their insights at live events throughout the country. We strive to empower a more educated planner to produce smarter, more creative, and cost-effective events. 
LEARNING GUARANTEE
We stand behind the quality of our content and back all of our online classes and live events with a 100% money-back guarantee if you feel you did not learn what you expected to.
TESTIMONIALS
"ELI has moved to the forefront of online learning for the event industry, and has created THE standard of education provision in both level of content and accessibility to students."  
Kevin White | President-Elect, ISES International, Adjunct Professor, NYU
"One of the smartest investments an event business owner can make."  
Lyn Stout | A Bond Event
"Thank you for your continued leadership, and always lighting the way."  
Ceci Johnson | Founder, CECI New York
"Hands down, the best educational content and the smartest instructors in our industry."  
David Adler | CEO, BizBash
"ELI classes are like a shining light in the dark."  
Jharna Jaisinghani | Owner, Artistic Affairs