EEC Indonesia 2019 - Konferensi eCommerce Terbesar di Indonesia "Grow Global, Grow Fast"
About this event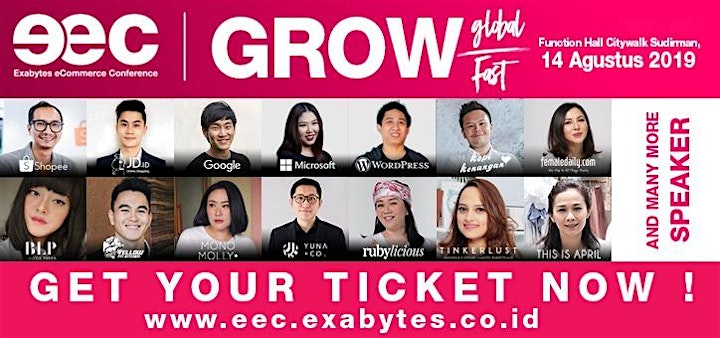 Dapatkan tiket promo disini: http://go.exabytes.id/tiket-eec-2019
EEC Indonesia 2019- Konferensi eCommerce Terbesar di Indonesia
"Grow Global, Grow Fast"
Exabytes eCommerce Conference merupakan platform yang efektif untuk brand terkemuka dan pelaku bisnis eCommerce untuk membangun relasi bisnis, belajar dan mendapatkan inspirasi.
Speakers:
Aldrich Christopher,Webmaster Outreach Strategist, Google Asia Pacific
Ray Wawolangi,Head of FMCG category from Marketplace division JD ID
Rezki Yanuar,Country Brand Manager Shopee Indonesia
Ivan Kristianto,Google Developer Expert/Pengurus Komunitas WordPress Jakarta
Indra Hartawan,Country Manager Exabytes Indonesia
Juliana Cen,Microsoft Small Mid-Market Business lead Microsoft
Samira Shihab,CEO & Founder Tinkerlust
Hanifa Ambadar,CEO Femaledaily
Agung Sukariman,Digital Marketing Specialist Exabytes Indonesia
Allan Dengah,Global Business Manager Dable Indonesia
Diego Olivier Fernandez Pons,Scientific Advisor, Tezos Southeast Asia
Bernhart Farras,Lead Voice of Startups and Serial Entrepreneur. Kennedy Voice and Berliner
Winzendy Tedja,CEO & Founder Yuna Co
Chika Hayuningtyas,Marketing dan Komunikasi PANDI .id Registry
Maria Anggriani,CEO & Founder This Is April
Azela M Yunarko,Associate Consultant and Digital Experiencer. Kennedy Voice and Berliner
Dhiar,Content Creator Youtube DHIARCOM
Yopie Chandra,Channel Account Manager PT Mega Komputindo Lestari
Rista Zwestika, Independent Financial Planner Finansialku.com
Lizzie Parra,CEO & Founder BLP Beauty (By Lizzie Parra)
Edward Tirtanata,CEO & CO-Founder Kopi Kenangan
Monica Amadea,CEO Monomolly.com
Christopher Aldo,CEO Yellowfitkitchen.com
Herman Tantriady, Founder Lima Watch
Kurniawan Aryanto, Co founder / VP marketing Bakaro Grill
Ong Yinyin Widyanata, Founder of Kooleet
Helena Ruby, Founder Rubylicious
EEC menyatukan para pemain eCommerce, marketing profesional dan startup digital untuk fokus pada tren terbaru dan masa depan eCommerce. EEC Indonesia merupakan 1 whole day conference yang dirancang dengan dua stages yaitu conference stage dan workshop stage, Kamu juga dapat melakukan networking di exhibition hall.
Di EEC 2019, kami fokus untuk mengembangkan bisnis eCommerce Anda secara global - Bagaimana cara memperluas atau mengekspor eCommerce Anda di luar Indonesia? Bagaimana mengubah bisnis kecil Anda menjadi bisnis global?
Maka Anda TIDAK boleh ketinggalan EEC 2019!Kami akan membahas topik-topik seperti otomatisasi eCommerce, otomasi pemasaran, tren dan solusi eCommerce, media sosial dan banyak lagi lainnya!
untuk detail kunjungi website disini: https://2019.eec.exabytes.co.id/