Description
*You can't measure how effective is your marketing efforts if there is no accurate data!
You can easily spot revenue opportunities that you're missing, and gain it without extra cost. Revenue is everywhere if you know your audience and offer them more value! Google Analytic indeed is a great tool for data analysis and tracking purpose.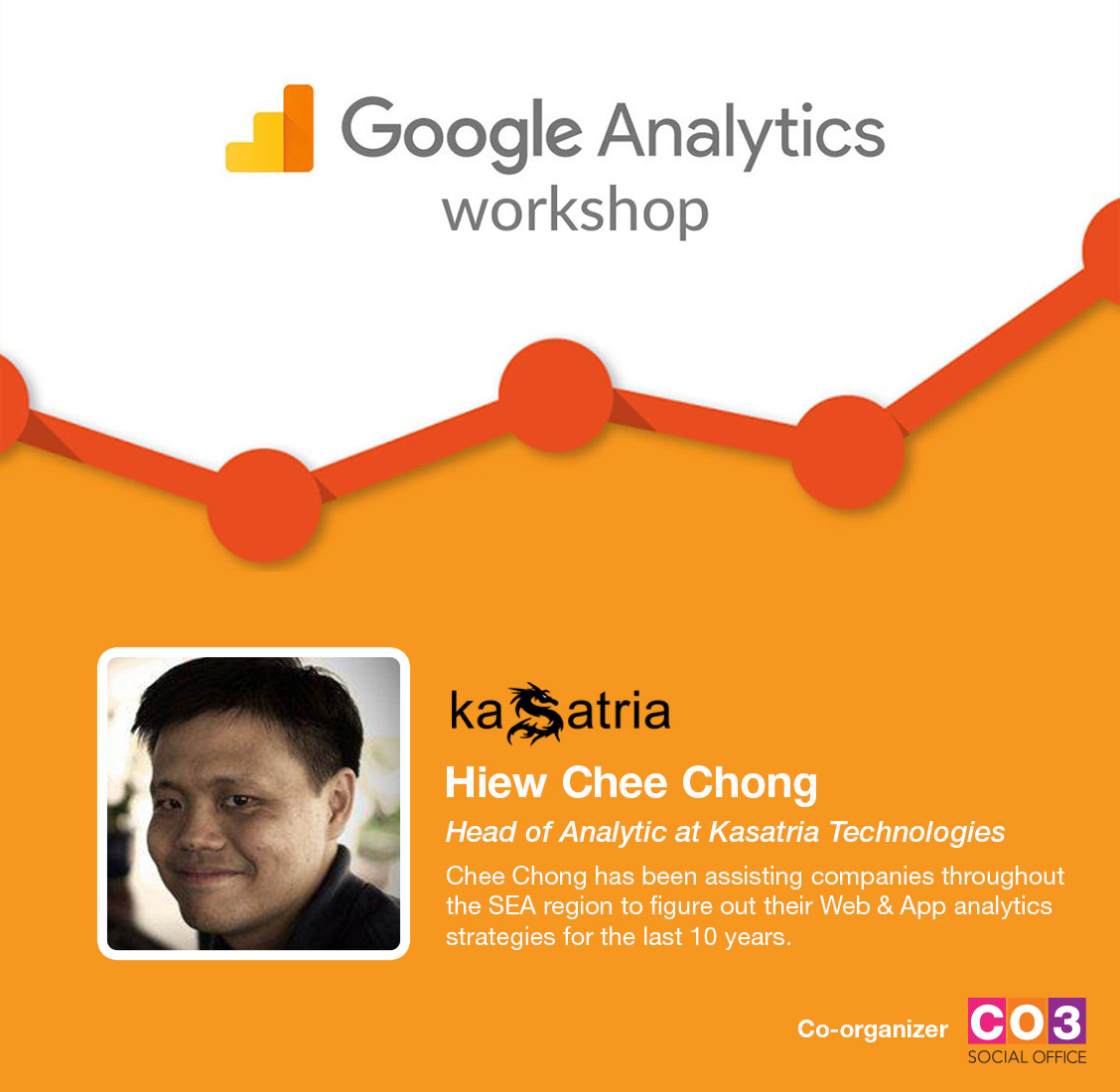 This workshop will be organized in

smaller

size,

so that everyone can learn in-depth skills and knowledge. And we are happy to have Hiew Chee Chong,

Head of Analytics at

Kasatria Technologies, to give an in-depth knowledge and skill about Google Analytic.



What's your takeaway from this event?
Get started on the best practices of GA, and how you can use the data to help your business/platform

Learn how to do the implementation

how to relate the data towards helping drive a business outcome

Interact with a GA expert face to face (If you having a problem on Google Analytic)
---


Who Need To Attend?
Google Analytics for Sales & Marketing
How to use Google Analytics to improve understanding on:
a) Fundamentals of Digital Analytics
b) Online Marketing Performance
c) Lead Generation Activities
d) Customer's Interests
e) Customer Experience
f) Building a Customer profile
g) Personalizing Experiences based on Data
h) Reconnecting with Prospects

Recommended attendees: Sales & Marketing, Account Exec from Media Agency
Google Analytics for Software Developers (C)
How to use Google Analytics to setup:
a) Custom Goals
b) Custom Events
c) Cross-Domain Tracking
d) Digital Campaign Tracking
e) E-Commerce Tracking
f) Content Experiments
g) Universal ID for Customer Profiling
h) Tagging with Google Tag Manager (GTM)
i) API Integration for data import/export
j) Mobile Tracking for Android
k) Mobile Tracking for iOS
Recommended attendees: Mobile Developers, Website Developers, Developers from Media Agency
---
Agenda
9AM to 10AM : Check-in & Networking

10AM to 12PM : Google Analytics for Sales & Marketing

12PM to 1PM : Lunch break

1PM to 3PM : Google Analytics for Software Developers

3PM to 4PM: Q&A & Networking
**Attendees will need to have the basic understanding of GA, this workshop is not for the beginner
---
Start implementing your Google Analytic today! Now at RM89 (Early bird ticket is available until 16 Sept only!) instead of RM3000 for this course.
Any enquiry, please contact us at marketing@exabytes.my
We will attend to you as soon as possible. :)