Description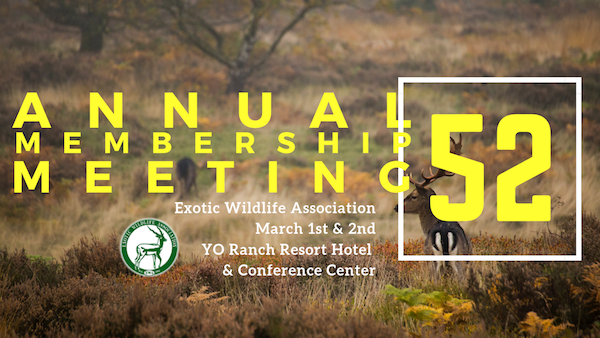 The Exotic Wildlife Association is celebrating its 52nd Anniversary as one of the oldest private property rights associations in the country. Please join us March 2nd and 3rd in Kerrville, Texas at the YO Ranch Hotel & Conference Center set in the beautiful Texas Hill Country.
Friday afternoon we will host Round Table Discussions regarding nutrition, predator control, fencing, endangered species and removing them from the endangered species list, stocking your ranch and more with some of the leading experts in the industry. The Venison Product Competition will begin on Friday afternoon, followed by cocktail hour and dinner. Join us for our PAC & ACA auction that evening with Casino Night wrapping up Friday's activities.
One of the most important events of the weekend is the Annual Membership Meeting and the election of Directors on Saturday morning. This year's slate of candidates come from very diverse backgrounds and offer the expertise necessary to move this association in a very positive direction. Your Association's Directors set the policy and procedures for this organization and have made the EWA one of the top associations in the nation.
Saturday afternoon's Annual Video Auction is the premier exotic animal auction in the country. This year's 17th Annual Auction will be offering some of the finest non-native hoofstock consignments to be found anywhere. This is an excellent opportunity to stock a new ranch or sell some of your excess stock. Please contact Vic Jones (830-279-5822), our Auction Committee Chairman or the EWA office with your consignments. Saturday evening will conclude with dinner, the special awards ceremony and grand auction. All EWA members are encouraged to attend the EWA Board of Directors' meeting on Sunday morning at 10 am.