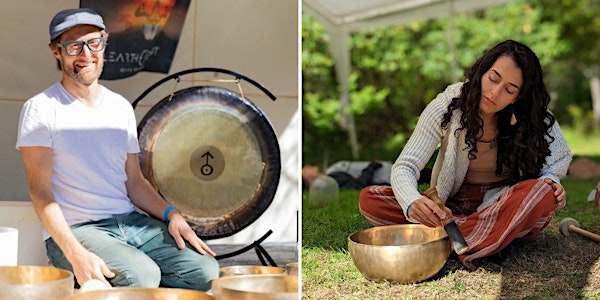 Evolvlove Sound Healing Weekend Retreat & Certification Training
Enjoy this weekend of vibrational transformation, experiencing the power of sound + learning how to bring peace + harmony to yourself + all!
Date and time
April 28 · 3pm - April 30 · 6pm EDT
Location
Stonehedge Gardens 51 Dairy Road Tamaqua, PA 18252
Refund Policy
Contact the organizer to request a refund.
Eventbrite's fee is nonrefundable.
About this event
2 days 3 hours

Mobile eTicket
Enjoy this weekend of vibrational transformation, experiencing the power of sound, and learning how to bring peace and harmony to yourself and all!
This Friday through Sunday immersive sound healing retreat and training will focus on the theory and practice of using the rich, ancient tones and vibrations of large hand-hammered bronze singing bowls and other tools for healing and harmonizing the physical, mental, emotional, and spiritual bodies.
Looking at ancient and modern theory, we will explore how stagnant and unbalanced energies affect the body, how sound and vibration work to heal and harmonize, and learn leading-edge methods to awaken the healer within.
This retreat, hosted at the idyllic Stonehedge Gardens in Tamaqua, PA, includes all meals, indoor and outdoor camping options, 2 sound meditations, hatha yoga, restorative yoga with sound, a breathwork journey with sound, and an evening of joyful, ecstatic movement! You are invited to join us!!!
We will go over fundamentals of how to tone the bowls, body position, intention, and focus. We will learn how to give treatments specific to instilling deep relaxation, calming the mind, clearing the aura, balancing meridians, cellular detoxification, improving circulation, and reducing the effects of long-term stress. We will learn powerful, effective, noninvasive treatments for specific physical ailments, such as chronic and acute pain, and discuss how to apply this knowledge in our lives and integrate these methods in our healing practices.
We will learn methods for holding compassionate space for our clients, being present and encouraging emotional release and profound transformation. Other instruments such as crystal bowls, gong, rattles, tuning forks and the voice will be discussed and may be utilized as well.
This training is recommended for current and aspiring healing practitioners, therapists, caregivers, meditation and yoga practitioners, spiritual seekers, business people, musicians, and anyone interested in learning and using this healing science in supporting health for themselves and those they care about.
Daily Schedule (sample & subject to flow)
Friday
3pm Arrival & Setup
6pm Welcome Dinner
7pm Grounding, Opening Ceremony & Intention Setting
8:30pm Evening Sound Meditation with Sound Massage
Saturday
7am Morning Yoga
8am Breakfast
8:30am Morning Sound Healing Theory
11am Lunch
12pm Opening Practice
1pm Brainwave Relaxation
3:30pm Hand & Foot Reflexology
5:30pm Dinner
6:30pm Sound & Breath Journey
8pm Ecstatic Movement
Sunday
7am Morning Restorative Yoga with Sound
8am Breakfast
8:30am Theory of Mind
9am Mind Detox Therapy
11:30pm Lunch
12:30pm Sound Meditation
1:30pm Aura Cleanse & Strengthen
2pm Self-Healing
3pm Joint Pain & Whole-Body Treatments
5pm Certificate Ceremony
5:30pm Closing Dinner
Workshop Facilitator:
Kirk Jones, MS, Master Sound Healer, Evolvlove Sound & Light Academy
Kirk was powerfully drawn to singing bowls 22 years ago, attracted to the power and beauty of the rich, ancient tones. 10 years later, he witnessed how singing bowls resonated with and elevated his own spiritual and healing journeys, so he decided to learn how to apply this to his own life and to help others. Since then, he has assisted thousands of people on their own healing journeys, bringing great joy, relaxation, pain relief, emotional release, spiritual upliftment, clarity, and empowerment. He is honored to use and share this sacred gift.
Kirk is a member of the Sound Healers Association, a facilitator for the International Academy of Sound Healing, and a founding member of the Medical Sound Association.
Vermont residents may qualify for a full tuition grant for this course plus $100 towards sound tools through the Vermont Student Assistance Corporation.
Exchange:
$699 Full Registration
$499 Early Bird by March 31 -- limited to the first 6 to register!
Includes 20-hour Certification and 64-page Level 1 Manual
Includes all meals plus indoor & outdoor camping options
What to bring: Bring a notebook, pen, and water bottle. Favor light-colored, peaceful, nonrestrictive clothing free of metal or hard plastic for class. Comfort and ease are priority. Water, meals, and snacks are included. Let us know of any allergies or dietary preferences when you register. Please bring a yoga mat (or 2), blankets, and any props (cushion/bolster) you may want to sit or lie on. If you are not comfortable sitting, kneeling, or lying on the ground for extended periods, please bring a chair, stool, or other supports for your comfort. If you would rather work from standing, you may bring a massage table or one may be provided for you at your request. Bring a tent or hammock for sleeping, or you may reserve off-site lodging. Classes will be held inside or outside, depending on weather and class preferences. Please bring all the gear that you need to feel supported in having a cozy, joyous, relaxing, healing, transformative weekend!
What to expect: This weekend will be powerful. Emotions may arise for your awareness and loving acceptance. You may help others in class with their physical, mental, emotional, or spiritual issues. Please come ready to hold space for yourself and others. This training is mostly 1-on-1 partner work with peers.
Singing bowls/Instruments: All bowls and sound instruments used during the class will be provided. You may bring your own if you like. Bowls and other instruments will be available for purchase onsite or ordered at the conclusion of the course. The International Academy of Sound Healing bowls are high-quality, healing-grade, new, hand-hammered bronze meant to have the highest possible healing impact and are created specifically for this modality. These include:
New Age Healing Set = 3 bowls: 6″, 8″ and 10″, weight: 3.4 kg, price: $729 + $69 international shipping
Unique Meditation Set = 1 bowl: 11.25″, weight: 2.3kg, price: $529 + $49 international shipping
Tingsha Bells = 4″, price: $129 + $24 international shipping
Each bowl set comes with wooden/felt percussion mallets, wooden/suede friction mallets, nonslip pads, red velvet cushions, protective pouches, and a jute carrying tote.
Refunds: Full refunds are offered up to 1 month prior to the start date. 50% refunds are offered until 2 weeks before start. No refunds are offered within 2 weeks of start of course. All refunds are minus Eventbrite fees.
Frequently asked questions
What if it's too cold to camp that weekend?
Are there off-site lodging options?
What if I have already taken a Fundamentals training with you or IASH?
What other trainings are available after this one?
Would I be considered a practitioner after this training?