Event Information
Location
Reed Smith NY Conference Center
599 Lexington Avenue
22nd Floor
New York, NY
Description
E
volving
C
apital
M
arkets Cocktail Event
New Legislation, New Markets, New Opportunities
The JOBS ACT is reshaping our financial markets. Learn how to create wealth as U.S. market structure evolves.
Register now as our last few events were completely sold out.
Only ticket holders will be permitted into the building.

Monday, July 30, 2012 – 430pm to 830pm

Reed Smith Conference Center
599 Lexington Avenue
22nd Floor
New York, NY 10022



About NowStreet's Evolving Capital Markets Exclusive Cocktail Event


In this remarkable moment in history, the U.S. regulatory environment, its capital markets and the innovation that drives those markets are simultaneously on the threshold of extraordinary change. We are currently witnessing the embryonic period of a cutting-edge stock market, known as the Private Company Marketplace (PCM), which is being fueled by unprecedented advancements in mass communications and regulatory reform.
The passage of the "Jumpstart our Business Start-ups Act" (JOBS Act) amends fruitless regulation that has long stymied economic growth, oppressed small investors and gave large companies an unfair advantage accessing capital in the U.S. This legislation finally helps democratize the financial markets by giving our smaller investors and issuers a greater chance to create wealth. There has never been a more opportune time for investors and small businesses to capitalize on change.

Join Rep. David Schweikert, the Congressman responsible for sponsoring key components of JOBS Act, other foremost experts on the legislation as well as leaders of the Private Company Marketplace (PCM) for indispensible insight into how the law is transforming our financial markets and giving rise to an abundance of new growth opportunities in the private markets.



Key discussion points will include:



· Raising capital & maximizing returns as U.S. market structure evolves

· The raising of the shareholder threshold to 2000

· Why companies are staying private longer

· What went wrong with the Facebook IPO

· The lack of aftermarket support & growth in the public markets

· Private company liquidity options

· Uncovering Pre-IPO investment opportunities

· Using retirement accounts to gain diversified exposure to some of the fastest growing private companies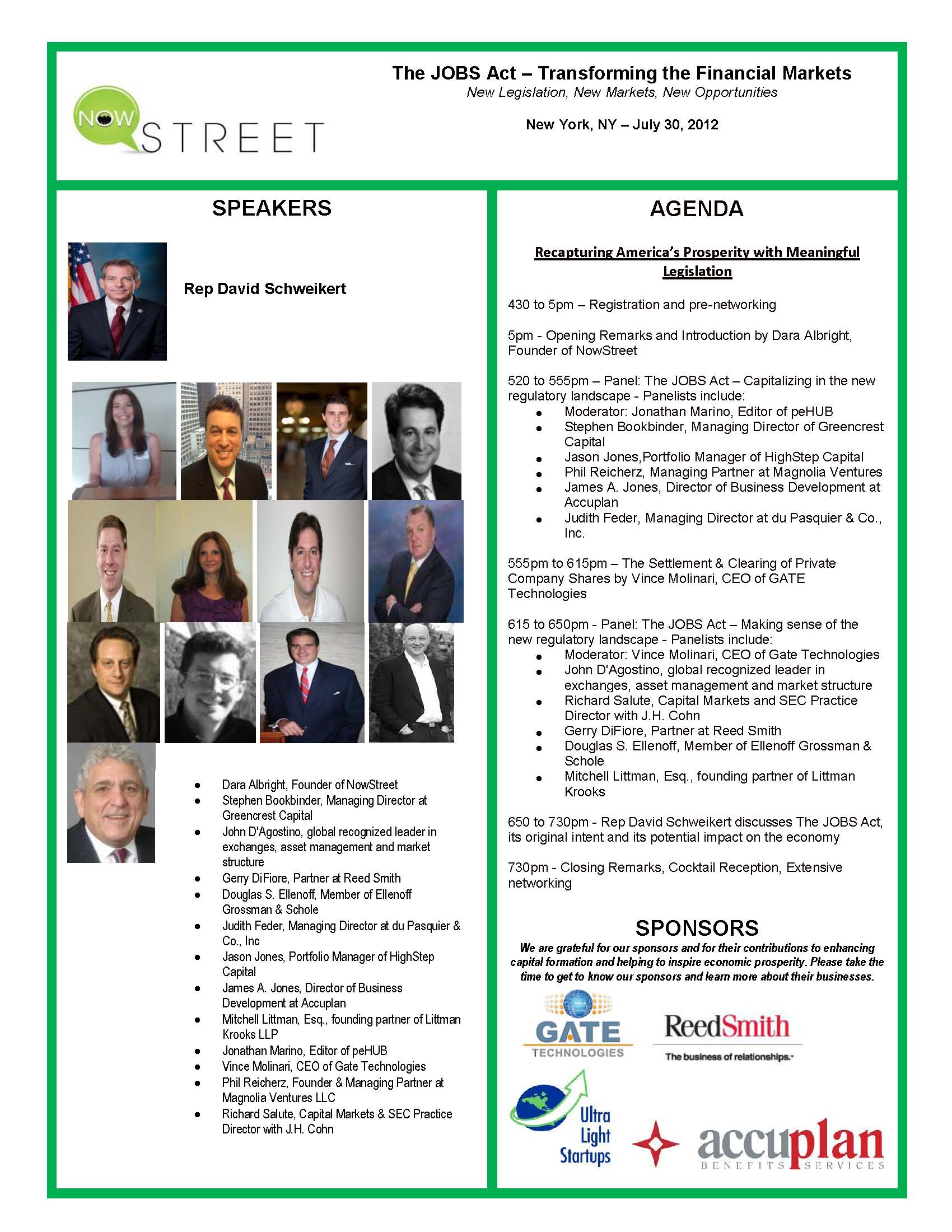 ABOUT NOWSTREET EVENTS
Symbolizing the capital markets of tomorrow and the hope for a more prosperous economic future, NowStreet is known in various financial circles for its commitment to repairing a damaged capital markets system with the inclusion of a private company marketplace (PCM) that encourages long-term growth investing while facilitating capital formation, small business expansion, innovation and job creation. NowStreet Events provide crowdfunding professionals, investors, investment bankers; wealth managers; VCs; family offices; incubators; private equity firms; pre-IPO fund managers; brokers; secondary stock specialists; equity analysts; entrepreneurs as well as tax, legal and regulatory experts with an unparalleled informational and networking experience - all in a framework specifically designed for uncovering new opportunities and securing business. Please read more at www.nowstreetjournal.com
To support Congressman Schweikert, please visit his campaign webpage here.
* Refunds (minus service charges) will allowable up to the day before the event. Refunds must be requested by July 29th.
Date and Time
Location
Reed Smith NY Conference Center
599 Lexington Avenue
22nd Floor
New York, NY