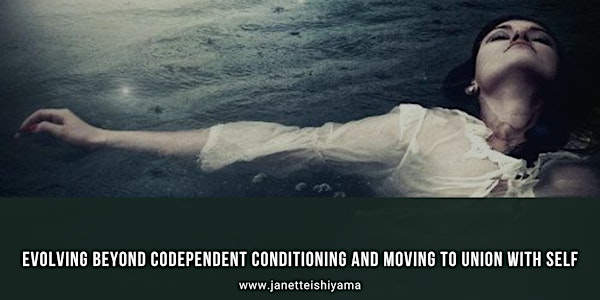 Evolving Beyond Codependent Conditioning and Moving To Union with Self
Evolving Beyond Codependent Conditioning and Moving To Union With Self (Online Event)
Refund Policy
Contact the organiser to request a refund.
Eventbrite's fee is nonrefundable.
About this event
What is the relationship you have with yourself?
As children we are taught through social conditioning or codependent conditioning that the concept of love exists outside of us and can only be given to us by someone else.
As a human species we are not taught to understand internal self love and instead are conditioned for codependency.
We are trained to be emotionally dependent on others and end up making decisions that go against our value system in order to avoid rejection or anger. This is how a codependent dynamic is established within the family system which can lead to us quickly disconnecting with the self.
Codependency is generally passed down through families. It's a generational problem and is usually rooted in childhood. Often, a child grows up in a home where their emotions are ignored or punished. This emotional neglect tells the child that their feelings don't matter.
Codependency can exist between partners, parent child relationship, between friends and also between a manager employee dynamic.
What does this mean for an adult who's conditioned for codependency?
For many of us the examples we have witnessed around love have been shallow.
We are starting to understand what it means to be in love with ourselves. When we start to do this, codependency no longer has a home. There is no longer a need to play out this ancient social conditioning because we are evolving as a species.
Why is it important for us to move into divine union with the self?
On a collective level, we have reached a turning point in our evolution. As a species we have an opportunity to consciously co-create with new earth but from a space of self love and mastery (not from control and codependency). So we must learn unconditional self love which will form the basis for the paradigm of our new earth.
The first step to reaching unity consciousness is to come into divine union with the self. Once we can fully and wholeheartedly love ourselves with no conditions and without requiring external validation we can start to live in our divine presence and co-create with the earth.
Astrologically we are moving towards the age of Aquarius. Here we will move out of codependence, competition, conditioning and programming and move into cooperation by working together to free ourselves. For this to be successful we need to each reach a place of unconditional self love
Although it may not be your fault that you became codependent; it is your responsibility to learn why you are this way or why you are allowing these behaviours to prevent you from coming into union with the self.
My personal experience of narcissistic relationships lead me to peel back the layers on this type of behavioural pattern that had become a part of my existence. On closer inspection, a core truth at the heart of both narcissism and codependency is a lack of a healthy sense of self.
In this soul session we will explore codependent conditioning and whether you are codependent, dealing with a codependent or narcissist.
We will;
Explore what codependency is, where it starts from, and steps you can start taking to break negative behaviour patterns so it's not passed onto the next generation.
Learn how to escape the codependent trap by looking at examples of what codependency looks like in different relationship dynamics i.e. between life partners, parent - child dynamic, peer to peer dynamic.
Connect the dots between Empaths, Codependency and Narcissism.
Identify key actions to help you move from codependent conditioning to interdependency and union with self.
NOTE: All our workshops are recorded to be shared with participants and the wider community. By registering to this event you agree to being recorded. If you wish not to show your face, you can choose to join via phone or to simply switch your camera off . Thank you Janette
______________________________________________________________________________________________
FREQUENTLY ASKED QUESTIONS
1. Is there a guidebook provided?
Yes. A guidebook will be e-mailed to you on registration. This will serve as a guide as we explore codependency.
2. Is this an on-line event?
Yes. This live on-line session will take place via google meet up . You will be notified via e-mail well in advance of the session.
We will go live on 18-09-2020 @ 12.30pm (Sydney time)
3. Is this for women only?
No, this soul session is open to all of humanity.
4. Is this ticket refundable?
No, there is no refund unless the organiser cancels the meeting. You can however transfer your ticket to another person. You will need to let us know if this is what you choose to do.
5. What subject matter will be discussed?
This month we will be addressing how to overcome codependent conditioning
Each month a different topic will be addressed, designed to empower you so you can live a life that is authentic and aligned to who you were created to be.
Topics will include but not limited to;
shadow work
inner child work
self love
setting boundaries
the awakening journey
inner work
how to work with energy
removal of conditioning and programming
consciousness
christ consciousness
the importance of stillness and silence
transcending the 3D construct
spirituality
new earth
parenting the star children (if applicable to the audience)
chakras
food for awakening
signs for an awakening
how to live in the flow
align your mind, body, and spirit
Narcissism
Codependency
Trauma Bonding
Healing the mother and father wound
6. What are Janette's area of expertise?
Energy Medicine, Feng Shui, Reiki, and Personal Development . I have spent the last 13 years in a teaching and training capacity and have lead thousands of soul-inspired conversations with clients. In 2019, I published a book called, "The Rise Of The Empowered Woman - 7 Step Quest"
MY BACKGROUND
For so long I have been a teacher and healer but I'd never thought of myself this way until clients started saying, "Thank you, Janette, you were so good for my soul", "I always feel better after I've spent time with you".
Before my awakening journey, I felt separate and disconnected from myself, mother earth and the world around me.
My journey back to myself began in January 2018 and amplified in September 2018 when I experienced a spontaneous kundalini awakening.
This experience sent me into a spiral. It forced me to go within and really look at all of my parts and to finally deal with my childhood trauma so I could finally heal my inner child.
Waking up was a tough and challenging experience. I had to release my ego self and come to terms with childhood wounds that I left buried for so long to maintain the status quo and appease others.
I had to do the shadow work to release old stories, limiting beliefs and programs that had been holding me back for so long.
As a way-shower, God and my angels are asking me to share my light and lessons so together we can expand our consciousness, find balance within so we can move to unity consciousness.
This one-hour LIVE on-line session is for you if you're:
feeling as though your life is false
craving for meaning and purpose
feeling anxious and fatigued
feeling like your inner work has surpassed your family
beginning to ask deep questions
realising that a lot of what you've been taught is a lie
feeling lost and alone
wanting to 'purge' your life
becoming aware of your old negative habits
wanting to deeply understand who you are
experiencing relationship troubles, unexpected life changes, health issues, a loss of a job
As your mentor, I will help guide you to your truth so you can live in the light, one conscious step at a time.
By sharing my wisdom in my special way with those who are ready, I am helping my soul tribe rise vibrationally so they too can walk their chosen path and rediscover their birth promise.
It's time to be the person God has created you to be, the person the world is waiting for.