As we approach the holiday season, get yourself ready! Take the Boxing for Fitness Challenge. Teams of 4 will battle it our for the PRIZE!
About this event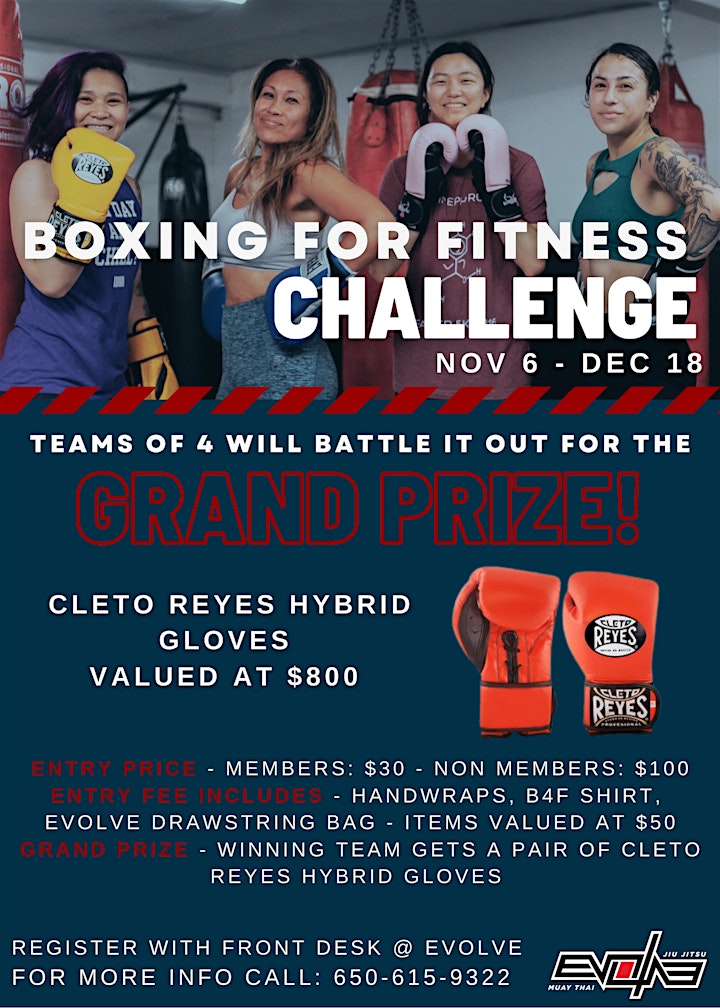 You and your team accumulate points by attending Boxing for Fitness classes live or on zoom. (See Boxing for Fitness schedule) 1 point each class/person.
When all are present, points double for the team. Additional impromptu classes will be added throughout the challenge, which will be worth double points.
The team that accumulates the most points at the end of the challenge will each win a pair of Cleto Reyes Hybrid Gloves (value $200, team value $800)
How to get started:
1) Register you and your team (Team of 4) either through Eventbrite, at Evolve front desk, contact 650-615-9322 or email evolvetrainingcenter@gmail.com. If you don't have a team, no problem, we will help you find one.
2) Come up with a team name.
3) Get ready to battle it out!
See flyer above for additional details. Any questions, contact 650-615-9322 or evolvetrainingcenter@gmail.com
Good luck!
Organizer of Evolve's Boxing for Fitness Challenge