Evolver Los Angeles Presents: "The Shaman's Pharmacy" An Evening With Medicine Hunter Chris Kilham

Friday, July 29, 2011 from 9:00 PM to 11:00 PM (PDT)
Event Details
Friday, July 29th, 2011 9pm

Please join Evolver Los Angeles for a very special presentation: "The Shaman's Pharmacy" -- an intimate discussion of plant medicines and shamanic cultures with Medicine Hunter, Chris Kilham, at the Silver Lake Lyric Hyperion Theater.

Doors 8:30
Presentation begins at 9 pm followed by Q&R
---
The Shaman's Pharmacy
Since 1994 Chris has worked, traveled and studied with shamans in Brazil, Peru and North America. He has participated in many dozens of ceremonies, both with and without the ingestion of ceremonial psychoactive drugs. He is experienced with ayahuasca, San Pedro cactus, peyote, coca, and tobacco.
Chris is recognized as a chief in Vanuatu, South Pacific, is known as "Maxipe" which means "black vulture" by the Macuxi indians, and has lived with and visited dozens of native tribes in Amazonia and in other cultures. Shamans in both Brazil and Peru recognize Chris as one of their kind and a bridger of worlds, and have engaged in numerous ceremonies to bolster his energy and support his work with medicinal plants and native cultures.
---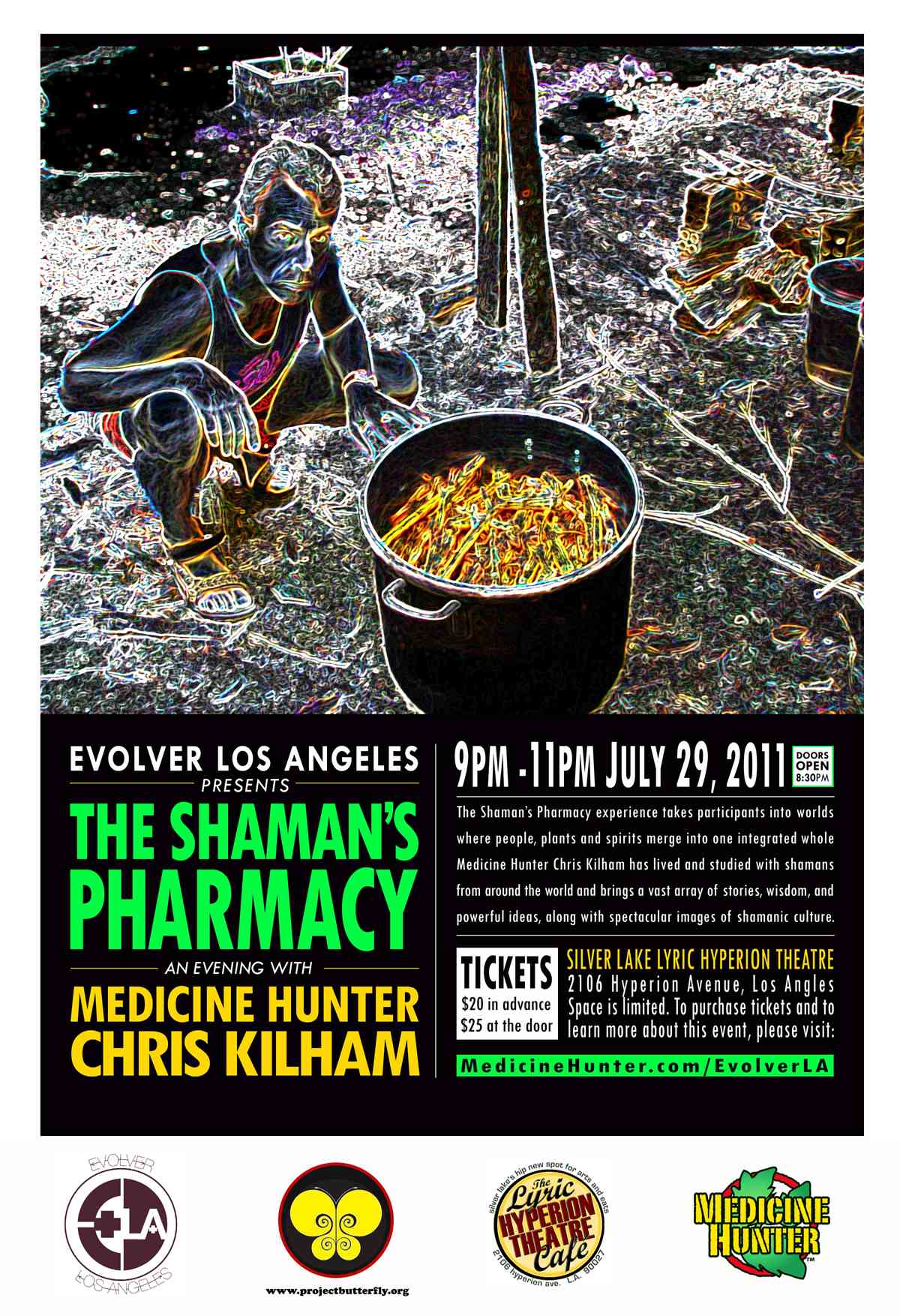 Chris Kilham is a medicine hunter, author and educator. The founder of Medicine Hunter Inc., Chris has conducted medicinal research in over 20 countries including India, China, Siberia, Brazil, Venezuela, Peru, Chile, Vanuatu South Pacific, Lebanon, Syria, Ghana, Austria, Germany, Thailand, Malaysia, South Africa, Morocco and the United States.
Chris is the FOX News Medicine Hunter and appears on FOX News Health online in the US and international television markets. He also writes a weekly column for FOX News Health. Chris is Explorer in Residence at the University of Massachusetts at Amherst where he teaches the popular ethnobotany course The Shaman's Pharmacy through the Department of Plant & Soil Sciences. This intensive immersion course takes students to the Peruvian Amazon, where they learn about medicinal plants, the rainforest, and native culture.
Chris works with companies to develop and popularize traditional plant-based food and medicinal products into market successes. These include kava, maca, rhodiola, schisandra, horny goat weed, catuaba, tamanu oil, herbal beverages and dozens of other plants. He is currently working to build market demand for cat's claw and dragon's blood, both strong medicinal plants from the Amazon rainforest.
Chris is the author of fourteen books, including Hot Plants, The Five Tibetans, Psyche Delicacies, Tales from the Medicine Trail and Kava, Medicine Hunting in Paradise. Chris also writes articles on plant medicines for several publications, and is a contributing columnist for FOX News Health.
"I love adventure! That's why I love teaming up with The Medicine Hunter, Chris Kilham." - Dr. Manny Alverez, Fox News
Chris lectures extensively on holistic health and botanical medicines, throughout the United States and the European Union, Hong Kong, Thailand, Dubai, Australia, Peru, Vanuatu and many other countries. Recent appearances include The Vitamin Shoppe, In Cosmetics, American Herbalists Guild, Missouri Botanical Garden, Atlanta Botanical Garden, Medicines of the Earth Symposium, Natural Products EXPO East, Natural Products EXPO West, Southwest Yoga, Midwest Yoga, Plant Teacher's Convergence, University of Massachusetts, Evolvers, Geneva Vitafoods Conference and HBA New York.
As a guest expert, Chris has presented across a wide variety of sectors to companies such as; Coca Cola, Pepsi, Unilever, Pfizer, Roche, Beiersdorf, Avon, L'Oreal, Chanel, Clarens, Body Shop, Royal Canin, GNC, and Whole Foods. He is also a regular advisor to Woman's World, Fox News Health, and various industry and trade publications.
Chris has appeared as a guest expert on over several hundred radio and television programs including news programs on ABC, CBS, NBC, PBS, CNBC, CNN, MSNBC, BBC, Oprah & Friends, FOX TV, and NPR. He has appeared as a guest on The Dr. Oz Show, and is a regular guest on FOX News Ask Dr. Manny. As a TV guest he has spoken about medicine hunting, traditional botanical medicines, nutraceuticals, environmental and cultural preservation and other related topics for a wide variety of audiences. Chris has appeared on over 1500 radio programs and more than 500 TV programs worldwide.
Since October 2007 Medicine Hunter Chris Kilham has been featured in The New York Times, CNN, FOX News, The Dr. Oz Show, NBC Nightly News, ABC 20/20, Psychology Today, International Herald Tribune, CNBC Power Lunch, HD Net World Report, Prevention Magazine, Natural Health Magazine, Oprah & Friends, PBS Healing Quest, Better TV, Good Morning America, Ode Magazine, and Woman's World.
Chris conducts medicinal plant research for Naturex of Avignon, France, one of the largest botanical extraction companies in the world. He is also an advisory board member of the Naturex Foundation, which funds community development projects in various countries.
Chris is on the Scientific Advisory board of EuroPharma, founded by pioneer Terry Lemerond. EuroPharma is a maker of superior plant-based medicines, distributed exclusively through the natural products industry.
An avid body surfer and adventure traveler, Chris lives and works in Massachusetts with his wife, artist/activist Zoe Helene and their dog Boo. Chris advocates sane drug policy and the shamanic and ritual use of hallucinogens. Chris and Zoe travel the globe on Medicine Hunter expeditions, and work together to promote plant medicines, environmental protection and cultural preservation. CNN calls Chris "The Indiana Jones of natural medicine."
http://www.medicinehunter.com
http://www.facebook.com/evolverLA
Have questions about Evolver Los Angeles Presents: "The Shaman's Pharmacy" An Evening With Medicine Hunter Chris Kilham?
Contact Evolver Los Angeles
When & Where

Lyric Hyperion Theater
2106 Hyperion Avenue
Los Angeles, CA 90027


Friday, July 29, 2011 from 9:00 PM to 11:00 PM (PDT)
Add to my calendar