Evolve: The Business Symposium for Design Firm Leaders

Thursday, March 23, 2017 at 9:30 AM

-

Friday, March 24, 2017 at 5:30 PM
Event Details
Evolve your business. Evolve your Tools.
EVOLVE YOUR Actions Plan. EVOLVE YOUR Alliances.
Get empowered to succeed. Discover some hard truths. Register for our intimate 2-day symposium designed to deliver actionable results for evolving your creative business.
Join other creative leaders and peers from around the country to engage in transparent and honest conversations on the challenges and opportunities facing creative business today.
At Evolve you won't just listen to lectures. You'll workshop, debate, role-play, and craft real world solutions to effectively integrate these key insights into your businses. 
You'll leave Evolve with actionable strategies that you can implement immediately.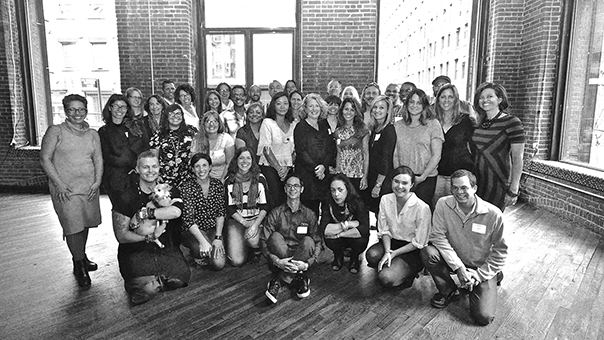 our aGenda for This event includes:
Day One – Thursday, March 23

9:30­ am, Continental breakfast provided onsite, check-in and networking
10:00 am, Plan your team's future 
Activity: Business planning and partner time allocation goals
12:00 pm, New business development strategies, tools and tactics
Activity: How do you garner new business? Share your strategies.
1:00 pm, Gourmet catered lunch by Galli of Soho, served on site . 
2:00 pm, Qualifying Clients 
Activity: Designers behaving badly. Self-identify how you are contributing to your client problems. 
3:30 pm, Roundtable discussions on hot business issues that YOU choose
Topics may include: 
How to partner with others to pursue new business 
Specialization and transitioning your specialization
Productivity tools and apps
And many other options presented onsite
5:30 pm, Evening networking – beer and wine on site, sponsored by FunctionFox  
Attendees usually go out to dinner, on their own. Leave your evenings free for more discussions! 
Day Two – Friday, March 24 

9:30­ am, Continental breakfast provided onsite and networking 
10:00 am, Public speaking and presentation tips by consultant, Katie Karlovitz of On Speaking Terms

11:30 am, Initiating a project and onboarding a new client
12:00 pm, Pricing strategies
Activity: Pricing Workshop.
1:00 pm, Gourmet catered lunch by Galli of Soho, served on site . 
2:00 pm, Client and project management strategies
Activity: How to manage problem clients.
3:30 pm, Continued roundtable discussions on hot business issues that YOU choose
Topics may include: 
Employee reviews
Creating a company culture
Marketing with self-initiated projects
And many other options presented onsite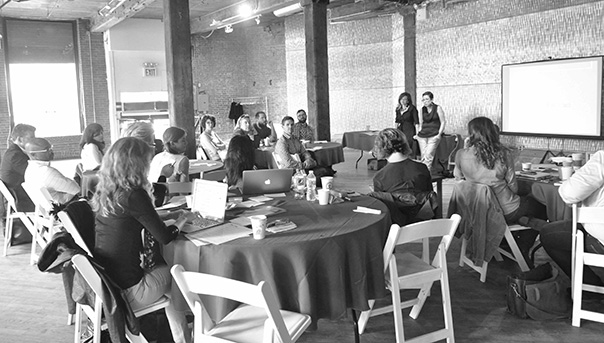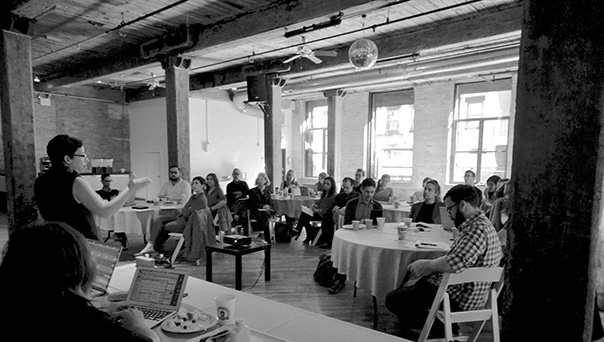 ---

Organizers
EMILY RUTH COHEN, STRONG-MINDED EXPERT
"For years I've wanted to get all my smart, amazing, creative clients and colleagues in one room to swap stories, share advice and discuss best practices.This vision has come to life in a wonderful way and I can't wait for this next one!"
Emily has been a consultant to creative professionals for over 20 years providing confidential, best-practice insights and advice on staff, client, and process-management strategies, conducting client surveys and writing winning proposals, creative briefs, and contracts. She served as Secretary for the AIGA/NY Board of Directors and has taught classes and conducted seminars for many leading design schools and organizations. Emily is a frequently-requested speaker on business-related issues for the creative industry and has spoken at numerous conferences and events sponsored by AIGA, HOW, Design Business Association in London (DBA), The Association of Registered Graphic Designers of Ontario (RGD) and Design Management Institute (DMI). She also currently teaches professional practices to BFA Design students at the Fashion Institute of Technology (FIT). Learn more at www.emilycohen.com
SHERI L KOETTING, DETAIL-DRIVEN PRACTITIONER
"I love running a design business but I also know how tough it can be. Keeping a creative edge while being mindful of the traditional rules of business poses some big challenges. I've been yearning for a forum that addresses these issues and I think with Evolve we're onto something great."
Sheri is the Co-Founder and Chief Strategist of MSLK, a marketing and design agency based in New York City since 1998. Before taking on the challenge of running her own design business, she honed her craft at several award-winning agencies including TODA, Pentagram, Two Twelve Associates and Gensler. Passionate about elevating the design profession, Sheri is a frequent speaker, moderator, and co-founder of Spark Design Professionals, an organization dedicated to educating creative business owners on best practices. For more about Sheri visit www.mslk.com
---
TESTIMonials
Don't take our word for it. Here's what previous attendees have to say
"Since Evolve, I have evolved my company positioning and capabilities presentation. I shifted the brand strategy and concept development work we have always done into a defined offering we now talk about and charge as a separate deliverable. The thinking triggered by the Evolve Symposium led me to put words around something that was nebulous before, helping me describe a key difference between us and competitors."
– Cynthia Sterling, Sterling Creativeworks
"Since Evolve, I created a more transparent work environment, renegotiated client contracts to better suit my firm, redeveloped our new business presentation, and have been more focused on landing new clients that take my firm where I want it to be."
– Kelly McMurray, 2communique
"Our heads are still bubbling from the symposium. We're trying our best to pin down four or five key points we can carry through with us and actually make part of our routine. That said, we really enjoyed the conference… equally as useful to hear experts speak, as it was to meet so many people in our position. We look forward to next year."
– Sam Rogers and Stuart Eckersley, Rogers Eckersley Design (New York, NY)
"Looking back, I'm not sure I've ever had such a productive conference experience. Considering the price, that's a huge win. I've spent the last couple of weeks talking about it, and I'm excited to see things shifting already. Just my success in using case studies in two new business meetings in the past week has been amazing."
– Sean Wilkinson, Might and Main (Portland, MA)
"Really felt like hearing other stories both positive and negative gave me a bit of confidence but also a lot more maturity about how our company can be managed and pushed forward and some ideas that can be implemented straight away."
– Dusty Summers, The Heads of State (Philadelphia, PA)
 "A lot of what was covered (even what I've heard from Emily before) I'd like to hear every two months to get it burned into my brain. Really useful."
– Adam Brodsley, Volume (San Francisco, CA)
 "Emily has a robust history of delivering professional development workshops with AIGA—both at the AIGA Design Conference and with many of our chapters—all to great review. She offers honest and actionable advice addressing many of the key issues faced by designers and design organizations today."
– Anita Maritz, Learning and Development, AIGA | the professional association for design
---

Special thanks to our sponsor FunctionFox 
---

The Fine Print
There are no refunds for cancellation. Transfer of attendance is allowable on request. The program is subject to cancellation or change. Liability is limited to funds remitted for program registration.
When & Where

The Dumbo Loft
155 Water St
Brooklyn, NY 11201


Thursday, March 23, 2017 at 9:30 AM

-

Friday, March 24, 2017 at 5:30 PM
Add to my calendar