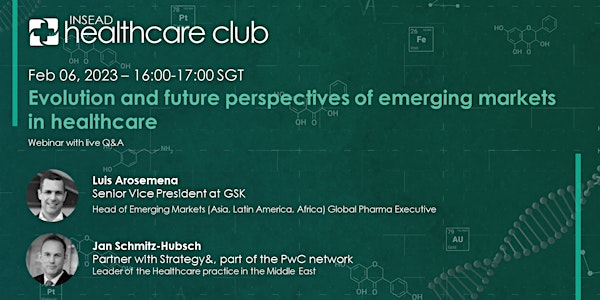 Evolution and future perspectives of emerging markets in healthcare
Explore with L. Arosemena SVP @ GSK and J. Schmitz-Hubsch Partner @ Strategy& past, present, and future of healthcare in emerging countries
By INSEAD Healthcare Club
Date and time
Monday, February 6 · 12 - 1am PST
About this event
Topics
What are the major factors explaining the growth of emerging markets
What are the differences and similarities between countries in the emerging markets cluster
Short, medium, and long term perspectives considering the current healthcare ecosystem
Speakers
Luis Arosemena, GSK: Senior Vice President Emerging Markets, formerly SVP & GM Italy, SVP & Head of Global Vaccines Commercial, VP Corporate Strategy, Office of the CEO; MBA @ Kellogg School of Management.
Jan Schmitz-Hubsch, Strategy&, part of the PwC network: Partner with Strategy&, and the leader of the firm's Healthcare practice in the Middle East.
-------------------------------------------
About INSEAD Healthcare Club
The INSEAD Healthcare Club is a professional MBA student-led club at INSEAD. The Club organizes: conferences and panel discussions with senior leaders in the industry; company visits to Pharmaceutical, Medical Technology, Digital Health, Healthcare Providers, and Healthcare Investors companies; networking events among the INSEAD healthcare community (MBAs, Exec MBAs, PhDs, faculty, alumni), as well as those in the surrounding healthcare ecosystems.