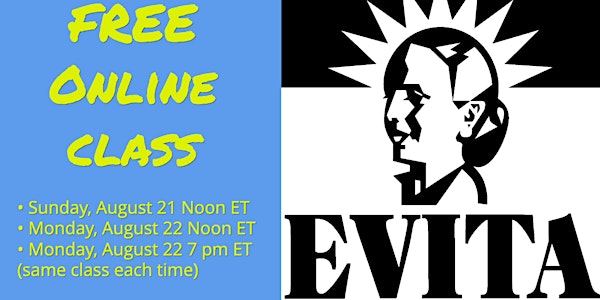 Evita (FREE online class)
Exploration of Andrew Lloyd Webber and Tim Rice's 1978 masterpiece
About this event
The global smash Evita covers unlikely territory: the rise and untimely fall of the First Lady of Argentina more than seven decades ago. Why does the story still grip us?
This show, Andrew Lloyd Webber and Tim Rice's last major collaboration, contains numbers like "Oh, What a Circus"; "Another Suitcase in Another Hall," and of course "Don't Cry for Me Argentina." In true Broadway Maven fashion, we'll be analyzing lyrics, music, plot, and theme in an interactive presentation.
David Benkof, the Broadway Maven, has been teaching Broadway appreciation and Jewish Culture 101 online for more than two years. He aims to help students see the third time things they did not notice the first. His love for Broadway is triply expressed: his Weekly Blast, his classes, and his YouTube channel. For more information visit TheBroadwayMaven.com.
$5 tuition (optional). No refunds, no exceptions.
ALL-ACCESS Passholders are already registered.
#Broadway #Theater #Theatre
About the organizer
David Benkof is a Jerusalem-based teacher and Broadway fanatic whose online sessions explore Broadway shows from A Chorus Line to Fiddler on the Roof to Mel Brooks Musicals. His love of musical theater is triply expressed: through his free courses every Monday at Noon and 7 pm; through his YouTube channel with dozens of Broadway videos; and through his Weekly Blast substack newsletter. For more information about all his projects, visit TheBroadwayMaven.com