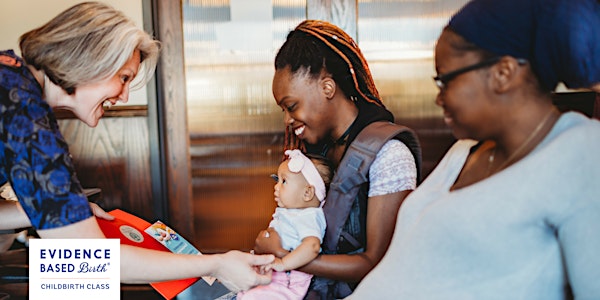 Evidence Based Birth® 6 Wk LIVE Online Class May - June 2022
Online 6-week Series, Thurs May 26 - June 30th 312Doulas helps you navigate maternity care and teaches strategies for amazing births!
Date and time
Thursday, May 26, 2022 · 4 - 6pm PDT
About this event
DESCRIPTION
Online 6-week Series Tuesdays from 6-8 pm * SKIPPING May 10th
Due to covid-19, all 6 classes will be held online using the zoom platform. Keeping us safe & connected!
Are you looking for a childbirth class, that gives you the flexibility of online learning, but also the support of in-person connections?
Registrations include the weekly 1.5 - 2 hour Zoom video chats with your Instructor, access to your lessons online at the Evidence Based Birth® Academy, a PDF library, effective coping skills and comfort measures.
By taking the Evidence Based Birth® Childbirth Class, you and your partner will not only learn the evidence for your birth options in an online class, but you'll also get to meet in-person with an experienced instructor and other parents in the Chicago area who are going through pregnancy and birth just like you!
This Evidence Based Birth® Childbirth Class is taught by Heather McCullough, CPM - Midwife, Evidence Based Birth® Instructor, Hypnobabies® Instructor, Spinning Babies Parent Educator, Spinning Babies Aware Practitioner®, Certified Lactation Educator, Faculty Trainer for CAPPA - Lactation, Birth & Postpartum Doulas.
What will you learn?
The 312Doulas secret and Spinning Babies® gentle stretches to prepare for an easier birth
How labor works: Stages & Hormones of labor
Comfort Measures discussed: Acupressure, Counter-pressure and Comforting massage touch, Positions, use of Birth Ball and Peanut Ball, Hydrotherapy, Heat and Cold therapy, using the TENS unit, Mindfulness and Affirmations, Aromatherapy, Music Therapy, Epidural, Nitrous Oxide, protecting the perineum
Relaxation scripts, 3 Spotify music playlists, Acupressure cheatsheet, a list of best foods & drinks for labor plus a hospital packing list are provided
Evidence based discussions about induction and routine labor management
Ways to help prevent preventable cesareans & family centered cesareans
Advocacy skills for partners, navigating hard decisions
Newborn procedures to expect
Breastfeeding and newborn basics
Online 6-week Series
3 Prize Levels!You'll earn points towards fun prizes, while also engaging with Victoria and our group each week during our Zoom sessions (video chat).
All registrations also include $100 discount on 312Doulas Labor Support.