Description
Coherent systems enjoy internal order and thereby also resist disturbing outside influences.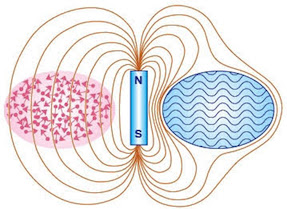 On the left side of this diagram we see magnetic fields passing right through a normal piece of iron, but on the right, electrons assume an orderly pattern in a superconductor and repel a magnetic field.
This talk will explore coherence phenomena in nature and discuss a technology that leverages human brain coherence on a societal scale to increase internal order and dramatically reduce war, crime, and terrorism.
Is world peace possible? Or is it a lofty goal, never to be realized on a practical level? John Butler, a certified teacher of Transcendental Meditation, will discuss the impact that stress has on our brain and how the practice of the Transcendental Meditation technique and the TM-Sidhi program changes brain physiology and leads to reduced stress and violence on the individual AND collective levels.
He will talk about sociological studies that demonstrate the effectiveness of these techniques, especially practiced in a group, to bring coherence and peace to collective consciousness. These changes occur society-wide across the entire population, resulting in tangible/measureable declines in the expressions of social stress: war, crime, traffic accidents, hospital admissions and other negative trends, even among people in the population not practicing meditation.​
In the summer of 1993 in Washington, D.C., John took part in a study that was designed to demostrate the power of the collective practice of the TM and TM-Sidhi program to reduce crime and violence and promote peace in the nation's capital. John has interesting stories to tell about directly participating in that study.
The 90 minute presentation will also include:
An explanation of the Transcendental Meditation technique (TM) — how it works to make brain functioning coherent and how TM compares to other meditations.

The science behind reducing anxiety, reactivity, depression, and improving cognition, memory, and inner calm through Transcendental Meditation.

Questions & Answers

Steps to take toward learning the TM technique in New York City.
We look forward to seeing you.
Best regards,
Certified TM Teachers
Madison Avenue TM Program
(646) 450-4654
madisonavenue@tm.org