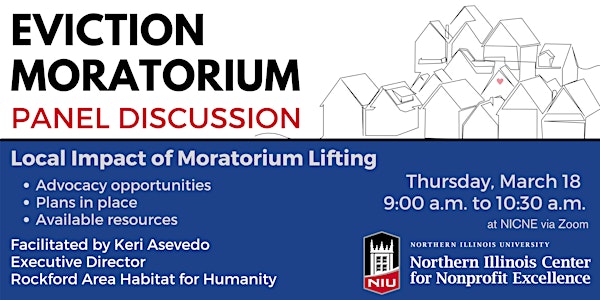 Eviction Moratorium: Local Impact, Advocacy and Resources
Sales Have Ended
Registrations are closed
Ticket sales for this event have ended. To receive a copy of the recording, please email Billie Callahan, Associate Director, NICNE at bcallahan@niu.edu
A panel discussion regarding the end of the Eviction Moratorium: Local Impact, Advocacy and Resources in Winnebago County - VIA ZOOM
About this event
Eviction Moratorium: Local Impact, Advocacy and Resources Date: Thursday, March 18 Time: 9:00 to 10:30 a.m. via Zoom
Join NICNE for a virtual panel discussion around the looming end of eviction moratoriums and what that means for your program participants, advocacy opportunities for those at risk of housing insecurity or homelessness, and plans and resources available to assist those in need of support.
The state eviction moratorium lifted March 6, while the somewhat weaker federal moratorium remains in place until March 31. Meanwhile, advocates are working to extend eviction moratoriums to protect the public health during the pandemic.
A significant amount of emergency rental assistance is coming from the federal government to Illinois; Of the approximate $835 million being distributed to state and local governments, Winnebago County will receive $8.38 million.
This is an opportunity to share your experiences, learn about what the end of the moratorium means for your program participants, and learn about plans and programs in place to provide local assistance where it is most needed.
This panel discussion will be moderated by Keri Asevedo, Executive Director, Rockford Area Habitat for Humanity. Panelists will include:
Sarah Brinkmann, Executive Director, Northwest HomeStart
Jesse Hodiern, Managing Attorney, Prairie State Legal Services
Alan Zais, Executive Director, Winnebago County Housing Authority
Bob Palmer, Housing Action Illinois
Jennifer Jaeger, Director of Community Services, City of Rockford
Laura Snyder, CEO, Rockford Housing Authority