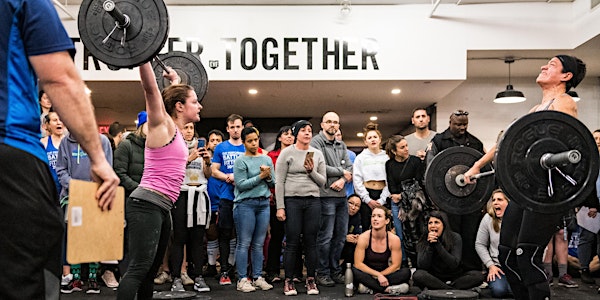 EVF "Stronger Together" Challenge (CrossFit Competition - teams of 2)
Location
559 W 59th St
559 West 59th Street
New York, NY 10019
In teams of 2, athletes will compete in 5 consecutive, grueling workouts in a race against time.
About this event
The EVF "Stronger Together" Challenge is not your typical CrossFit competition. The EVF STC is designed to test your strength, speed, skill, and teamwork through 5 scored events as well as a 6th "overall score." Teams work to complete all 5 events under the 90 minute time cap. Each event will be individually scored against all other teams using a games format 100pt system as well as your overall time to complete all 5 events.
Take on the challenge on Saturday, July 27th at EVF CrossFit Columbus Circle, 559 W. 59th St., NYC.
Competition starts at 8:00 AM. Heat times TBA.
$75 for non members ($150 per team)
$60 for members ($120 per team)
Divisions: Male and Female Rx & Scaled
Prizes available for division winners in EACH event and Rx of entire competition.
Events:
"Burden Run" - https://www.youtube.com/watch?time_continue=3&v=lIxHKWsC-G8
"Barbell Breaker" - https://www.youtube.com/watch?v=jhuJhDvpUJc
"Burning Hands" - https://www.youtube.com/watch?v=ApfbkwK9piY
"Triple Bear" - https://www.youtube.com/watch?v=vl4ds4C7mWo
"The Finisher"
Over $1000 in prizes from UCAN, LifeAid, R.E.D.D, doTERRA and others are up for grabs!
Live commentary and online streaming by The Accessory Movement.
Are you up for the challenge?
Mindbody link: https://clients.mindbodyonline.com/asp/main_shop.asp?stype=&pMode=4&reSchedule=&origId=&recType=&recNum=