EvE's "Network to Net-Wealth" Business Mixer LIVE at the new CEO Business Cafe!

Wednesday, June 22, 2011 at 6:00 PM (EDT)
Event Details
Networking with a Purpose!
Wednesday, June 22nd, 6:00pm-9:00pm at
CEO Business Cafe
Greenbelt, MD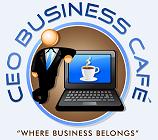 "Increase Your Net Worth thru Strategic Networking" at
"Network to Net-Wealth" Business Mixer and Training
Featuring our "Event Sponsor"
Northeast Region KFC Franchisee Association's
President and Expert Team Builder...
Tony Cameron
Imagine what your life would be like if you grew up in the projects, having an absentee father, ducking the drug dealers, seeing those around you falling into the negative trap of everyday street life. Tony Cameron was determined to be different. He did have a strong family support system growing up AND he had a winning, positive attitude. He was bound to be a success and make a difference in his community. Tony not only wanted more out of life, he took action and worked hard to make it happen! Today he is the proud owner of 7 Kentucky Fried Chicken Restaurant Franchises in Baltimore, MD. He is also the current President of the NE Region KFC Franchisee Assocation. Talk about "drive" and determination. Not allowing your difficult condition to dictate a negative pathway for the future. Tony will talk about "The Hard Way" and building a strong team/a strong network.
Would YOU like to have a strong team, a strong support system, a strong business?
Tony is a huge advocate for the small business owner, He is thrilled to be a part of this special event. We are honored and welcome him with open arms!
Join us on June 22nd to meet, network and be trained by reknowned trainer and franchise owner, Tony Cameron.
In addition, Emmy M. Vickers, creator of the country's only Entrepreneurs and Professionals Network Kit,  will teach you tips and secrets on how to Network strategically and help those around you. The goal is to provide an inviting, comfortable, educational atmosphere for Business Owners, Sales Reps, Professionals, and Public Community Officials to "get to know each other," help each other, and pass referrals. What makes this mixer different than most? You will receive education on how to properly network your business to success. Come learn and practice the correct way to network and see how the relationships and referrals will follow. The sole purpose of our mixers is to network, empower, make connections, have fun, and see how we can help one another. It's about building rapport and long-term business relationships. Have fun participating in the Role-Playing activities to put into practice what you just learned.
There is limited space of 70, REGISTER NOW to claim your ticket!
Lock out your competition as a Vendor or Sponsor (1 table remaining)
* Online Registration has been extended and ends Monday, June 20th at 9pm.
20 tickets remaining — SAVE $15 off door price TODAY! 
---
Networking is about making connections, helping others, and building long-term mutually beneficial relationships. It's about forming strategic alliances. As a team, everyone achieves more! A successful company is one that has a team of supporters.
Network to Net-Wealth sends out a very special THANK YOU to all companies we have formed an alliance with. We are excited about our relationships and look forward to working as a team not only for this event, but for their events and many other events we jointly create to better the lives & businesses of entrepreneurs and professionals throughout the mid-Atlantic region. Thank you: DC-MD Small Business Owners Networking Group meet-up (Evette Lewis, Organizer); Word Processing Unlimited (Dawn Converse); Springboard Training (Sylvia Henderson); CEO Business Cafe (Rick and Odessa Hopkins); EPNET (Theresa/Charles Brown); Shoestring Startups (Jeremy Caverly, Organizer); Sisters 4 Sisters Network, Inc. (Peggy Morris) and the host for the evening, CEO of The Model Within (Natasha Pierre). We look forward to an exciting evening!
---
 Here's What's Included:
Admission
Networking with Business Professionals in the MD / DC / VA / DE area
Interactive training in the areas of "Strong Business/Team Building" and Strategic Networking
Food catered by A Touch Of Class
Cake in celebration of entrepreneurship and other special occasions
Fun, fun, fun!
Drawing for great Door Prizes
All this for only $15/pp
$30 "cash only" at the door
"Teaching you to raise your Net-Worth through strategically Net-Working"
 We Look Forward to Mixing with you on June 22nd!
P.S. Space is limited. Claim your seat TODAY!
---
CEO Business Cafe - Greenbelt, MD
Event "Venue" Host/Sponsor, Odessa & Rick Hopkins, have graciously opened their brand new space to our Network to Net-Wealth's business mixer and training. We are continuing the launch of their new business, CEO Business Café (CBC). If you missed the grand opening on June 1st, then you definitely want to be at the event on June 22nd.
CBC is the first Prince George's County co-working community. A business club where CBC members co-work, have meetings, attend workshops, mix and mingle and brainstorm to work toward the common goal of expanding their business or organizations in a professional, exclusive environment that is affordable and welcoming. Entrepreneurs, non-profit executives, home-based business owners, freelancers, and other professionals are welcome. CBC is located at 6305 Ivy Lane, First Floor, Greenbelt, MD 20770 (adjacent to the Greenbelt Marriott).
Congratulations and thank you Odessa and Rick Hopkins for providing an incredible service to help the small businesses to thrive in the 21st century.
---
About  Network to Net-Wealth, LLC:
Network to Net-Wealth, LLC is all about YOU! We help you to Increase YOUR Bottom Line through building powerful strategic alliances and relationships.
Based out of Silver Spring, MD, Network to Net-wealth LLC's networks extend up and down the east coast as well as nationally. Let's expand all our networks and impact lives throughout our country as a team. Because as the saying goes, "together everyone achieves more!" And Emmy states, "why not have fun helping others and doing what you love!!"
Attendee List
Sort by:

Date

|

First Name

|

Last Name
When & Where

CEO Business Cafe
6305 Ivy Lane, 1st Fl
(adjacent to Greenbelt Marriott)
Greenbelt, MD 20770


Wednesday, June 22, 2011 at 6:00 PM (EDT)
Add to my calendar
Organizer
Network to Net-Wealth(c) is a unique mid-Atlantic business network and training organization working with various levels of business owners and professionals. The mission is to educate and empower business professionals by teaching them how to strategically grow through education and communications to create positive, dynamic, and long-term relationships & alliances. The purpose is to provide a relaxed, interactive learning atmosphere for business owners and professionals to meet and connect. Mixers are held at hotels, country clubs, restaurants, and unique training venues which also includes the bowling mixers. Experience a new fun, stress-free way of networking!
Founder Emmy Vickers states: "the business world has changed –people want to do business with who they know, like and trust. Many are looking for long-term relationships, not just the quick sale. Word of Mouth (WOM) Networking / relationship marketing has become the way of the world in successfully growing one's business."
Network to Net-Wealth(c) offers a variety of products and services for serious-minded professionals looking to reach new heights in their business. We educate, empower, guide and motivate business owners and professionals to believe in themselves and take action to create their much-deserved success through strategic networking!