#EveryWomanCanBeAMogul Real Estate & Investing Seminar for Women
Description
REGISTRATION OPENS August 18!!! Truly, when you #MoguzlizeYourLife, #EveryWomanCanBEAMOGUL.
Whether single, divorced or married, THIS EVENT IS FOR YOU! Ladies, financial success and stability can be achieved. Whether single-parent, or single, YOU CAN AND SHOULD HAVE A FINANCIAL STRATEGY FOR YOUR LIFE... AND YOU CAN!
We'll address why every woman needs to own a home and build wealth on the bedrock of real estate. Whether your goal is to purchase a home or invest in real estate, MoguLife Real Estate will help you develop the right strategy right for you!

We'll lay the foundations for wealth by addressing what does it mean for women (married, divorced, seperated or single) to own real estate in Texas.

Credit issues? No worries! MoguLife Real Estate is your one-stop resource and life partner in your home purchase and real estate investment. We help you become credit-worthy to begin your journey to ownership, regardless of direction..

Once you purchase the home, do you know how to protect your mortgage and your investment? No? If not, attend this fun seminar, ask questions and let MoguLife help you put a "safety net" under your invetment.

Finally, we'll provide a bonus session on Foreign Exchange Investing. How would you like to learn a skill that will help expedite your ownership goal? You would?? RSVP TODAY.

Call 281.676.9857 if you need a Realtor, investor, or real estate coach. RSVP for this event NOW. Your future will thank you.
Need more information to support why real estate is a foundational pillar for women building wealth? View this relevant and informational video discussing the importance of women and homeownership entitled, CLICK ON THIS LINK: "#GetInTheGame!"
---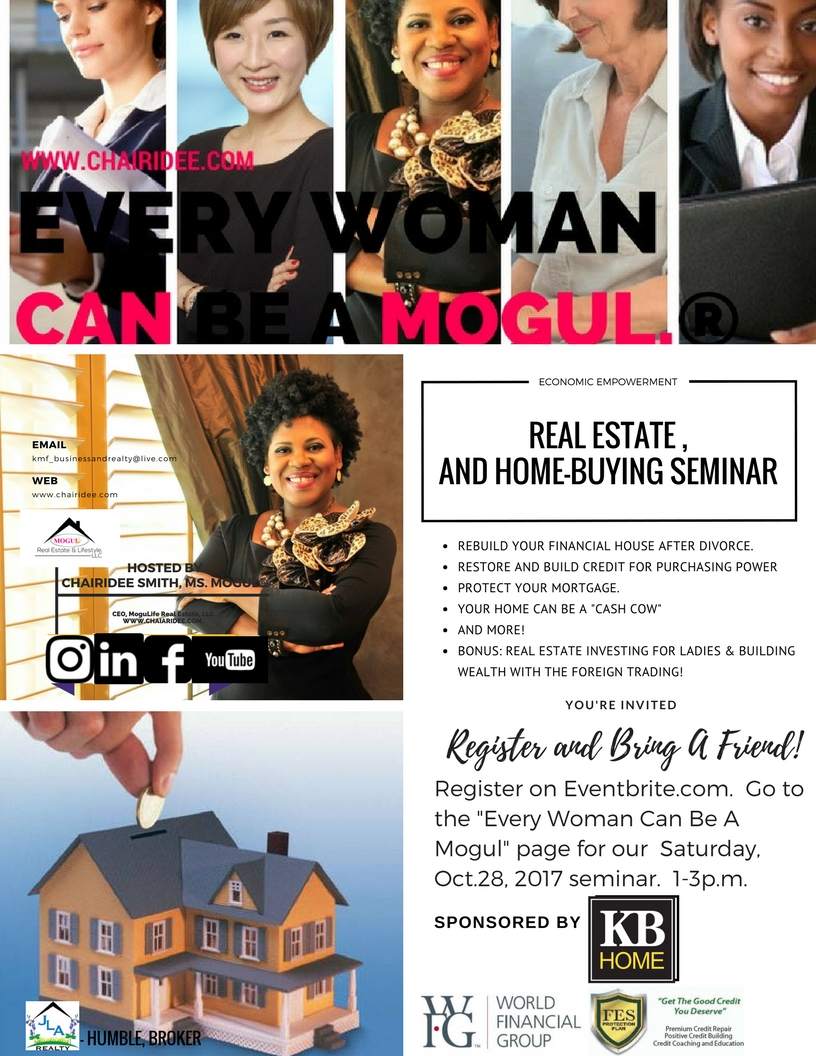 Date and Time
Location
KB Homes Cypress Creek Crossing
Cypress Creek Crossing
4219 Lake Cypress Circle
Houston, TX 77068