Everything You Need To Know To Run A Successful YouTube Channel
About this event
Learn the ins and outs necessary to run a successful channel YouTube channel and how to monetize it at the next OTT.X Wednesday Webinar.
Discover how to meaningfully engage with the YouTube audience by exploring topics including:
• Content Strategy: How to develop content formats that drive engagement, views and revenue.
• Content Optimization: How to optimize your content & make it stand out on the platform.
• Community Management: How to build an engaged audience of super fans around your channel.
• Channel Monetization: How to monetize your audience to drive ad-funded and non-ad funded revenue on the YouTube platform.
Join VA Media's Head of Strategy, Pieter van Schalkwyk and dive into the exciting opportunities presented by YouTube.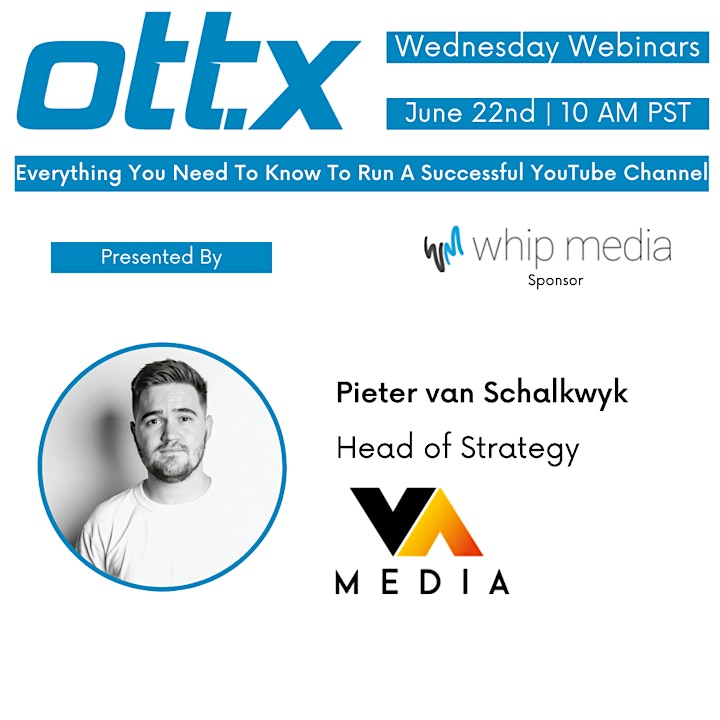 This will be VA Media's Second Webinar focusing on the opportunity that is YouTube.
Prepare for the next webinar by watching "Why you Need to Consider YouTube as Part of Your AVOD Strategy"
Description: With access to over 2 billion platform users, AVOD channels on YouTube have become an important piece of the landscape and a growing source of revenue and audience engagement for content owners, broadcasters, and other streaming platforms.
Join VA Media's Mark Ashbridge and Pieter Van Schalkwyk to learn about the latest business models, monetization opportunities, audience growth tactics and content strategies to succeed on YouTube.