Description
Is Harvard, Stanford, Oxford or Cambridge in your future?
Elite US and UK universities are the hubs of innovation and the best places in the world for accelerating ambitions and providing unmatched career-building opportunities.
The only problem is, the best universities attract the best talent and there's simply not enough room for everyone.
The application process is highly competitive but gaining admission is still possible, especially if you have the right guidance.
What will be covered at this event?
Current education trends in Australia

The US and UK universities to aim for

The employability, career and internship opportunities available to US and UK university students

The strengths and weaknesses of top US and UK universities

The structure of US and UK university degrees

The US and UK university lifestyle

How to apply to US and UK universities - exam scores, essays, interviews, case studies and more.
Who should be at this event?

Academically high-achieving students in years 9-12

Talented athletes in years 9-12

Current or future school leaders

Students who are heavily involved in extracurricular, academic or leadership activities (UN Youth, Duke of Edinburgh, Olympiads, Youth Parliament, Debating etc)

Students who are considering top local degrees (Med, Law, Engineering or similar) but are not 100% sure it's what you want to study

Any students who are ambitious, driven and motivated

Parents who want advice in supporting their children to attend top-ranked US or UK universities

Parents who want to learn more about financing their child's US or UK university education

Parents who want to know the employment prospects of US or UK university graduates.
Your Speaker: Sam Bi (In Person)
Sam graduated from Kristin School in Auckland, New Zealand, achieving a 99.95 ATAR and Excellence Endorsement. Sam studied at the University of Melbourne and Melbourne Business School on Scholarship, pursuing a Bachelor of Commerce in Finance in addition to a Masters degree. Whilst in Melbourne, Sam also studied abroad at the Marshall School of Business at the University of Southern California.
Outside of academics, Sam has undertaken multiple pro-bono consulting projects geared towards alleviating poverty, led a variety of University Societies and also has competed and came second in a Management Consulting based International Case Competition.
As an academic advisor at Crimson, Sam hopes to steer students towards the best-fit pathway and provide insights of how to overcome the traditional shortcomings experienced by young Australians in applying to elite overseas institutions. After experiencing the difference in education between Australia and the US first hand whilst on exchange, Sam is an advocate of the liberal arts structure bespoke to the US and believes that the opportunities of studying overseas is unparalleled.
Your Speaker: Duo Sun - UCLA alumnus (Live Video Feed)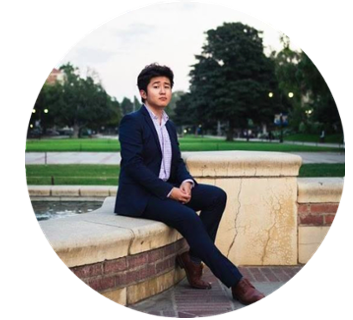 Duo is currently a third-year student at University of California, Los Angeles, double majoring in business-economics and statistics. No stranger to juggling an intense work-life balance, Duo was heavily involved in extracurricular activities in high school.
He was section leader of two choirs, regularly attended and contributed to Model UN events (eventually being selected as a part of the 2015 THIMUN delegation from NZ), played a major character in the 2014 school production, and organised numerous fundraisers and cultural events on top of participating in multiple science competitions and conferences. While all this was going on, he was still able to stay on top of his studies and graduated as Dux of his school in 2014.
With many years of experience in tutoring, Duo is currently working with Crimson as an Academic Advisor and is passionate about unlocking the potential that each student is capable of.
Recommended reading prior to the event
To help you get the most out of the event, we recommend you read the following introductory articles:
Ivy League vs. Oxbridge: Best University Experience

10 Universities in the US and UK That Guarantee Students the Highest Starting Salaries
Location
Free parking is available around the rowing club. There will be light catering after the presentation and Crimson staff will be on-hand to discuss your goals.
So what are you waiting for? Register to take your first step to the world's top universities.
Please note, children under 12 can attend for free.
Got a question? Email us at info@crimsoneducation.org or follow us on WeChat: