Everyone's Carol Benefit Concert Reading St. Marks in the Bowery
Description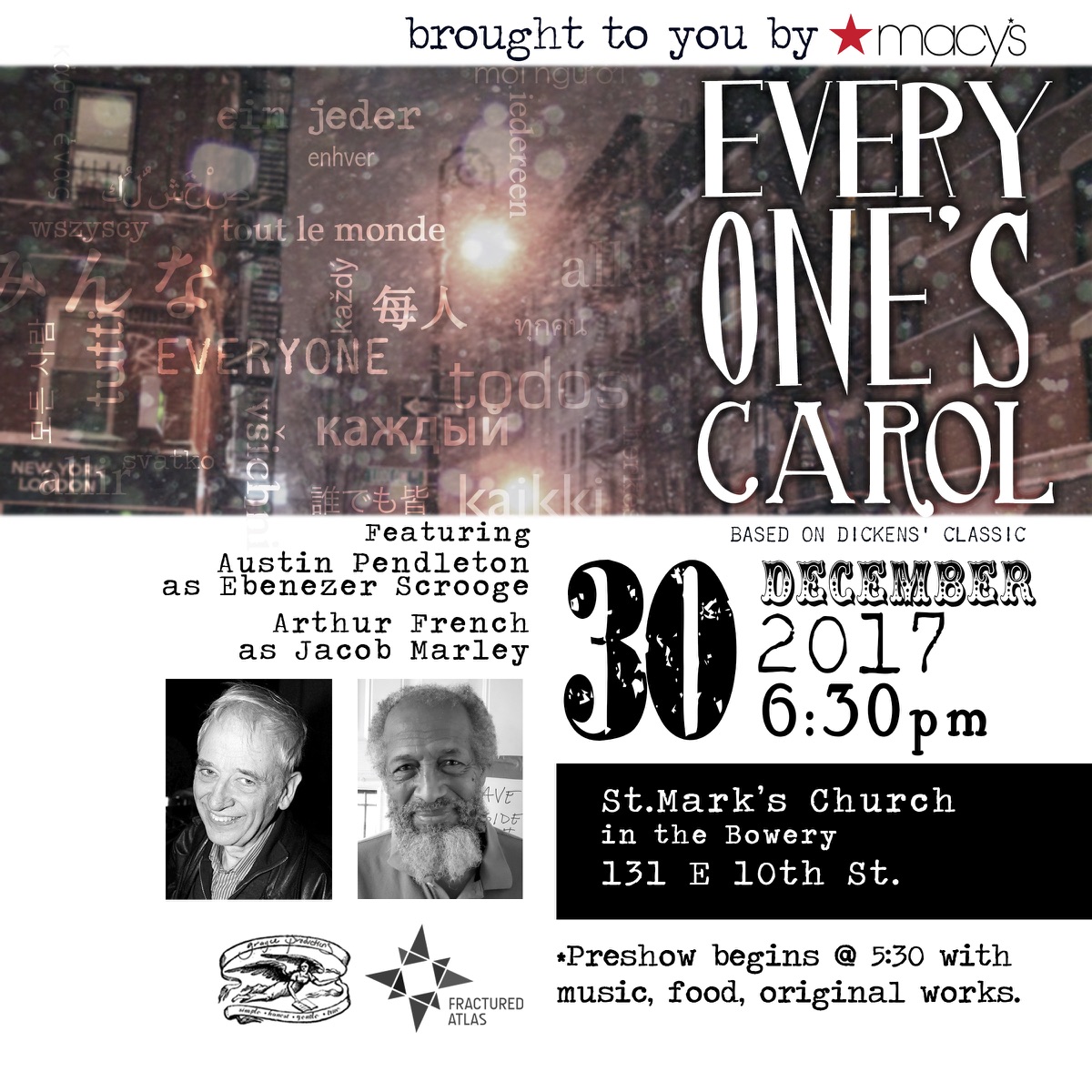 Join us to turn the New Year and tell this beautiful story with our bespoke, downtown, stripped down, diverse, street inspired, everyman's version of Dickens' classic text for the times we live in. A classic, timeless story over 174 years old about one last opportunity to make the wrong right.
Over the past six years, thousands of people all over the globe have seen and been part of this semi-staged production that focuses on Dickens' original text and the eternal message of hope, of a light in the dark, that anything is possible.

That everyone has value.
Everyone.
Beloved actor Austin Pendleton's very special Scrooge will move you in new ways and stay with you as we take this story across cultures and time to share it's timelessness.

With Jim Graseck, busker violinist. Arthur French as Marley. As well as so many amazing, generous artists. Created by Laurie Strickland and Jamie Bullins, produced by Grayce Productions.
*5:30pm begins our Spirit of Dickens pre-show festival with poets, music, rappers, musicians, holiday treats, bell ringers and original works all riffing on and exploring what it means to tell this story in 2017. We will also have some intermission and post show Dickens festivities.

*6:30 pm Concert reading
Join us, bring your old copies of the Carol, bring your hearts, bring your sense of community to ring in the New Year and begin again with us, for the first time.
This is your Carol. The one we made for you.
For Everyone.
Every. One.
* A portion of our proceeds for this performace will go to our artists as an stipend for their work, Actor's Equity Theatre Authority honorarium, and to our Macy's and Fractured Atlas sponsored Dickens education program. We will also make a contrubution to St. Marks in the Bowery as our gratitude.
You can make a tax deductible contribution to Everyone's Carol here: https://www.fracturedatlas.org/site/fiscal/profile?id=10563
We serve children in shelters and schools with limited access to the arts. We teach them Dickens very personal story of overoming adversity through the arts offering free tickets to our shows, our original Dickens education unit and free books to keep.
We bring them Dickens' message of humanity, hope and the arts as an agent of social and personal change, empowering them to create their own projects and find their own voices in our unit calle "Your Stories Matter".