Everyone Leads: 5 Ways to Step Up and Make a Greater Impact in Your Work

Monday, March 11, 2013 from 12:00 PM to 1:00 PM (EDT)
Event Details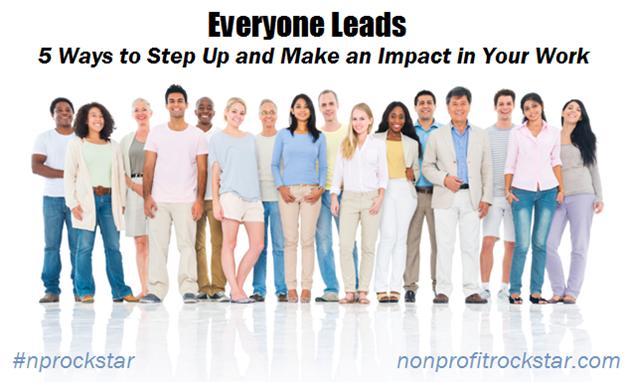 Everyone Leads:
5 Ways to Step Up and Make a Greater Impact in Your Work
This is a free online event.
Date: Monday, March 11, 2013
 Time: 12:00 pm – 1:00 pm EST
 Where: via teleconference, dial-in information will be provided upon registration
No matter what our role is in an organization or community, it's important to remind ourselves that we always have the opportunity to make an impact. This is true today in our nonprofit work, just as it has been for influential figures in history. About a week ago, a Rosa Parks statue was unveiled in the U.S. Capitol's Statuary Hall to commemorate her impact. At the ceremony, President Obama remarked, "Rosa Parks held no elected office.  She possessed no fortune; lived her life far from the formal seats of power.  And yet today, she takes her rightful place among those who've shaped this nation's course."

Following the example set by Rosa Parks, we can find ways to rise up while empowering those around us every day.  Regardless of job title or position, anyone can serve as a leader and build up communities to champion social change.
During our upcoming Nonprofit Rockstar Teleseminar on March 11, you'll learn to recognize valuable assets and discover the endless possibilities for you to serve as a leader toward social good. Covering concepts from his book Everyone Leads: Building Leadership from the Community Up, author and CEO of Public Allies Paul Schmitz will be joining our call. Paul will sharing lessons learned from his work empowering over 4,400 young leaders across the country.
Register now for this Nonprofit Rockstar Teleseminar and learn how you can step up in your own organization and make a greater impact - no matter what your title is.
This teleseminar will be recorded, so if you can't make it this time, you will still receive the replay afterwards!
About the 2013 Nonprofit Rockstar Teleseminar Series
This free, monthly teleseminar series covers a variety of topics in nonprofit career and leadership development. Each session features experts who share information, ideas and inspiration to help you accelerate your career and enhance your leadership skills. For more information and a full teleseminar schedule, visit nonprofitrockstar.com.
About Rosetta Thurman
Rosetta Thurman is the President of Thurman Consulting, an education company that provides personal and professional development opportunities to empower a new generation of leaders to change the world. Rosetta is a nationally-recognized speaker and facilitator who has helped hundreds of nonprofit and association professionals improve the way they work, lead and live their lives. Her popular keynote speeches and workshops inspire audiences around the country to build meaningful careers, enhance their leadership skills and live with greater purpose. For more information, visit rosettathurman.com.
About Trista Harris
Trista Harris is nationally known as a passionate advocate for new leaders in the philanthropic and nonprofit sectors. She is a leading voice for Generations X and Y and seeks to create professional development opportunities throughout the sector. She writes about generational change in the foundation field in her blog, New Voices of Philanthropy and is an international speaker on working across generations to create social change. In her professional life, Trista is the Executive Director of the Headwaters Foundation for Justice.  A native Minnesotan, Trista received her Bachelor's degree in Sociology from Howard University and her Master's in Public Policy degree, with a focus on philanthropy and nonprofit effectiveness, from the Humphrey Institute at the University of Minnesota. For more information, visit tristaharris.org.
About Paul Schmitz
Paul is the author of Everyone Leads: Building Leadership from the Community Up, and the national CEO of Public Allies. Public Allies's mission is advance new leadership to strengthen communities, nonprofits, and civic participation. Its signature AmeriCorps program identifies young people with a passion to make a difference and helps them turn that passion into a career working for community and social change. During the last two decades, Public Allies has developed over 4,400 diverse young leaders in 21 communities across the country.Paul is a board member of Independent Sector, served as co-chair of Voices for National Service which advocates for AmeriCorps and other service programs, and is a faculty member of the Asset-Based Community Development Institute.Paul served on President Obama's Transition Team and currently serves on the White House Council on Community Solutions. Paul is a graduate of the University of Wisconsin-Milwaukee, and has been recognized by The Rockefeller Foundation as a Next Generation Leadership Fellow, by the Nonprofit Times as one of the 50 most powerful and influential nonprofit leaders in America, and by Fast Company Magazine with their Social Capitalist Award for innovation. He lives in Milwaukee with his three children: Maxwell, Maya and Olivia.
This teleseminar series is co-sponsored by Idealist, Young Nonprofit Professionals Network (YNPN) and Emerging Practitioners in Philanthropy (EPIP)
Note: When you RSVP, you will automatically be added to the Nonprofit Rockstar email list so you can receive a FREE chapter of Rosetta and Trista's book, plus be the first to know about upcoming teleseminars and programs!
P.S. No worries if you can't make the call live on March 11, it will be recorded! Just be sure to register so we can send you the replay :)
Organizer
Rosetta Thurman and Trista Harris