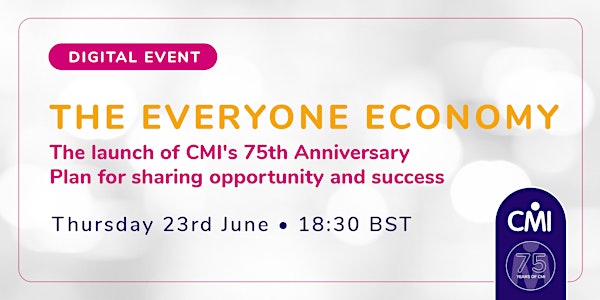 Everyone Economy: CMI's 75th Anniversary Plan for opportunity and success
Join us as we celebrate our 75th Anniversary and launch The Everyone Economy, CMI's plan for sharing work, opportunity and success.
About this event
We are delighted to invite you to the launch of the 'Everyone Economy', hosted by Sir Trevor Phillips, Lord Mark Price CVO and Ann Francke OBE, as we look at how we can deliver a productive economy and inclusive workforce for everyone.
CMI was founded in 1947 to help the UK recover from a devastating war. As we celebrate our 75th Anniversary, the challenges we face are different, but there is no doubt that concerted effort is needed to help economies around the world recover from the pandemic and other shocks we have experienced over the past decade.
Systemic exclusion, strained public services amidst an ageing society and environmental destruction will only become increasingly acute challenges.
Working with inspirational thought-leaders and our global network of over 170,000 managers, our 75th Anniversary project seeks to;
Understand the barriers that stop diverse talent from progressing in the workplace
Identify the skills, behaviours and policies that managers need to tear these barriers down
Deliver the productivity boost which is crucial to our future prosperity.
Our conclusion: a relentless focus on genuine inclusion was central to a better economic and social future. We need a new plan, but a different type of plan. And that is what the 'Everyone Economy' is designed to address.
For more on our 75th Anniversary Project or to view the supporting research and additional resources click here
In the meantime...
If you're a member of CMI, or subscribe to our content, you can find thousands of exclusive, practical development resources in ManagementDirect. Log in here and search for a topic to get started!
Not yet subscribed?
From free newsletters packed with the latest trends, insights and tips for managers and leaders, to the full suite of invaluable tools and benefits that come with being a CMI member, we've got something for everyone. Visit our website to find out more.