Description
Networking is as much an art as it is a science.
This book is written as a guide for you who intend to improve your Networking competency and be an effective Networker with the capability to generate High Quality Leads to achieve your objectives.
It is beneficial for you who are in sales, recruitment, business development and in social community work.
Realising your natural Networking talent and becoming an effective Networker begin with this book.
We would like celebrate the Book Launch with you on...
Date: 16 February 2019 (Sat)
Time: 10:00 AM to 12.30pm
Venue: Lecture Theatre 12 (LT12), Taylor's University Lakeside Campus, No. 1 Jalan Taylor's, 47500 Subang Jaya, Selangor Darul Ehsan.
Seats are limited and it's FREE.
See you there!!
---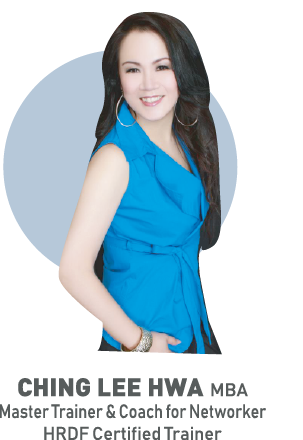 Author, Master Trainer & Coach

MBA in International Business, UK

HRDF Certified Trainer

Certified Dermatoglyphic Consultant

Collaborated Partner with Ken Bay on Everyone Can Sell TTT since 2016

Co-Author with Ken Bay on Everyone Can Network book, launch in 2019

Speaker for ADLA launching day 2018, organised by Women Mentoring Network

Trainer for Continuous Tourism Related Education at HTCIA since 2017
Ching Lee Hwa is renowned for her innovative and high energy presentations aimed at achieving results. Her message resonates with people from vastly varied backgrounds and her ideas stimulate the audience to take a second look at their lives. She captivates the hearts, minds and spirits of her audience by allowing the gift of communication to convey a message that always orbits people into action. Leadership positions in diverse cultures had offered her a chance to study the intricacies of human behaviour in people centric environs and to reap a rich harvest of wisdom and insightful experiences. Lee Hwa has over 28 years of experience in the sales development and training with 10 years in MLM helming the Regional and Division Sales Manager working with 11 internal Sales Managers to mobilize 100,000 external sales force to capture a portfolio of RM 100 million per annum.
She is an active member of Toastmasters International with Leadership positions in District 51 as Division J Director in 2017/2018, Area Director in 2016/2017 and Club President in 2015/2016.
She is passionate in changing and impacting lives. Trained more than 10,000 people within a year. When she was given an opportunity to share the same stage with her mentor Dr. Edwin Varo, her passion evolved from training to coaching. She started her journey as a Coach through self-practice, offering 3 years of free coaching to more than 100 people and conducting talks in various organizations from University to NGO. These initiatives were rewarding and enriches her coaching program. Through her passionate coaching, many individuals learned to recognize their self-value which in turn, improved their values, self-love, communication, relationships and commitment to execute what they have planned.
To pursue her endeavour to impact more lives, she decided to write down her experience, build in her Soft Skill Intelligence into Ken Bay's 6 Seen Images and name the book Everyone Can Network. She is actively engaging with her friends who are equally passionate as herself, in training and coaching. Therefore, she invited her Champions of Networking Talent Matrix onboard to launch Everyone Can Network book.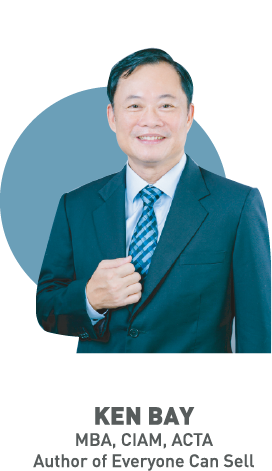 Ken started in the Life Insurance Industry in 1988 and rose through the ranks to be appointed in 1996 as a Group Sales Manager, one of the quickest appointment of group sales manager at that time.
Throughout his sales and management career, he has consistently delivered excellent results and received numerous awards at companies and industry level.
Nominee of Life Underwriters Association of Singapore as Singapore's Life Practitioner Award in 1998. In 2002, 21 out of 108 Sales Representatives qualified for Million Dollars Round Table (Top 1% financial adviser representatives in the world).
For the last 28 years, a practitioner, still actively selling, leading and advising sales professionals, Ken has depth experiences and knowledges in Channel Sales, Agency Leadership and Management, regular trainer and platform speaker in the region.
Currently founder of Voices of Sales, his vision is the disrupt sales force automation with artificial intelligence and use blockchain technology to build an eco system for sales and marketing professionals, as well as business leaders.
Ken provides consultancy and to develop customize sales process, training & sales force automation. Committed to coach/mentor the stakeholders of business to achieve desired outcomes! Indeed, he has developed a comprehensive sales solution called ROAM that helps sales organization to fast start sales professionals and leaders toward peak sales performance and ROAM has become a franchise in Vietnam and in Asia.
---
What are you waiting for?
Come join us at the FREE book launch on ...
Date: 16 February 2019 (Sat)
Time: 10:00 AM to 12.30pm
Venue: Lecture Theatre 12 (LT12), Taylor's University Lakeside Campus, No. 1 Jalan Taylor's, 47500 Subang Jaya, Selangor Darul Ehsan.
Seats are limited.
Don't miss it out. See you soon!!