Event Information
Location
147 Front Street (Mezzanine)
Brooklyn, NY
11201
Description
NYC Theatrical Premiere, One Week Only!
*** Fishbone's ANGELO MOORE and NORWOOD FISHER, plus filmmakers CHRIS METZLER and LEV ANDERSON in person all weekend (Friday, 10/7 through Sunday, 10/9) ***
* Live Musical Performances on Friday, 10/7 *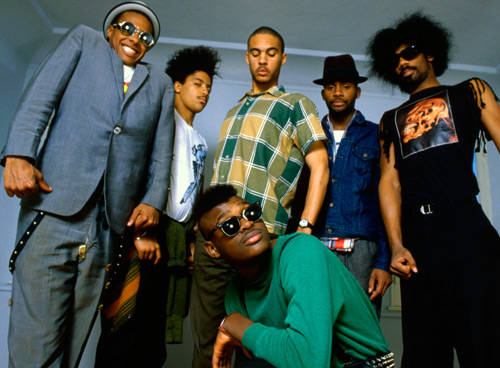 "(CRITIC'S PICK) Co-directors Chris Metzler and Lev Anderson have penned a cinematic valentine to the group via astounding archival concert footage, rapturous testimonials and original footage that often breaks your heart in this charting of the group's thwarted rise and chaotic fall. There's some groovy animation and cool narration by Laurence Fishburne, but the real star of this show is the still-ahead-of-its-time genius of Fishbone."
- Ernest Hardy, L.A. WEEKLY
"Fascinating and informative! The filmmakers deliver a supremely skillful piece of art, embracing illustration and a highly specific design aesthetic to particularize the band and its work within the social and political context of its Los Angeles origins."
- Elliot V. Kotek, MOVING PICTURES MAGAZINE

WATCH THE TRAILER:
youtube.com/watch?v=ChXk4R0mGNw
EVERYDAY SUNSHINE: THE STORY OF FISHBONE is an inventive and highly entertaining celebration of one of the most original bands of the last quarter century*. Chris Metzler and Lev Anderson's rockin' hit of the Los Angeles Film Festival and SXSW makes its NYC theatrical premiere with a week-long run, October 7 - 13.
From the shifting fault lines of Hollywood fantasies to the socio-economic tensions of Reagan's America, Fishbone's blistering combination of punk and funk demolished the walls of genre and challenged the racial stereotypes and political order of the music industry and nation. Telling it like it is, the iconic Laurence Fishburne narrates this story about history, fear, courage, and funking on the one. At the heart of EVERYDAY SUNSHINE are lead singer Angelo Moore and bassist Norwood Fisher, who show how they keep the band rolling out of pride, desperation and love for their art. To overcome money woes, family strife, and the strain of being aging punk rockers on the road, Norwood and Angelo are challenged to re-invent themselves in the face of dysfunction and ghosts from a painful past.
Featuring interviews with Flea, Gwen Stefani, Ice-T, Perry Farrell, Branford Marsalis, George Clinton, Tim Robbins, Gogol Bordello, ?uestlove and more, EVERYDAY SUNSHINE trace's the band's evolution, influence and struggle as individualistic artists up again an unforgiving industry that threatens to pass them by.
* Now in their 25th year, Fishbone's much-anticipated new album "Crazy Glue" will be released in conjunction on October 11.
107 minutes. In English. Presented in Blu-ray. Unrated.
SHOWTIMES:
FRIDAY, October 7 (7pm, 10pm) * SPECIAL GUESTS IN PERSON *
** 3rd Show Added on FRIDAY, October 7 (Doors at 11:55pm, Show at 1am!)
SATURDAY, October 8 (1pm)
SUNDAY, October 9 (1pm)
MONDAY, October 10 (7pm, 10pm)
TUESDAY, October 11 (7pm)
WEDNESDAY, October 12 (10pm)
THURSDAY, October 13 (7pm)


Date and Time
Location
147 Front Street (Mezzanine)
Brooklyn, NY
11201