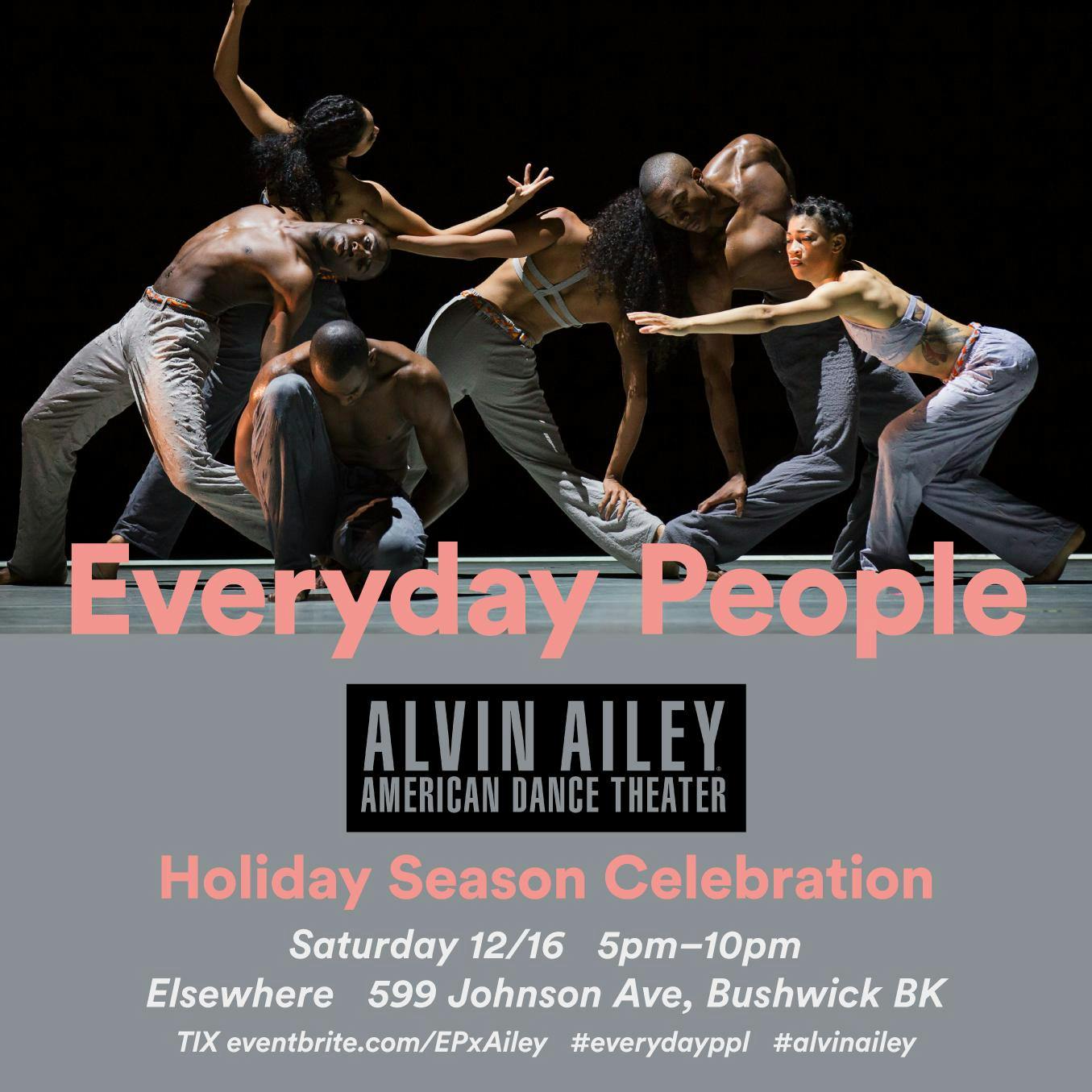 About this Event
EVERYDAY PEOPLE X ALVIN AILEY HOLIDAY CELEBRATION
At ELSEWHERE (BUSHWICK, BK)
SATURDAY, DECEMBER 16
5P – 10:30P
NYC! Join Everyday People and Alvin Ailey American Dance Theater as we dance in celebration of the holidays and the iconic Ailey company's season at New York City Center. #AileyYoungNY
Music By DJ Moma & Rich Knight
Live Performance by Josh Dean, Ailey II company members & Special Guests
Hosted by: Saada, Roble, Rita, Shernita, Maine & Gitoo. 
Admission:
·     Free w/purchase of a ticket to an Alvin Ailey American Dance Theater performance at New York City Center (see special offers below).
·     $10 in advance w/out Ailey ticket purchase.
SEE AN AILEY PERFORMANCE AND SAVE!
Alvin Ailey American Dance Theater at City Center: Now through 12/31/17
This holiday season, feel the joy as the Ailey company brings you dance that reflects our culture and reveals our deepest humanity and our capacity for beauty. 
And Ailey has special ticket offers for people ages 21-30:
OFFER #1: YOUNG NEW YORK NIGHT: 
On Thursday, Nov 30, 2017 at 7:30pm, all seats are $35* for people ages 21 to 30.  The evening's program will feature The Winter in Lisbon by Billy Wilson, Ella and Mass by Robert Battle & Revelations by Alvin Ailey. 
* All ticket buyers must be between the ages of 21 and 30, as of November 30, 2017 and are required to show proof of age. GUESTS of ticket buyers can be any age. 
TICKETS: https://www.nycitycenter.org/pdps/Ailey-young-ny-night/ 
OFFER #2: 'BOGO' DEAL FOR OTHER PERFORMANCES:
People ages 21 to 30 can Buy One, Get One 50% off when they use promo code EP to buy tickets online, by phone, or at the box office for performances from Dec 1 to 30.
NOTE: Tickets will be held for pick up at the box office to verify proof of age. Offer excludes $29 tickets and American Express Preferred or Premium Seating. All seats are subject to availability. Regular service fees apply to phone and web orders.  
Tix: https://www.nycitycenter.org/pdps/alvin-ailey/ 
OFFER #3: $15 Student Tickets
Students with valid ID can buy best available seats for $15* from 12 noon until one hour before curtain on the day of the performance.
*Subject to availability. Valid student ID must be presented in person at the City Center box office (131 West 55th Street, New York NY 10019); limit one ID per person, one ticket per ID. Price includes a $2.50 facility fee. Nov 29, Nov 30, Dec 31 matinee and evening performances are excluded.
OTHER SPECIAL EVENTS
Ailey also is hosting special events for people in their 20s on Dec 1, 8, and 9. Click here for details.
#everydayppl #AlvinAiley #AileyYoungNY
ABOUT ALVIN AILEY AMERICAN DANCE THEATER:
Alvin Ailey was just 27 when he and a group of young African-American dancers launched what has become the most popular modern dance company in the world. Over the last six decades, the Ailey company has performed for tens of millions of people at theaters across America and in 71 countries on six continents, as well as millions more via television, film, and online. A highlight at many performances is Mr. Ailey's masterpiece Revelations, which he created by drawing upon his "blood memories" of growing up in Texas, using the blues, spirituals, and gospel as inspiration. Each December at New York City Center, the Ailey company – now led by acclaimed artistic director Robert Battle – presents a 5-week season filled with Ailey classics and new works by a diverse group of choreographers. Discover for yourself why people say, "you don't just see an Ailey performance, you feel it." www.AlvinAiley.org