Event Information
Refund Policy
Refunds up to 1 day before event
Eventbrite's fee is nonrefundable.
In this 1 hour workshop, you'll learn how to become a leader that can make informed decisions and motivate people to be more productive.
About this Event
Leadership comes with a lot of responsibility and motivating others to work productively can be a challenging process. However, it doesn't have to be entirely stressful. In this workshop, you'll learn how to successfully improve your ability to lead, and motivate others to work productively.
Samex LLC, a management consulting organization, is providing leaders and professionals with a clear path to the growth of their careers and businesses. We've successfully mentored leaders in Automotive, Healthcare and Finance industries and accelerated careers for over 3,000 professionals.
When you have a goal in mind, and you're able to have people work together towards helping you achieve that goal, you'll be able to go far as a professional. How well you succeed in this, will depend on your ability to Motivate, Inspire, and Encourage.
However, making the time to learn these leadership skills, and how to apply them to your everyday work, can be tough to manage for busy professionals. One that doesn't leave a lot of room for trial and error with the fast pace of the business world.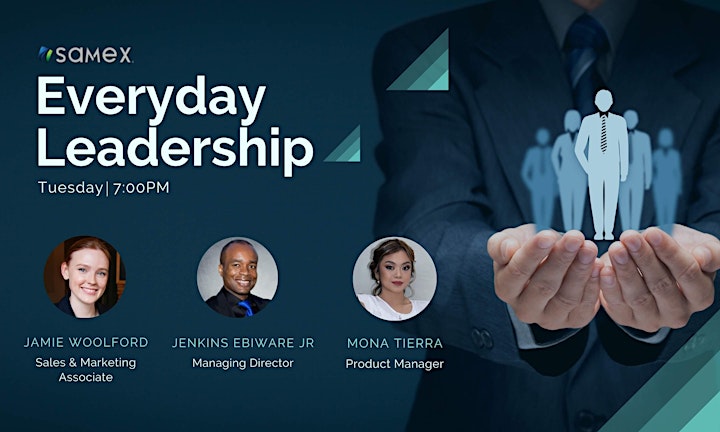 In this workshop on Everyday Leadership, you'll learn how to harness these three skills; by starting with the most important aspect of your overall leadership growth. You'll learn how to work on these skills and improve them daily.
In this hands-on leadership workshop, you'll also explore the following areas of your development as a professional and come to understand the following:
The building blocks of leadership
The 3 step process for becoming an influential leader
Improving organizational efficiency in 5 steps
Save your seat in this Everyday Leadership workshop, and take the first step towards improving your career as a leader.
What is Focused Leader?
In addition to your seat in our Everyday Leadership workshop, the Focused Leader ticket enrolls you in a 5-day leadership training program. You'll learn the fundamentals of executive leadership, and get technical hands-on training in Agile Project Management, with real world examples and problem solving cases designed to increase your leadership skills in project management.
How does Focused Leader Work?
On the day of your Everyday Leadership workshop, you'll get access to our active-learning platform, where we'll guide you through 25 immersive lessons over the course of 5 days.
The Focused Leader training expands on the content of Everyday Leadership, with a day dedicated to each of the core leadership elements. In this combined leadership and project management training, you'll also learn:
The bare minimum needed to start projects
Creating project milestones and stories
Breaking stories into tasks; creating estimates
Coordinating scrum meetings and agile task tracking
Understanding Gantt Charts and presenting to shareholders
With daily action items, exercises, and sample cases designed to give you project management experience in a controlled environment.
In business, the overall success of any leader, depends on your ability to start and finish projects. With the Focused Leader training, you'll develop both your leadership and project management skills. All in a hands-on environment, where you can repeat as often as you like to challenge yourself and increase your skills in the core areas of leadership and project management.
What Times are the Daily Training Lessons?
Once you've accessed the Focused Leader training after your attendance in the Everyday Leadership workshop, you'll be able to work through the training lessons on at any time. You may choose to work through the training in 5 consecutive days, or balance your learning with your schedule over time. The choice is yours.
Are Certificates Provided?
Yes. Focused Leader attendees will receive a Certificate of Completion and endorsements to showcase your leadership and technical management skills.
Date and Time
Location
Refund Policy
Refunds up to 1 day before event
Eventbrite's fee is nonrefundable.